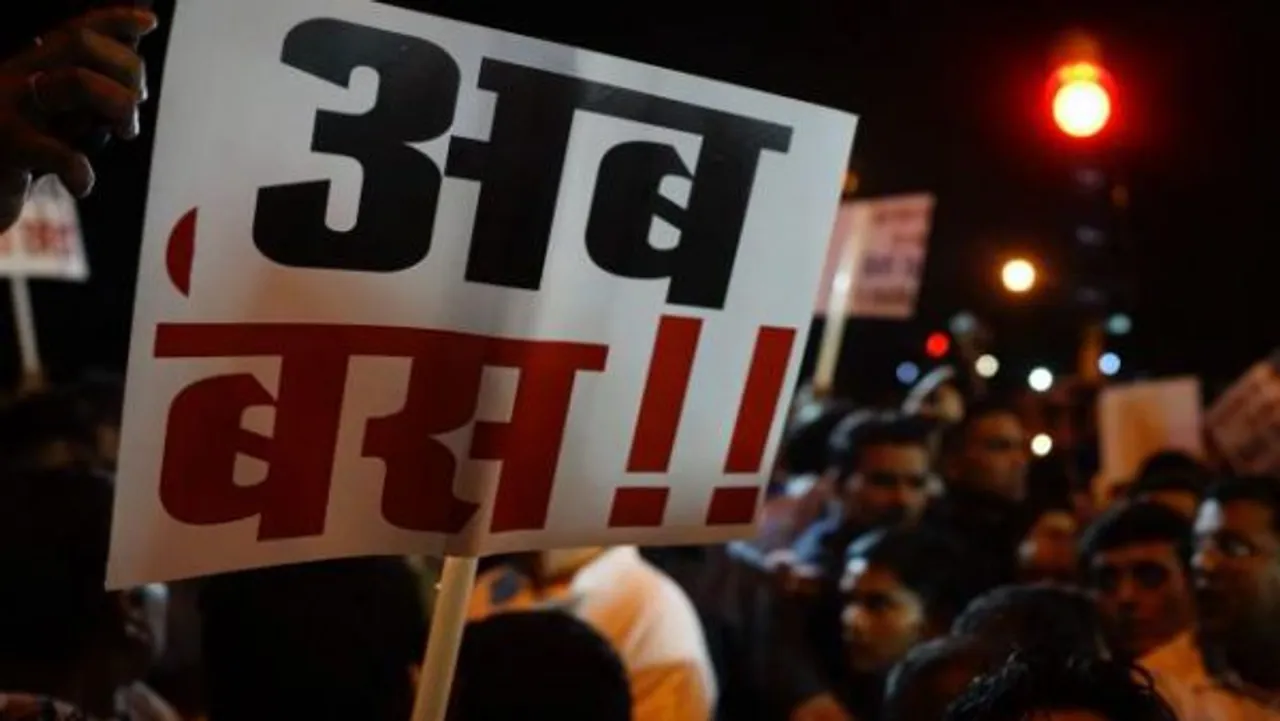 A 21-year-old girl was shot dead by her alleged stalker in Ballabgarh, Faridabad on Monday, October 26. The daylight crime, caught on CCTV, shows two men attempting to abduct the girl, failing which one of them shoots her. The accused has been arrested, police said. Read our full report here.
The deceased's family has claimed that the accused had had a history of harassing their daughter, and following a one-sided infatuation not reciprocated by her, had even once kidnapped her. The obsessive stalking has now culminated in a gruesome crime, which brings notice to several pressing issues. The shooting focuses a large beam on the sorry state of women's safety, and within it, a sharper beam on the rampant culture of stalking in India.
National Crime Records Bureau (NCRB) data from January 2020 suggests that on an average, one case of stalking was reported every 55 minutes in 2018, amounting to a total of 9,438 cases that year. The numbers were almost double of what they had been in 2014 at 4,699. These are alarming numbers, pointing as much to the lack of proper law and order as they do to the lack of attention the system pays to crimes like stalking often perceived as inconsequential in the larger scheme of women's safety. Enough women are reporting stalking crimes - isn't it time authorities take cognisance of it as a real, urgent issue?
Also Read: After Delhi, Hyderabad, Now Hathras: Executions And Encounters Haven't Curbed Gangrapes
Why Is There An Under-Reporting Of Stalking Cases?
The plague of stalking and India's perception towards it indicates a deep-rooted systemic problem, courtesy inaction by law enforcement agencies as well as the general social perception.
First, as far as taking cognisance of such crimes is concerned, the police often fail to do so. Tara Narula, lawyer and gender activist, tells Indiaspend, "The first hurdle is reporting. Police find thousands of ways to refuse filing cases. Most cases of stalking are settled within the police station, whether an FIR will be filed or not is another question." The NCRB report indicates that out of 9,438, only 29.6 percent cases led to the conviction of the accused. If the success rate of delivering justice is so abysmal, will women not be hesitant in approaching police stations to file complaints? Will it not reinforce the stigma that already surrounds stalking crimes?
Which brings us to our second issue - that of stalking being attached to victim-blaming, as all other sexual crimes against women are. The Ballabgarh girl's family claimed that after the kidnapping of their daughter, they had withdrawn the FIR filed against the accused for fear of social stigma. The under-reporting of stalking crimes is often the result of similar instances. Survivors' families prefer not coming forward, or settling matters out-of-court, to avoid aspersions being cast on their daughters. And this is a trend prevalent across all crimes against women, unfortunately. Shocking data by National Family Health Survey (NFHS) from 2018 revealed that 99 percent of sexual assault cases go unreported in India.
Also Read: Rape Can't Be Classified On Basis Of Age, Gender Or Marital Status
How Much Is Indian Cinema To Be Blamed?
For those who are lucky to not have faced such crimes, the under-reporting might seem like a frustrating reality. Why not report it? Why not trust the law? Unless women lodge reports, how will change come? How will the law be implemented? These are some common questions that do the rounds any time a woman comes face to face with violent or sexual crimes. But this is an oversimplified way of approaching the problem.
In stalking cases, or otherwise, the ones who have suffered won't be able to single-handedly motivate corrective measures. Because the problem is bigger and far more intrinsic than it appears, feeding constantly into the stalking culture that India harbours. A major contributor to this has been Indian cinema, which has glorified stalking as a valid expression of love. Pursue the girl to the point of terrorising her until she gives in to your wily charms and falls head-over-heels in love with you. This has been a common trope in films across languages. Our films, the most notable ones from the recent past being Raanjhanaa and Darr, in their own different ways have injected into the audience's subconscious that stalking is but a substitute of love. It's harmless, it's acceptable.
When a Pink comes along and declares in Amitabh Bachchan's booming voice - "No means no" - it treats some of the damage. But will it ever be able to reverse or undo all of the damage?
Also Read: It Took A Pandemic For Us Women To Be Safe From Street Harassment
Real-Life Repercussions Of Jeopardising Women's Safety
"Subha se shaam peechha karo, ghar ke baahar, school ke baahar, bazaar mein, sadko pe... ladki ko itna thaka do ke woh thak ke haan bol de." (Stalk her everywhere so she tires and says yes). Or "uske naa mein hi haan hai." (Her no actually means a yes.) Golden words from Hindi films that have been the holy grail of Indian men for generations.
Such dialogues are never funny to begin with. But they lose any sense of levity they might contain when they consolidate into real-life consequences. In an infamous case from 2015, an Indian man in Tasmania, Australia was accused of stalking women through many years. In court, he justified his behaviour by citing Bollywood films. His lawyer even defended him by apparently saying stalking was "quite normal behavior for Indian men."
Also Read: Can we quit our obsession with instructing girls what to wear?
Normalising stalking or other assault crimes poses grave danger to women, which many times may even be fatal, as the Ballabgarh incident has shown us. What's more it has even begun spilling into online spaces with incidents of cyberstalking becoming increasingly common. And in conjunction to being a law and order issue, stalking is capable of deeply jeopardising the mental health of women as a collective in society. That they always have to look over their shoulder while walking on the streets or keep an eye out for any shadowy figures trailing them home can be cause for serious mental strain.
So what is the way forward? First, authorities need to take better, more serious cognisance of stalking as a crime. Laws that exist to remedy stalking need more stringent implementation. Second, women should step up to exercise the rights granted to them under the said Indian law. Under Section 354D of the Indian Penal Code, stalking (both online and offline) is recognised as an offence. Third, we must demand more responsible representation from our art and artmakers. Women's safety is not an issue to be contorted. We just cannot afford it.
Views expressed are the author's own.