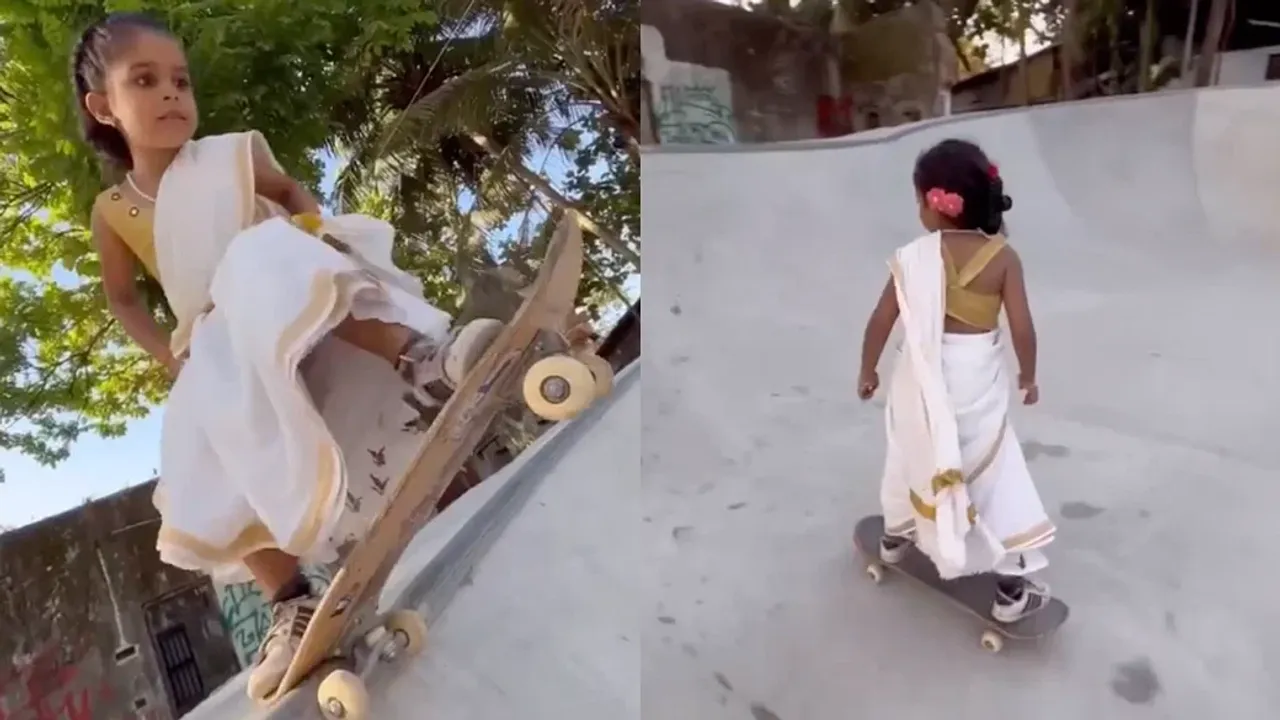 Executing smooth rounds on a skating bowl is undoubtedly challenging, but a recent video has captured the hearts of online users as it showcases a five-year-old girl gracefully skating while adorned in Kerala's traditional kasavu saree.
The video stars little Airah Aymen Khan and was expertly captured by photographer Navaf Sharafudheen. This charming scene was filmed at Loop, a backyard skatepark located in Kochi, Khan's hometown.
Watch the video here.
Netizens React
Shared on Instagram by Sharafudheen on the day before Thiruvonam, the primary day of the ten-day Onam celebrations, the video garnered attention for Khan's remarkable skating abilities, coupled with her attire that resonated with the festive spirit.
An Instagram user @saloniii_1821, in the comment section wrote, "This is the coolest thing I saw today! Happy Onam!" While another user @ashi_quote wrote, "This daughter's success is due to the parents who give so much support to her talent.. Can say without any mistake, the girl is awesome"
Another Incident From Australia
Paige, a 6-year-old skateboarder from Australia, has gained widespread attention due to a recent viral video. The video showcases her fearlessly taking on a 12-foot bowl. Paige is seen dressed in a pink party dress, a helmet adorned with leopard print, and vibrant rainbow socks—apparently quite unlike the typical image associated with someone tackling a 12-foot bowl. However, her exceptional skills are astonishing viewers and leaving a lasting impression.
An Instagram user wrote @horacha wrote, "Adore your femininity and fierceness." While another user wrote, @bfieldpaints wrote, "I'm storing this in my memory, for any time I feel discouraged or frightened. This is one of the greatest things ever."
Argentinian Skateboarder
In another heartwarming episode that came out in November last year, an adaptive skating champion from Argentina, Mily Trejo, overcame the challenge of having just one leg to skate seamlessly on an ice rink.
Nothing is impossible.

Mily Trejo is the Argentine National Champion of adaptive skating.

Mom's hug at the end 😭.

pic.twitter.com/WKDcoDRqlU

— GoodNewsCorrespondent (@GoodNewsCorres1) November 4, 2022
Amidst the enthusiastic cheers of onlookers, Trejo raised her arms in triumph while maintaining her focus on the performance. Upon successfully completing the feat, she elegantly glided towards her mother, embracing her warmly with a broad grin that radiated pure joy.
---
Suggested Reading: How This Single Father Saved His Baby From Being Sent To Orphanage