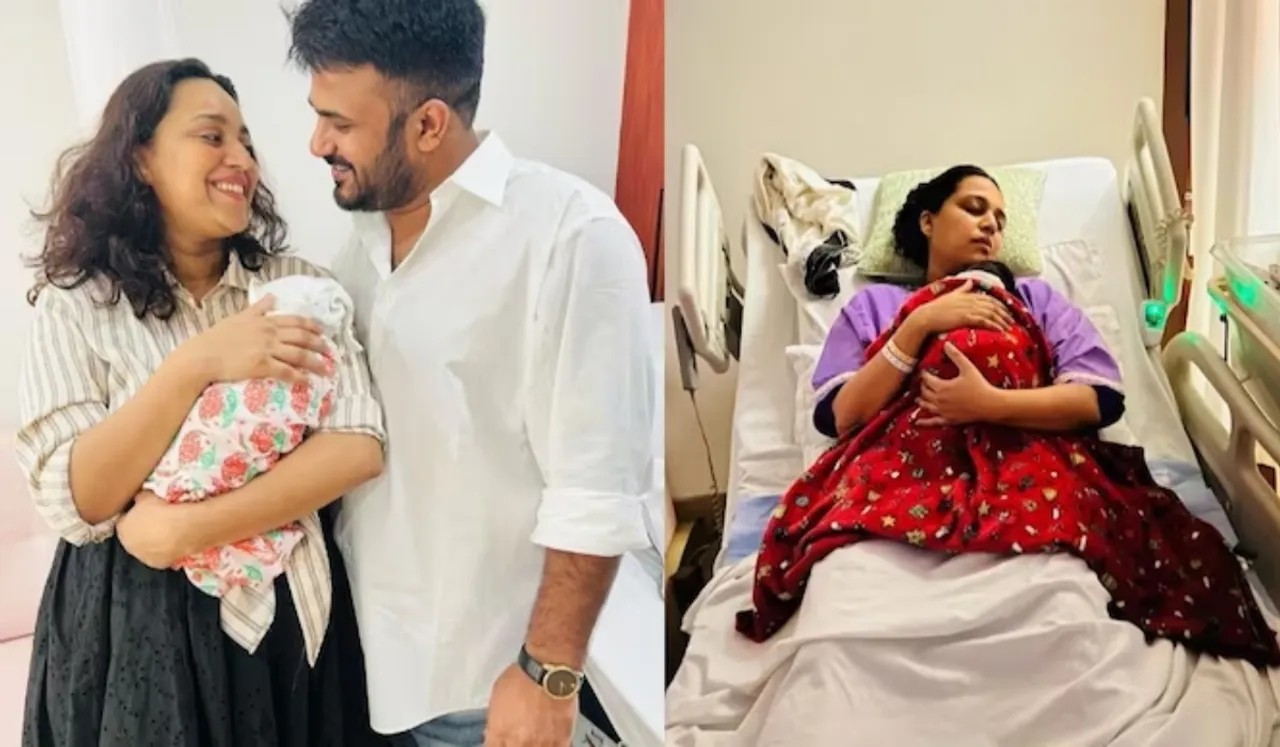 Swara Bhasker and Fahad Ahmad have joyfully welcomed a baby girl into their family. Bhasker shared their happiness on social media by not only introducing glimpses of their adorable bundle of joy but also unveiling the baby's name.
Swara Bhasker and Fahad Ahmad, who tied the knot in February this year, have become parents to a baby girl. Bhasker joyfully shared the news on Instagram, sharing adorable pictures of their family with the newborn. She also introduced their daughter's name, which is Raabiyaa.
Swara Bhasker Welcomes Baby Girl, Shares Name In First Post
While awaiting the arrival of their special one, the actor was presented with a lovely gift from her politician spouse. Ahmad, along with his friends, organised a surprise baby shower for Bhasker, which was attended by their close friends and family.
Swara Bhasker Baby Shower
The actor had no prior knowledge of the preparations and was completely taken aback by the decorations. Bhasker posted several pictures from the baby shower on her Instagram account. She also shared a video in which she was pleasantly surprised to find all her loved ones gathered in a room while she casually 'arrived in pyjamas.' In the clip, she held Ahmad's hand and confessed to being nearly 'clueless' and somewhat 'confused.' Bhasker also expressed her gratitude to her friends for 'thoughtfully coming up with this sweet plan and bringing it to life.'
Watch the post here.
The couple had earlier also participated in a dreamy maternity photoshoot in the luscious green gardens of Delhi. Mom-to-be Bhasker looked angelic in a white and blue maxi dress, while dad-to-be Fahad Ahmad twinned with her in a casual blue shirt. The first photo is in black and white, showing Bhasker sitting on Ahmad's lap and looking at him while Ahmad is facing the camera.
Swara Bhasker Maternity Photoshoot
In the next photo, Ahmad is seen cradling Bhasker's baby bump as the couple poses for the camera. In another photo, Bhasker is seen lying on Ahmad's lap, and in the last photo, the couple is seen sharing an intimate moment under an umbrella.
Sharing the photos on her Instagram handle, Bhasker captioned them, "Sometimes life grants you a blessing unexpectedly and sets you on a journey of both self-discovery and togetherness!"
The mom-to-be has been embracing the comfort-over-style formula while navigating through her pregnancy journey. She had kept it breezy, casual, and comfortable in her own way.
In a previous Instagram post, Bhasker was seen curled in her bed in the comfort of a pregnancy pillow, wearing a cosy floral dress. In another post, Bhasker shared the setting up of a crib for her baby in their bedroom. She was seen wearing comfortable-looking blue floral co-ords.The actor is surely in love with floral patterns, as she has been consistently looking ethereal in floral outfits.
Swara Bhasker announced her pregnancy on June 6. She shared a series of photos on her Instagram handle of herself sitting with her husband, Fahad Ahmad, on the terrace under the warm blue sky. The actor, dressed in a pink maxi dress, was seen flaunting her baby bump as she cosied next to her husband.
The actor-activist surprised her fans by sharing the news of her registered marriage to Fahad Ahmad on February 16, 2023, under the Special Marriage Act. They had a traditional wedding ceremony at Bhasker's maternal grandmother's house on March 15–16, 2023.
---
Suggested Reading: Swara Bhaskar Trolled After Announcing Pregnancy: Premarital Sex Isn't Sin; It's A Choice