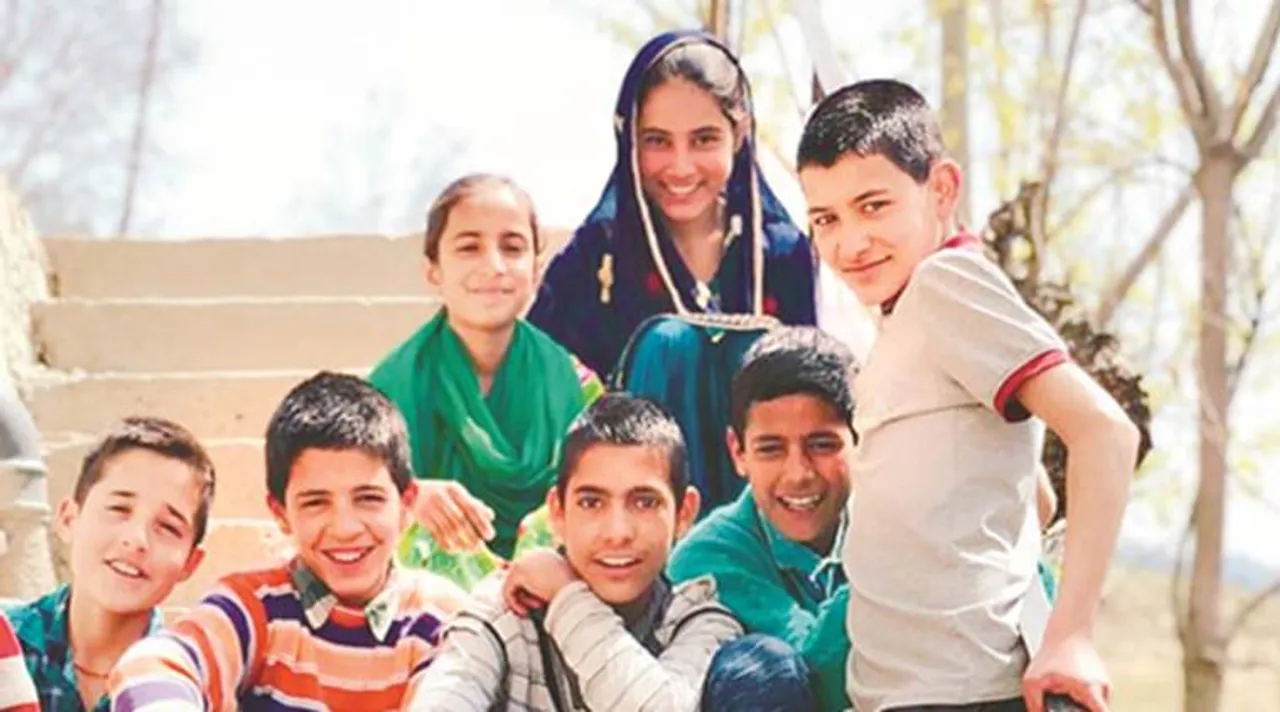 Social media is bringing us closer to our favourite authors. Recently, author J K Rowling caught a glimpse of one such endearing letter penned by a 12-year-old girl from Jammu and Kashmir.
The Harry Potter author was tagged in a tweet that came beyond the land of Hogwarts -- straight from the hills and worked like a Patronus Charm (The Wizardkind would say)!
Kulsum Bano Bhat, a student from Haji Public School, J&K, wrote the heartwarming letter to the renowned Harry Potter creator to let her know that she inspires her in every sphere of life. Her teacher, Sabbah Haji Baji, tweeted on Kulsum's behalf.
Dear @jk_rowling. Kulsum, 12, a first generation English learner from the Himalayas would like to meet you someday. So come visit us at #HajiPublicSchool . https://t.co/F9tvShYJsm

— Sabbah Haji Isolating Smartly (@imsabbah) April 26, 2018
The teacher also extended her an invitation for the bestselling author to visit Doda to meet Kulsum. She added the girl, "a first generation English learner from the Himalayas would like to meet you someday. So come visit us at #HajiPublicSchool".
Also Read: J K Rowling Stirs Up Tweet Storm Against Online Misogyny
Like Casting a Spell, touched by the muggle's gesture Rowling saw the message and generously responded with this, winning hearts on social media.
Please can you send me Kulsum's full name by DM? I'd love to send her something.

— J.K. Rowling (@jk_rowling) April 26, 2018
Never too busy to respond to her fans, Rowling asked for Kulsum's details to be able to "send her something". The reply from the author left Kulsum and everyone at her school surprised.
"Sabbah ma'am told me that J K Rowling had seen my essay and that she had replied. I am so happy. If I get to meet J K Rowling, I will tell her she is wonderful."
Kulsum is the daughter of a farmer couple in Breswana and has three siblings.  "My brother is in Class III in the same school. I speak in English with him at home… in school, we all have to speak only in English," she says, The Indian Express reported. She also talked of her never-ending love for the Harry Potter series.
"Hermoine is my favourite character, she is intelligent," says Kulsum who is now in Class 7.  "If there was one spell I could do, it would be Wingardium Leviosa (the levitation charm)," she adds
Seeing this adorable gesture, the Twitterati was in raptures:
"May Allah bless JK Rowling" ❤ pic.twitter.com/uxMlF8uLiG

— I remember Tom Brady's MAGA hat (@_shireenahmed_) April 26, 2018
Woke up to this message ..took me a while to find thread and it has given me so much happiness...The innocence n purity of #kulsums message n @jk_rowling message to be ..There is hope in the world!!

— Yasmin Kidwai (@YasminKidwai) April 28, 2018
I have said this b4 & I'll say it again, I feel I am a better person tdy cuz I grew up reading her work. What a legend

— Greys&Starks (@GreysStarks) April 27, 2018
Mam. This is the most beautiful thing i ve ever came across on twitter. May God bless you. Big fan.

— Waseem Musa (@swasim73) April 27, 2018
The Wizardry that keeps generations after generations hooked in a single spell, was celebrated worldwide like never before. The teacher later thanked the author again for showing so much love with Kulsum's photo attached in a tweet.
Shoutout to the very gracious J K Rowling. This tweet framed for ever in our school hallway. https://t.co/woPspMmKa1

— Sabbah Haji Isolating Smartly (@imsabbah) April 26, 2018
Such joy!
That's Kulsum right up top, dark blue dupatta, with her equally gorgeous classmates. Picture by Miss @enthahotness who is on Instagram as under. #HajiPublicSchool pic.twitter.com/WiyVvNudpJ

— Sabbah Haji Isolating Smartly (@imsabbah) April 26, 2018
Kulsum again ❤️ pic.twitter.com/XS0eQ4Vpy7

— Enthala (@enthahotness) April 19, 2018
Feature Image Credit: Sabbah Haji Baji/Twitter
READ: Rowling's Patronus Charm Helped 'Harry Potter' Fan With Depression
Also Read: JK Rowling slams WBC for opposing gay marriage