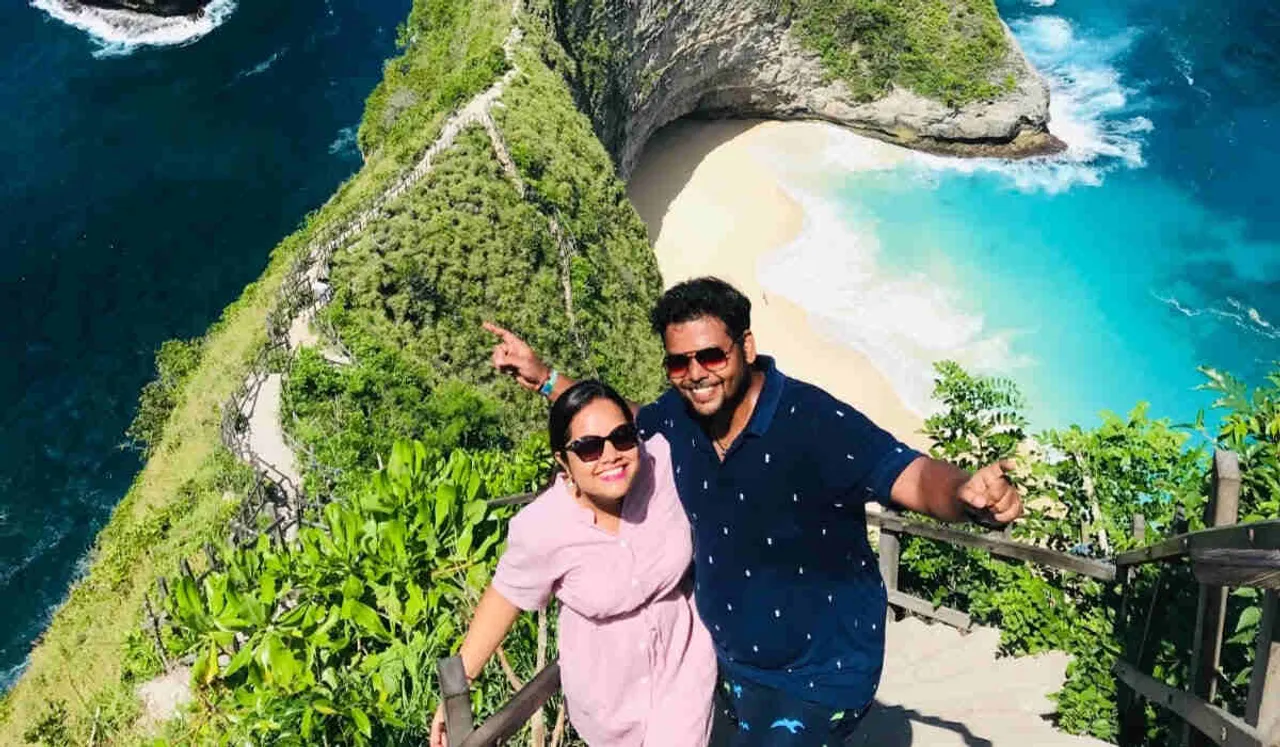 Neha and Aniket Pednekar met through an arranged marriage setup after getting to know each and their respective families. It was, however, during an uncertain moment of fate in a series of crises when they learned about each other, something that not just thickened their bond but also made them grateful for one another.
In conversation with SheThePeople, Neha Pednekar recalls how they were stuck together on an island during the pandemic, how they handled uncertain circumstances together and what made them grow in their relationship.
Couple Stuck On Island
"So, ours is an arranged marriage. I had mentioned in my profile how my parents were divorced and, while most people frowned upon the information, Aniket's family was happy to see me not just confident but also honest about it. We met and immediately hit it off and the rest is history.
Every relationship has its own challenges, mine is the time we spend apart as Aniket is in the Merchant Navy. I always laugh it off when people ask me how I manage the distance, and I say, 'It's arranged marriage, so I have always lived without him before marriage." Of course, days when you miss and want what a normal relationship has. But I tend to see the brighter side because when we are away we are independent people. Whereas when we are together we cherish and value our time together and never take anything for granted.
We got married in December 2018 and since then we got only 6 months together. So we decided on a long vacation. 2020 gave us the longest time together and we were almost alone in a foreign country. That's when we realised we do make a great team.
We decided to go to Bali which we were planning as our Honeymoon, but could not go. A last-minute addition was Singapore, we planned a three-week-long trip and headed. It was March 3; we started our journey and the news of COVID-19 was limited to China and Korea. A couple of people were wearing a mask at the international airport and we purchased one for ourselves to avoid any problems further.
March 4-9: It was all normal in Singapore, the only place where we felt a bit deserted was Sentosa and Universal Studios. In fact, even while travelling from Singapore to Bali felt pretty normal.
March 9: We travelled to Bali pretty well without realising COVID-19 was spreading around and then travelled to Gili-T from there.
March 17: It was the first time in Gili we felt the fear building up a bit. It was our third day and we were coming back from our snorkelling trip and we saw a never-ending queue at the harbour. We asked the people in the queue as well as a few locals and they said that the island is shutting down all the operations for tourists and will be in lockdown soon. We rushed to our hotel and searched for the ticket scheduled for the next morning. But since it was a rumour that the last ferry leaves at 4, we were trying to get on that last ferry. However, we could not, since all the ferries were already over-booked. That evening on that island was unlike the usual, silence and lesser people. The next day morning, we left but soon we learned that commercial ferries were closed.
So, we had to travel to Bali from Gili-T to Lombok. That was one big day, I remember vividly. We boarded a ferry and came to Lombok, one by one ferry, we were about 100 people gathered in Lombok, at least 2 buses full, and we travelled from one harbour to another. We were supposed to go to Bali from there. Generally, it takes 2 hours for a commercial ferry to reach Gili-T to Bali. But we already had covered two hours of the ferry to Lombok, 2-hour harbour change travel within Lombok via bus. And next was a seven-hour commercial 200-seater ship that brought us from Lombok to Bali. It was raining that evening, and we met an Indian couple who had their flight scheduled for India the next day.
We had half of our tour still left, it was a tough decision to make. We settled in a hotel nearby Padangbai. We had to decide if we want to continue our trip or stay in Bali and try to get out of the country. We didn't know it would be that bad and decided to complete our trip. We went ahead to Nusa Ceningan on March 18.
March 20: Lockdown Series
It was Nusa next who closed all its commercial ferries to Bali. And we again thought we will be stuck on this island. Another restless night, another decision to make, What next?
We got in touch with a local and he arranged a ferry for the locals from a sort of secret place. It was a hotel on the beach side and that boat belonged to that hotel. We met another guy at 8 in the morning, we did not know this guy, never saw them, any number. He secretly made us sit at a hotel, took the money and left. We were sitting at this hotel for another two hours and did not know what is going to happen. It so felt like we were doing something wrong or crossing borders.
A boat did come after some time and we breathe a sigh of relief when we reached Bali back. Next was taking a flight back.
We came to a hotel and settled there, by then lockdown was announced in India and our flight scheduled for the 24th got cancelled. We were checking in all our desperate attempts to go back if any other airlines are offering any flights back home. Came across Thai airlines, we booked and they cancelled it the very next day. Even Malindo did the same, but for the trip that the airlines cancelled, Thai gave a cashback offer if not used in a year whereas Malindo did not. We went almost twice to Thai airways to check if there is even the slightest chance to be back. But I guess, we didn't.
We kept changing and degrading to different hotels for another month. A guy from Delhi owned a restaurant there, they offered us free food for a few days. He did help us to his full capacity and then he could not continue. We are thankful to him; I also offered my service of making roti for 50 people since we Indians believe in helping each other. It was during this when we realized that there were around 50-80 odd Indians stuck in Bali.
We then almost a group of 20 Indians decided to stay together in a hotel. I could not help but notice so many people were stuck just like us. There were newly married couples who came to enjoy their honeymoon, one in their late '50-'60s enjoying their retirement. One who had come to celebrate their 3rd anniversary as well as their first international trip, this couple stayed until it was the wife's birthday. In fact, my husband too had to celebrate his birthday.
We spent days playing ludo and seeing bake stories back in India. Counting days as to when we will go back. The embassy there did help us with groceries for two weeks to make food and the hotel was kind enough to give us access to their kitchen. We were about 20 people, 10 couples who used to cook in a group of 4 for all of us. We ate together, we fought, we united when required and were bid adieu by the hotel. It was a very emotional day when we left Bali. After three months, we started loving that place but also knew we had to return. We returned to India on May 29.
This was a trip of a lifetime and will always be.
It takes two to tango and marriage is teamwork. It needs effort, understanding and accountability. Also, comfort is silence, doing things together yet meeting at some end is the right partnership. From the courtship to now, we have known each other for just 5 years but we have an inexplicable bond. We have set roles and responsibilities for each other, never taking anything for granted is the biggest mantra and teamwork is necessary.
Narrated by Neha.
---
Suggested reading: In Sickness And Health: How This Couple's Love Grew Stronger In Difficult Times