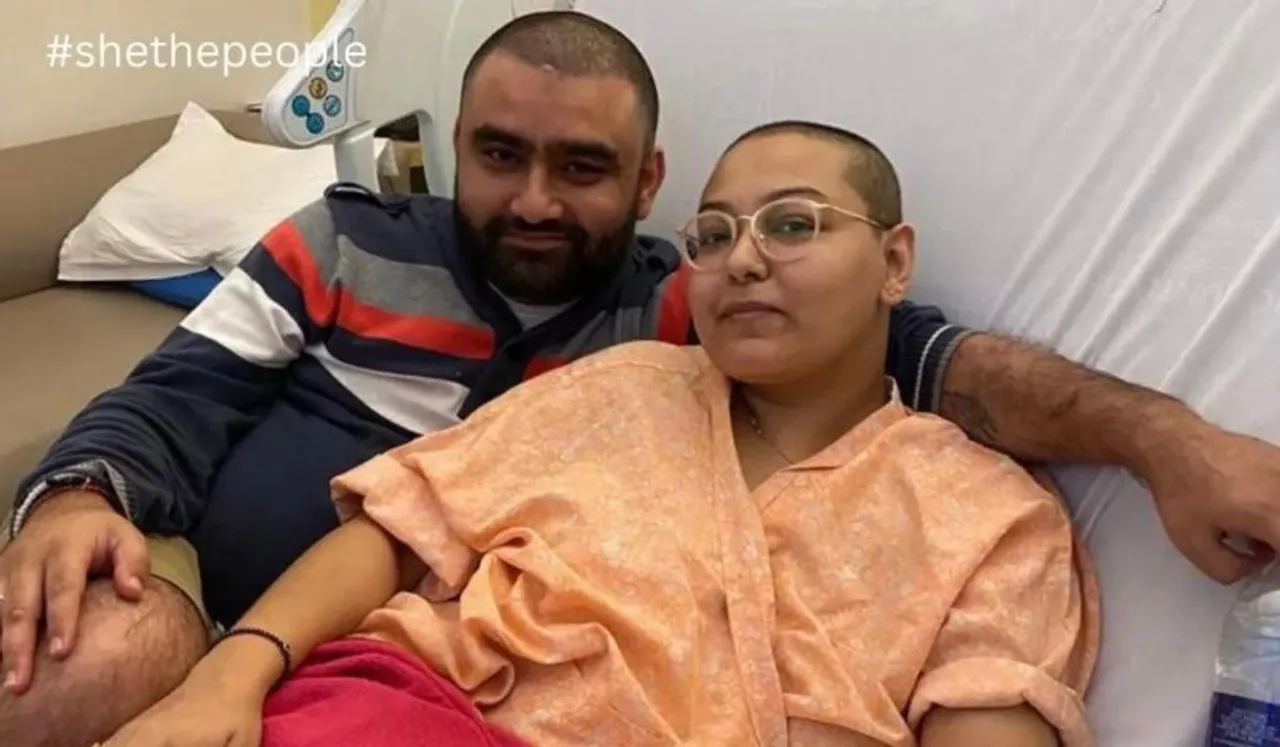 When couples take wedding vows, they also vouch to stick together 'in sickness and in health'. For Gurgaon-based Gunjan and Prashant, this mattered more than anything else in the world, and their journey of love and experiences at challenging times affirms that. 
In conversation with SheThePoeple, Gunjan A. Kshatriya shares her personal highs and lows, how her spouse stood by her through it all and what it means to stick together in the face of adversity.
Love Through Illness
"Prashant and I met in 2013 and slowly fell in love. After 2 years of relationship, we got married in 2016 and life was like a dream. I had supportive in-laws and an amazing husband. I suffered from PCOS and everyone knew about it. We knew it would be harder for me to conceive a child and we were prepared for it.
After 3 years of marriage, we decided to try for a baby and that's when things changed. Since I had PCOS, my gynaecologist suggested some tests. But the test results were unexpected.
I was diagnosed with non-Hodgkin lymphoma, a kind of blood cancer. I was shocked and numb and couldn't process this. We were planning to bring a new life into this world but instead now had to worry about saving mine first. Throughout the treatment,
Prashant remained calm and supported me through the lowest of my days. After 4 months of painful treatments, I was finally declared cancer free. We celebrated my victory and thought that the worst was over.
A year passed and things started looking up for us. Life was slowly coming back on track but suddenly in October 2021, my annual routine check-up indicated that the cancer was back and it was much worse this time. The cancerous cells had spread through multiple organs and doctors informed us that I would need to go through a bone marrow transplant. I was scared and slipped into depression. I didn't want to talk to anyone and spent my days either crying or staring at the wall blankly. I wanted to give up as I had no fight left. But, Prashant didn't let me. He stood by me as a pillar of strength. He stopped going to the office to spend time with me.
He accompanied me to all my appointments and stood outside the OT during the procedures, praying for my recovery.
When my hair started falling off due to all the treatments, I decided to shave it all off, and Prashant was with me. He shaved his hair off both times, to give me company. During this time, the song, Srivalli, was trending and he would dance to it, to cheer me up after my treatments.
Finally, after my bone marrow transplant in February 2022, I defeated cancer again.
More than the doctors and God, I am thankful to my husband for never leaving my side."
Narrated by Gunjan A. Kshatriya to Niharika Vats
---
Suggested reading: Love And Remarriage: How My Kids Welcoming My Baraat Was Empowering