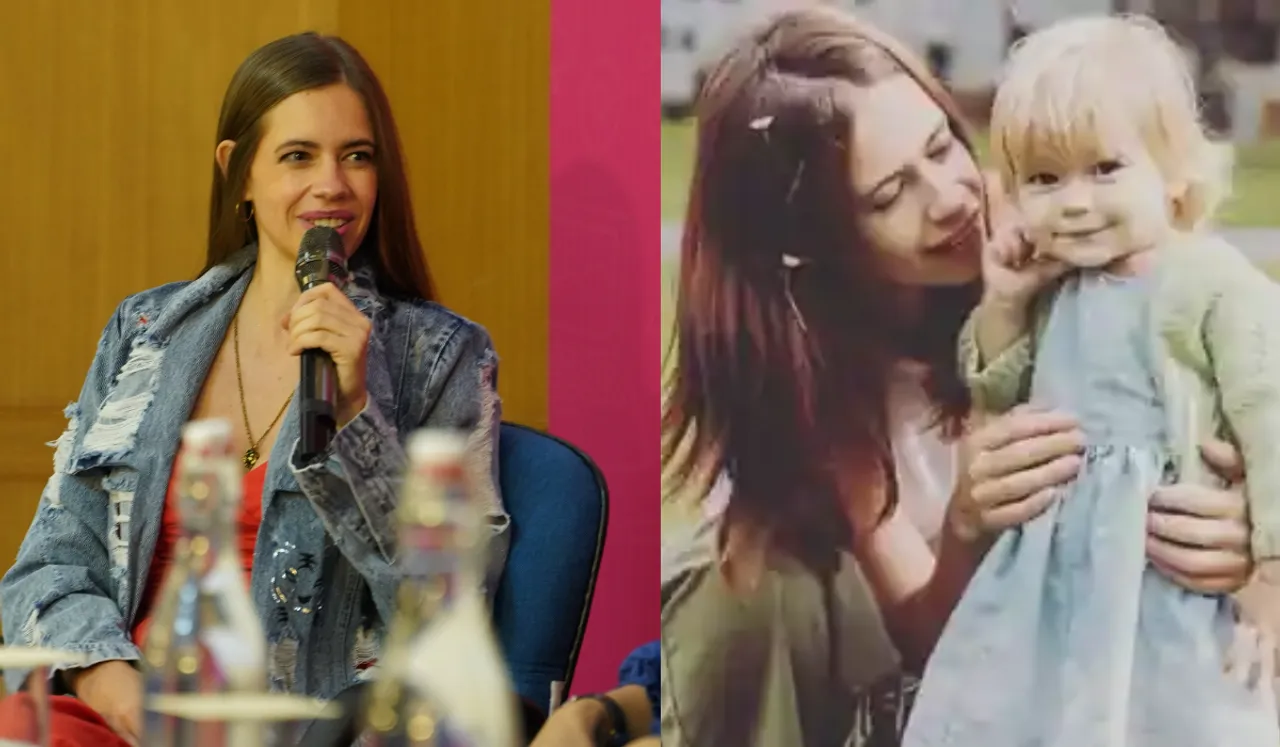 Kalki Koechlin is currently riding the waves of success and basking in the limelight for her outstanding performances. She's been showered with accolades for her role in the second season of the hit OTT series Made in Heaven. Additionally, she's making waves in the film world with Goldfish, a compelling exploration of the complexities of motherhood. In a recent conversation with SheThePeople, Koechlin shared insights from her own motherhood journey, dropping truth bombs and offering advice she learned from her own life.
The actor and her then-boyfriend welcomed their first child, Sappho, in 2020. The first thing she shared was that no one had prepared her for the challenges of the first few months after giving birth, despite the flood of congratulatory messages and well-being advice during her pregnancy.
On The Need for Open Communication And Setting Boundaries in Motherhood
Interestingly, Goldfish, the film revolves around the complex bond between a mother and daughter, and when it went on floors, Koechlin had just become a new mother herself. She shared that it was her first film after she gave birth, and she used to bring her baby on set as she was still breastfeeding at the time.
She said, "I had my baby with me and I was still breastfeeding. So I was taking her on set with me.  And I was just overwhelmed with that experience of the first film after I became a mother.  So that whole experience of,  you know, she had me 24 seven because of COVID,  I was a full-time mom.  And then suddenly I became this person who was not there for 12 hours a day.  And that was really hard for her and really hard for me."
Further in the conversation Koechlin also revealed how she experienced the complexity of balancing motherhood with personal aspirations. She shared a heartfelt experience, saying, "It was my first film after I became a mother. The day before shooting, it was really late at night, and she wasn't letting go of me. She clung to me like a koala bear. So, I sat her down and told her, 'Listen, I really want to do this film. It means a lot to me, and I love you very much. I'll be there for you every morning and every night. But in the middle, you've got to let me go and be with Nanny Manda.' That was the nanny's name."
She continued, "She fell asleep ten minutes after this conversation. The next morning, she woke up and asked, 'Where's Nanny Manda?' She went off with her. It was beautiful to realise that you can talk to your kids like real people. Sometimes it's hard, and I have to make decisions, and you should know that."
Watch the video here



Her conversation with her child exemplifies the importance of open communication, honesty, and setting boundaries. This honest dialogue reflects how mothers navigate responsibilities and occasionally wrestle with feelings of guilt when choosing their own pursuits, underscoring the emotional depth and intricacies of motherhood.
On the Importance of Personal Time and Self-Respect in Motherhood
Moreover, drawing from her personal experiences, the actor also offered a piece of advice that holds potential inspiration for mothers everywhere. She shared, "Recently, while shooting in Portugal, I was away from my daughter for the first time. Up until now, she used to accompany me, but now she has her own social life and school commitments. So, I chose not to bring her to a boring set. Despite having 12-hour shoots each day, I found time for yoga, enjoyed a beer, and relaxed by the pool. It made me realise how precious personal time can be. Of course, after about 10 days, I yearned to be with my daughter, feeling that physical ache. However, this experience reminded me of the importance of self-respect."
She continued, "It hit me that displaying self-respect naturally sets an example for your kids. It's not about telling them what to do; it's about them witnessing how you live. By leading a life with self-respect, you're indirectly guiding them to follow the same path. In essence, live your life the way you wish your child to live theirs."
On Anamika and Her Own Life
The actor further talked about her journey as a mother, "All I know is that having become a mother made me appreciate my mother so much more. Because I am so close to my baby.  I'm so close to her.  And we're so well tied together."
Discussing her character in the film Anamika, Koechlin, who portrays the child of a mixed marriage, shared that the story revolves around Anamika's return to her estranged mother Sadhana, played by Deepti Naval. Sadhana is dealing with dementia and the scars of her past. Kalki revealed that the mother-daughter bond depicted in the film closely mirrors her own real-life experiences with her mother.
She elaborated, "It's a constant struggle, really. My mother and I, when she watched this film last year, remarked, 'Oh, it's a documentary of our life.' We've had our disagreements. Here, in the film, it's about a goldfish, while in our case, it was about a squirrel. But the essence of the fight was the same. It felt incredibly literal. When I read the script, I was shocked at how accurately it captured my life. I wondered, 'How did you guys write this so well?' It's so real."
She continued, "Certainly, I grapple with it. I've become calmer and more composed now, as has my mother, compared to my teenage years. I'm not sure if it's her evolution or mine. Nevertheless, I'm glad we've reached this peaceful space. Yet, we still have our moments of disagreement, and it's not always easy."
The film was released in theatres on September 1. 
---
Suggested Reading: 'It Feels Close To Life', Deepti Naval On Goldfish's Perspective