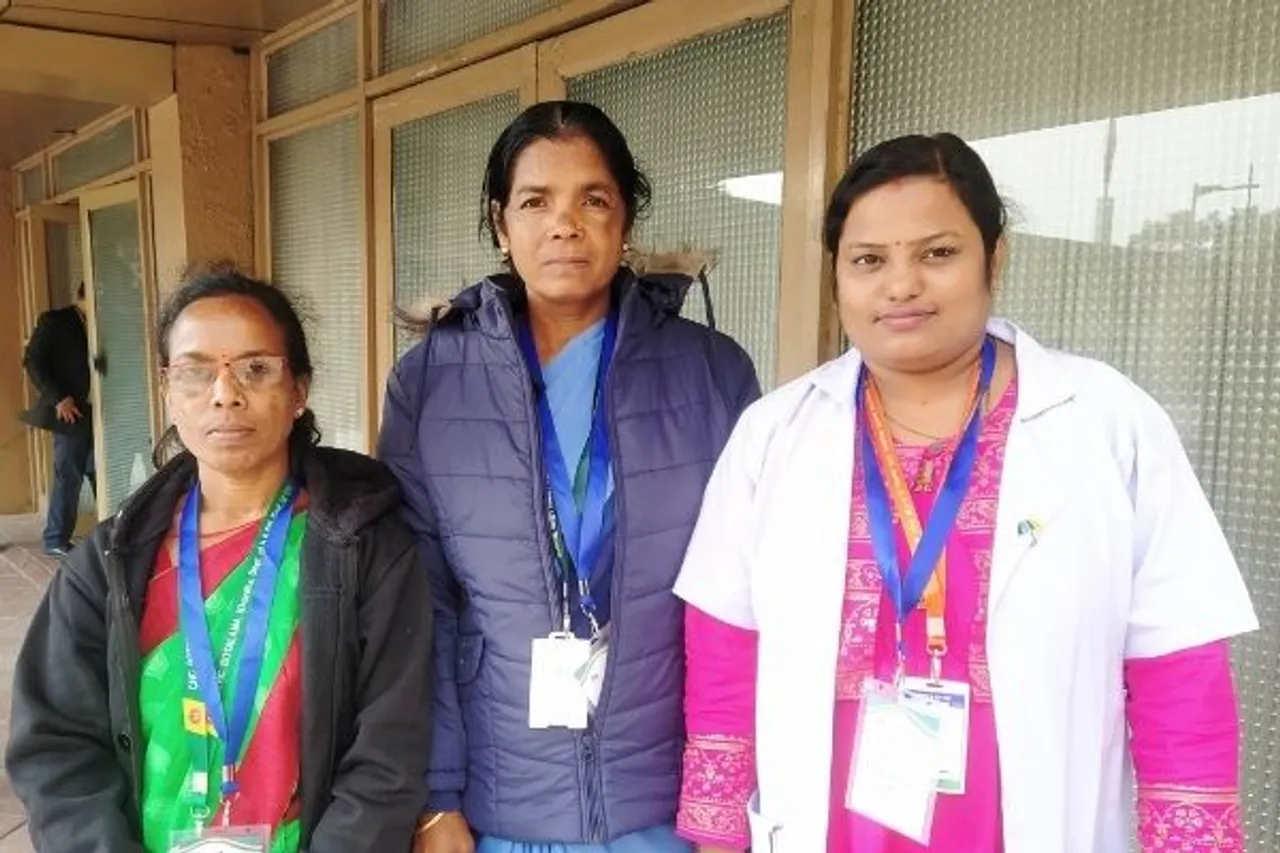 Sushma Sambhaji Lugare has been covering a distance of 34 kilometres every day on her scooty since 2018 from her village in Yavatmal district to the Primary Health Centre in Jawala, Maharashtra. The Community Health Officer played a big role in creating health awareness and in the last two years making the rural population aware of the virus and persuaded them to follow the COVID appropriate behaviour. Some CHOs also found unique ways to boost the morale of their patients. SheThePeople spoke to several of them to understand the challenges they are facing and how they are ensuring that no one should be denied primary healthcare facilities. Here are some interesting stories:
Lugare works as a Community Health Officer who provides screening for non-communicative diseases to the people of the area and treats them while also dispensing them necessary medicines. On the days she is not at the health centre providing treatment and screenings, she is out in the village among the people making them aware of their healthcare needs.
Like Sushma, all Community Health Officers(CHO) have to work with the Accredited Social Health Activist (ASHA) and Auxiliary Nurse Midwife (ANM ) of the area. The ASHA worker goes door to door getting people to fill out surveys which are then handed over to the ANM who provides the information to the CHO. The patients are given free primary and secondary treatment and in case they need further medical attention, they are referred by the CHO to the district health centres.
---
Suggested Reading: Female Workers in the Informal Sector face a larger brunt of the COVID Economic Crisis
---
Indian Community Health Officers: The Work They Do
The CHOs are placed at the Health And Wellness Centres across the country as per the Ayushman Bharat Scheme of the central government for the primary and secondary prevention and care of several diseases. The scheme came into being in 2018 and the government is planning to place 1,20,000 CHOs at the health centers by 2022.
Sushma like all the CHOs who applied for the post has done a six-month-long certificate course in Community Health. Most of them were staff nurses at the health centres before being appointed at the post and have expanded their medical training. They provide everything from basic emergency care, reproductive and child care services, oral health services, diagnostics of communicable and non-communicable disease, free breast and cervical cancer screenings and rehabilitative care. They also work towards raising awareness among people about various issues like contraception, sexually transmitted diseases, hygiene issues among many things.
Steps Taken For Women's Health:
CHO Hemprabha Upadhyay, 31, of Madhya Pradesh says, "The most important awareness activities are about menstrual hygiene and reproductive health. This involves us making frequent school visits, telling adolescent girls about when, and how to use sanitary pads, providing them with the menstrual kit. "
A 33-year-old Muktadir Hussain of the Dhubri area in Assam has found it especially difficult to have female patients come for checkups to him. " Most people in my area are not educated and women don't feel comfortable coming to a male doctor so I have had to conduct many health promotions. Now after three years, I finally see some women walk into the health centre." Hussain has also had to face the hostility of the villagers as he was seen spreading awareness against early marriages which are rampant in the area.
Most Community Health Officers spoke to SheThePeople about how women in their areas need much more persuasion than men when it comes to getting medical help. A 31-year-old Alka Khalkho of Gumla, Jharkhand shared that women in her area would rather stock up on contraceptive pills than ask their husbands to use condoms. She said that women often lack the support of their spouses when it comes to their health and only get treatment when things get much worse.
---
Suggested Reading: PM Modi In COVID-19 Address Requests Patience Amid Deadly Surge, Healthcare Shortage
---
"They feel very shy talking about their health. Especially when it comes to family planning matters. We provide them with condoms, Mala D tablets, Antara injections (Injectable contraceptive), " CHO Noor Jahan of Mandi district, Himachal Pradesh says.
"Things are a little easier with the help of ASHA workers because they are much familiar with the village people than the CHOs. They also help us understand the mentality of the people around us and the health conditions of women in the area. We have seen a great breakthrough in getting women to self examine themselves for breast cancer in the past three years," she adds.
The Pandemic And Added Responsibilities:
During the COVID-19 times, their work increased exponentially as it was not only the disease they had to prevent from spreading but also had to deal with the hesitation among the rural population towards medical care. The stigma around the virus had to be dealt with too. CHO Noor Jahan said, "To tell you the truth I had to get tested myself so many times in front of the villagers so that they can see that the testing swab is not dangerous." From following the government mandate of testing the people, tracking the cases and tracing contacts, the CHOs are now also involved in vaccine rollouts.
CHOs from 12 states in the country were given emergency COVID-19 response training by a non-profit organisation Jhpiego-led project NISHTHA. The program is funded by the United States Agency for International Development (USAID). Through various webinars, study materials and frequent reach-out drives, the project was able to give technical assistance to the health officers so that they can conduct their duties while being informed. The CHOs spoke to us about the assistance they received from NISHTHA and many said that they felt supported and inspired by the program.
"During the pandemic, CHOs were in the frontline fighting COVID-19 heads on. It was important that these health warriors had the right skills and knowledge to manage the pandemic at their level. In view of this we developed various training modules as per the changing needs of the pandemic, " Swati Mahajan, NISHTHA Chief of Party/ Program Director, Jhpiego said. 
"We also developed an e-learning platform called iLearn for the CHOs which is blended learning platform to ensure the CHOs are up-to-date with all the current information. This platform also works as cross learning platform for the CHOs where they can share their work and learn from each other. Further these CHOs are the team leaders of primary healthcare teams at HWCs. In view of this, NISHTHA also developed a leadership curriculum to empower them to be future public health leaders," she added. 
The Central government felicitated over 31 CHOs, ASHA workers and ANMs on the Universal Health Coverage Day 2021, December 13 for their contribution during the pandemic.
---
Suggested Reading: 'High Time We Express Gratitude To Healthcare Workers': Supreme Court
---
When hospitals ran out of beds for patients during the second wave of the pandemic Maibam Ranita Devi of Awang Wabgai, Manipur made the people at her health centre do different breathing exercises which also included yoga and dance movement therapy.
She said, "We kept the activity at a government school, all isolated, and had them do creative dance movements. They seemed to be distracted and were actually enjoying the process." All CHOs are trained to conduct yoga classes for the people in their community.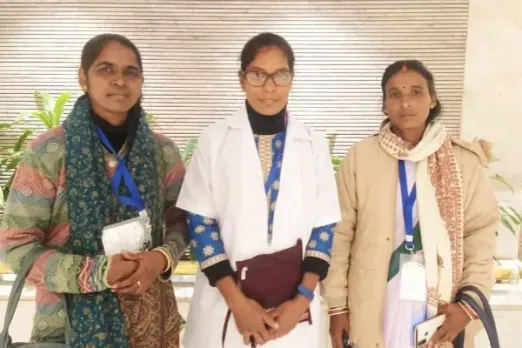 Left to right: ANM Saro Devi, CHO Alka Khalko, ASHA worker Baren Minj
Major Road Blocks:
Rashmi Pandey, 30, from the Sanwer area of Madhya Pradesh's Indore district always had to travel alone to secluded rural areas but she felt scared for the first time when she was working in Ujjain. She was with her team, mostly women, doing COVID-19 screening of some migrant workers in the area during peak lockdown. The workers needed food and Pandey met their rage. "They started demanding food from me and things heated up to a point that I felt like they were going to hit me." She was then saved by the village authorities.
Noor Jahan of Himanchal Pradesh faced problems travelling to the rural areas during the COVID-19 times when the public transport was not functioning. "Anyway in the rural areas, there is an issue of transportation and if one does not have their vehicle it is especially difficult to reach some places and it also adds to pocket expenditure. We would be able to do a much better job if the government helped with this issue," she says. Like most CHOs, she also has a male Multi Purpose Worker (MPW) in her team who speaks for her when the people only want to listen to a man.
---
Suggested Reading: ASHA Workers Go On Indefinite Strike: All You Need To Know
---
A 24-year-old Sushma Sambhaji Lugare says that she is freely able to travel the distance from her village to the Primary Health Centre every day because the MPW also travels with her.
Most CHOs are women and that does not sit well with the patriarchs of the village homes. They are also met with violence when it comes to maintaining the prevalent caste systems in many Indian villages. 
Jharkhand's Baren Minj, 37, who works as an ASHA worker in Gumla district has not been paid a single penny for the past six months and she is still continuing to do her job every day. When asked about why she has not enquired about the delay in her due payments, she seems hesitant and says, " Dhan bech bech kar kisi tarah ghar chal rha hai." Somehow we are functioning by selling wheat crops. ASHA workers in lakhs have been protesting against the delay in their payments in states such as Maharashtra, Kerala, Madhya Pradesh, Gujarat, Punjab and the national capital New Delhi since last year. 
Despite the challenges, the health workers have been serving their communities with unwavering spirits. In the words of Assam's Muktadir Hussain, "When I go in the village areas for awareness drives and treatments, I think of myself as someone doing public service and I take pride in that."