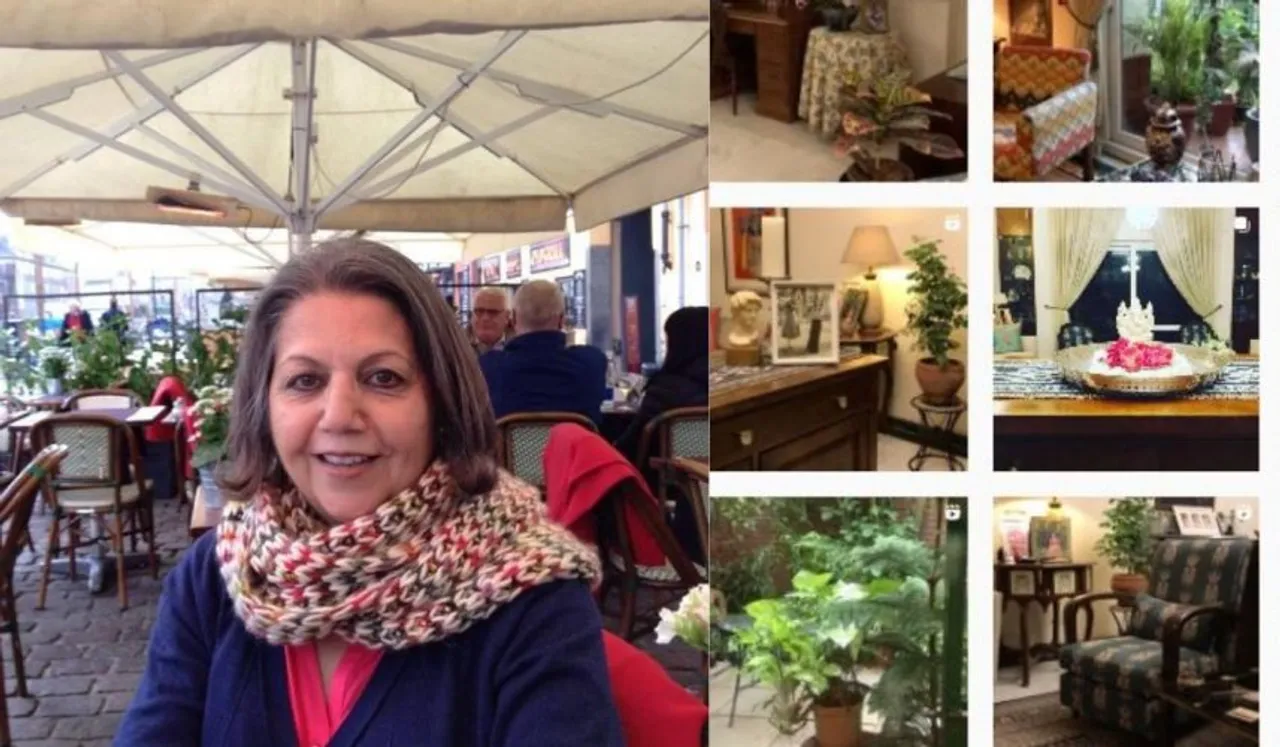 Archana Sindhu hails from Gurgaon. In her 60s, Sindhu has started a home styling and décor venture, along with her daughter. Sindhu feels this is her second innings, and her daughters gave her life a purpose.
Sindhu has not limited herself to only business, she is also an influencer, and her audience takes advice when it comes to home makeovers. Sindhu started Little-Big Co along with her daughters in 2016 and has been successfully expanding and upscaling it bit by bit. At the age of 67, she took a career leap and is proving age is just a number. Currently, her daughters are expanding business, while she acts backbone of the business.
Archana Sindhu, A Woman Entrepreneur In 60s
In an interview with SheThePeople, Archana Sindhu talks about her journey, and the challenges she faces while running the company. Let's dive into this insightful conversation.
How was your entrepreneurial journey?
I played a supporting role in strengthening our Little Big Venture. I encouraged my daughters to start a business as they always wanted to do something of their own. My eldest daughter used to work with IBM, and my younger daughter is a news presenter. One evening in 2016, we discussed starting something, and that is when we thought of a home styling venture. The company got a name- Little Big Company after my younger daughter as Little and Big for the elder daughter. Sometime back, I became the Big, my elder daughter became the little one when the younger daughter left to pursue her individual career. So that is how our entrepreneurial journey is carved. 
---
Suggested Reading:
Neha Mujawdiya's Personal Journey In Accessing Basic Education Inspired Her Startup
---
Mother-daughter duo started a proper startup, What were your roles?
My real journey started when my younger daughter left as I became a full-timer. Being mother-daughter helped us a lot, we understood each others' aesthetics, and strengths. Organising, making excel sheets, and selecting the fabric is her strong trait. Mine is meeting people, speaking to clients understanding their needs, and executing accordingly. It's like, give me 20 things and a room, and I will do it all. So we both work on each other's strengths. Everything is personally taken care off.
Did the generation/age gap ever create a hindrance, while operating the business?
No, on the contrary, the people respected grey hair. Given the age gap, people did have hesitations about whether my taste would sync with them or not. But then they realise, I was very much with the trend, so they got that comfort and were open to my ideas.
What services have you provided and how you are expanding them?
Initially, we were doing only styling, meaning soft furnishings. We would help buy the furniture, the art, the curtains, the upholstery, the cushions, and then put it all together. Later on, on clients' demand, we started providing end-to-end services. For instance - changing wall colours, redoing rooms, making own furniture. It started with the two of us. But now we have grown, I have carpenters, designers, social media handlers, and architects working under me. We have set up our own workshop. Earlier, I was working from home. Now we do both. We have a good number of followers and projects to keep us going.
How did you keep up with that trend?
For any business, one should be updated with trends and what is going on in the market. I read magazines, use Pinterest, scroll Instagram, and use Google to get insights into what is trending. It is a dynamic process; you cannot stick to your conventional ways. Family structures are changing, given the COVID situation, working patterns are changing. Now  families want a clean neat home, with workstations and things like that, men are more interested than women. So, we have to cater to these needs. We also see what others in the same business are doing.
What strategies did you first use to market your business?
I never ever advertised our company. I had set up my page on Instagram from there for the first time, an online portal featured on their channel. I never paid a dime to them. After that, I got a lot of calls, and workflow was boasted. The second was by word of mouth. Our client appreciated the work and spread the word. I think, for us, Instagram has been a great support. Whatever we have achieved today, it's through Instagram. definitely, the search engine has been a great fit.
What makes an entrepreneur's life very challenging yet rewarding?
Challenges are always going to be there. The biggest challenge is managing the workforce. Employees working with us come from the village. So there are leaves for weeks together, work lags. Finding a temporary replacement is difficult. Besides, in winter, productivity is less given the short day and long nights. Then there are festival seasons, where people avoid renovations, also during the afternoon in society people don't allow you to work. So these are subtle challenges but matter while achieving the said deadline. 
COVID was also challenging, but for me, it was time to think seriously and decide the path to grow the company. So far, it was all fun and games, during COVID we reflected on lot many things seriously to bring it into an organised form. We decided to grow our team. 
To overcome challenges, we keep a backup of the workforce and tie up with people on a contractual basis. Plan projects efficiently so the day is not wasted.
How do you deal with competition in your field?
Every day I see a new designer, I see a new thing. I am sure there is a lot of competition, but there is plenty of work also. I am not threatened by the competition, because I believe in my company's USP quality and personal touch. I pour my heart into the work that appeals to people. I get projects from my old clients to design their homes in different cities as well. 
How have your priorities changed from when you first started?
I do initial briefings, meetings, and visit sites regularly. I look after all the business only in Gurgaon. The daughters handle the rest. I started my own page, and people are using my advice. So it is interesting to explore unexplored. At this point in my life, I have a career, I don't have time to think about other things. Meanwhile, I travel a lot. It's a good balance. For me, it has been a great journey. I have given a new purpose in my life at this point in age client relationships.
What advice would you give to someone to become a new entrepreneur?
Commitment and Quality. Don't let your quality go down. You may initially earn less profit. Do not think of big bucks from the beginning. Money will come when you work hard, and the product is good. Do not compromise on quality. Expand without compromising and with hard work. Give correct timelines, the client is disappointed with a vague deadline. Keep your staff happy and main your customer relationships. At 67, you need the right and optimistic mindset, the rest falls in place, you just need to start somewhere.