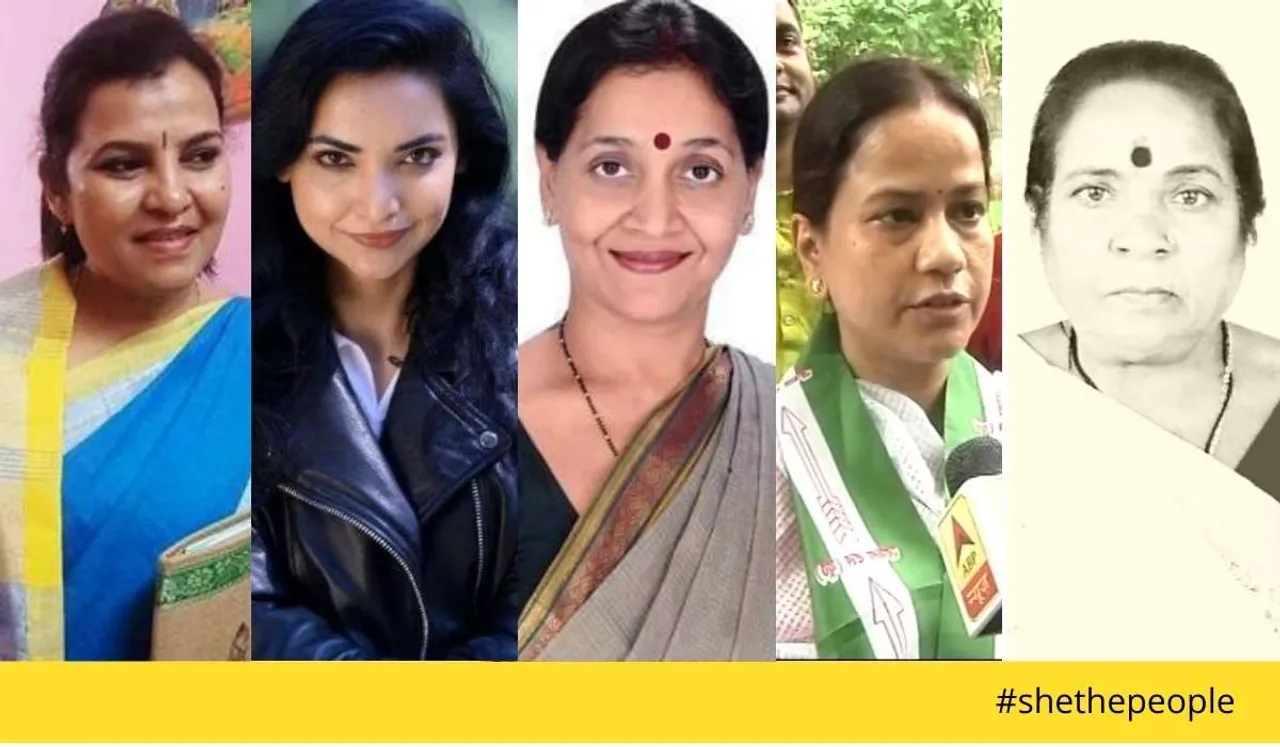 The first phase of the 2020 Bihar Elections began on October 28, and things already seem to be heating up in the run-up to the final results slated for November 10. Female voters in Bihar have concurrently seen a steady rise: the 2015 state elections had 60.48 percent women voting in contrast to 53.32 percent men.
In the 2015 elections, 273 women candidates had been given party tickets to contest. However, in a predominantly male candidature vying for the coveted 243 seats on Bihar's Legislative Assembly this year, reports have pointed out that female candidates are too far and few in number. NDTV reports that as per the Election Commission data, out of a total of 1,066 contestants in the first phase of Bihar elections, "only 144 females have been given tickets from the political parties, translating to a meagre 13.5 per cent of all contestants."
While the ratio of female to male candidates is far from favourable, it consists of a vibrant mix of qualifications – from sports to education, medicine, and activism. Here's taking a look at some notable female candidates of the 2020 Bihar Elections:
1. Pushpam Priya Chaudhary
One of the newest contenders to Kumar's CM seat, Pushpam Priya Chaudhary is partaking in the Bihar Elections with her newly formed party Plurals. An alumnus of the prestigious London School of Economics, Chaudhary is contesting from Patna and Madhubani. One of the key agendas she has pushed is to fill the gender gap in politics. Her party, to this end, has reportedly given the largest female representation. She is also aiming to "turn Bihar into Europe" by 2030.
The Plurals party runs on the ideology of 'Everyone Governs'. According to its official website, Chaudhary believes in the idea that Plurals is "not just a political party, but a political revolution, which is based on the idea that every life is valuable and deserves to be treated as an end in itself and not merely as means to an end. Diversity is our strength and progress is possible only when everyone governs."
Dr Pallavi Sinha contesting from Muzzafarpur, is one of the more notable names to have emerged from Plurals. She is reportedly an eye specialist and former Rotary president. As a social and health worker, she runs a charitable clinic and has organised cataract camps in the past.
2. Shreyasi Singh
Daughter of former Janata Dal-United leader Digvijay Singh, Shreyasi Singh is a candidate from the Jamui constituency, representing the BJP. Singh's mother too is a politician, having "won the by-elections to the Lok Sabha in 2010," as reported by Huffington Post.
An ace shooter and Arjuna Awardee, Singh has several sporting accolades to her name. In 2014, she won a silver and in 2018, a gold medal at the Commonwealth Games. She completed her graduation from Delhi University and went on to pursue a course in MBA.
In an interview with TNIE, she said, "I will try to bring hard work and sportsmanship to politics. We are trained to function under the high pressure and will take all the challenges that a political career throws my way to make Jamui a land of genius given under equal opportunity and all needed supports."
3. Ritu Jaiswal
A popular face in Bihar politics, Ritu Jaiswal is contesting the state elections on an RJD ticket. She is serving as the Mukhiya (or village head) of the Gram Panchayat Raj Singhwahini in Sitamarhi, since 2016 - a figure in rather stark contrast to the generally male heads that occupy such positions. She has been recognised by the government on various occasions, with several accolades to her name, for her contribution to society, especially rural India. In 2018, she was awarded the prestigious Champions of Change award, and in 2019, went on to win the Flame Leadership Award. Jaiswal is a prominent public speaker, dedicated to the cause of social change, including women's safety. She has also once given a TEDx talk on 'Why unregistered rapes in rural India not considered as crime.'
She is currently leading the fight against COVID-19 in her area of jurisdiction, by placing village women at the forefront of money-making, The Print reports. "Both masks and phenyl are in immediate demand and will ensure fast, easy cash in the hands of women, which they can utilise to run the household as the men in the family are out of work," she said.
The Political Shakti quotes her saying, "I am a feminist and my priority will be social work and the community regardless of party and ideology."
4. Pratima Kumari
"I am a Dalit. I am a woman. I am a mother. I am brave. I am beautiful." This is how Pratima Kumari, contesting independently from Phulwari describes herself. Emerging as a Dalit political identity in a state like Bihar where caste still has a stronghold, and so does gender differentiation, Kumari is leading the fight on several fronts. She had been the leader of her self-established Gaurav Grameen Mahila Sangathan for ten years, pushing for the upliftment of women through various ventures. She is said to have trained women in garment work, generating employment for over 100 women.
Through her organisation, she seeks to educate local Dalit and other underprivileged girls in the area. She has had a record of motivating women and young girls into sports, teaching important lessons of gender equity and sexuality through innovations such as football camps.
5. Amita Bhushan
A member of Congress, Amita Bhushan has been on the Bihar Vidhan Sabha since 2015 from the Begusarai constituency. In the last state elections, she had won the Begusarai seat by a margin of 9.7 percent against BJP candidate Surendra Mehta.
Bhushan holds a Masters in Psychology from Psychoanalytic Science Lalit Narayan Mithila University. The 50-year old is a fashion designer and well-known social activist with a chief focus on health and sanitation in Begusarai where she runs a non-profit to this end.
Also Read: Free Vaccine Only In Bihar? Twitter Reacts To Nirmala Sitharaman's Promise
6. Bhagirathi Devi
Bhagirathi Devi is a four-time sitting MLA from Ramnagar in Champaran with BJP. A Padma Shri awardee, Devi is most notably known for tracing an upward journey in life on merit, from being a low-income sweeper in Bihar to a politician. Hailing from a Mahadalit family, identified as a Scheduled Caste, Devi only studied till grade 5. She found her way into politics through heading several Mahila Sangathans in Champaran and championing the cause of women's rights and anti-casteism.
Endlessly committed to the cause of female emancipation, Devi has been quoted saying, "All I want is that girls should get proper education and they should assert their rights."
7. Ejya Yadav
Dr Ejya Yadav is an MLA from the Mohiuddinnagar constituency, contesting in the elections from Lalu Prasad Yadav's Rashtriya Janata Dal. Hailing from a well-educated background, first at Ranchi's Loreto Convent and then Patna's Notre Dame college, Yadav herself is a PhD holder and academician. She formerly headed the Communicative English Department at Patna Women's College.
The 49-year old has climbed the charts to become one of the most identifiable faces of RJD as the party spokesperson. She is known to dabble with grassroots politics as well as high-profile matters with ease. Outlook once described her as a "demure" lady with "polite ways" who possibly indicated the "changing face" of RJD.
8. Asma Parveen
Daughter of noted RJD leader Ilyas Hussain, Dr Asma Parveen is contesting the elections from the Mahua constituency on Kumar's JDU party ticket. Her primary political battle is with Lalu Prasad's son, Tej Pratap Yadav.
Parveen was appointed the State General Secretary of the party in 2018. Given that she is a doctor by profession, prior to her appointment, she was reportedly posted at Sadar Hospital, Hajipur. She has a notable record of public health service, especially during crisis periods like floods and the coronavirus pandemic.
Also Read: Priyanka Gandhi Targets Modi's Absence In Varanasi At A Rally
9. Sushumalata Kushwaha
Sushumlata Kushwaha from JDU is the only female candidate contesting from Jagdishpur, according to India Today. She was recently in news for campaigning while pregnant and giving birth to a baby girl ahead of the elections. The occasion was marked by CM Kumar at a public rally. He reportedly "blessed Kushwaha and the newborn from the dais," calling the birth of the girl an "auspicious moment."
Kushwaha is a panchayat head in Bhojpur and has been lauded for her active work in increasing female participation at the grassroots gram sabha level. Her agenda for the 2020 elections focuses on increased employment for women, along with entrepreneurial ventures for women such as sanitary napkin-making.