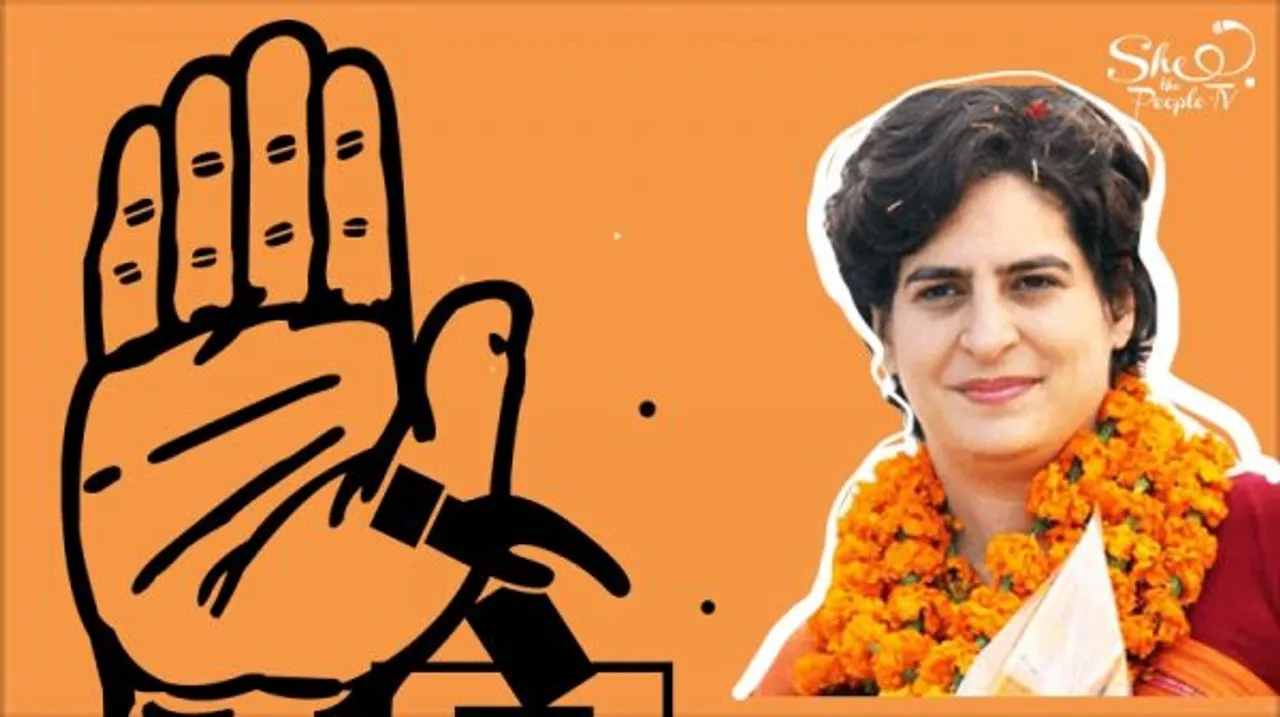 While rallying across Faizabad in Uttar Pradesh today, Priyanka Gandhi targeted the ruling party and its leader on a number of issues ranging from PM Narendra Modi's negligence in visiting his home constituency of Varanasi to his foreign visits. However, Gandhi's rally suffered an initial hiccup as she missed the first corner meeting, she was scheduled to address around noon, in a village close to the Kumarganj block of the Ayodhya district on Friday, reports NDTV. The rally is part of her campaign for next month's general elections.
Gandhi said, "I was stunned to hear from people in Varanasi that in five years the PM didn't get time to go to a single village, visit even one family in his constituency. He went to America, Japan, China, the entire world. But he didn't have the time to meet his own constituents. He has done nothing for the people in his own constituency, let alone the people across the rest of the country.  It is no small thing, it is a big issue. It shows this government's intention. It is focused on making the rich richer but not helping the poor," adding that the PM is running a government which is indifferent to the poor.
Priyanka Gandhi has called the BJP-led government "janata-virodhi"(anti-people) and "kisan-virodhi" (anti-farmer).
Gandhi began her three-day campaign from Rae Bareli and Amethi which are the constituencies of her mother Sonia Gandhi and brother, Rahul Gandhi respectively. As part of the campaign, she has visited Faizabad and Ayodhya.
With this three-day campaign, she sparked rumours of her contesting in the Lok Sabha elections as she said that she would contest if her party wants her to.
ALSO READ: "Need To Counter Hatred Against Muslims" Hasina Khan In Manifesto
It is time for you all to think very hard about who you have given your vote to. - Priyanka Gandhi
As per the Economic Times, Gandhi also urged people to exercise their right to vote responsibly during the upcoming elections. She said, "In a democracy, people are the most powerful. But this government does not want to make you strong, they want to make themselves strong. This is your country and does not belong to anyone. Farmers and jawans have made this country. You need to decide to elect a government who is committed to development and will listen to your voice."
The national election will begin on April 11 and take place in seven rounds across the country. Uttar Pradesh, which has 80 seats, will vote in all the phases. The results will be declared on May 23. Both the ruling party and the opposition are now in full throttle for the election campaign, with one eyeing to retain its power, whereas another looking forward to dethrone it. This competitiveness is one of the many reasons which propelled Priyanka Gandhi's entry into politics. And if her current speech is anything to go by, she is willing to fight it out tooth and nail for the sake of her party.