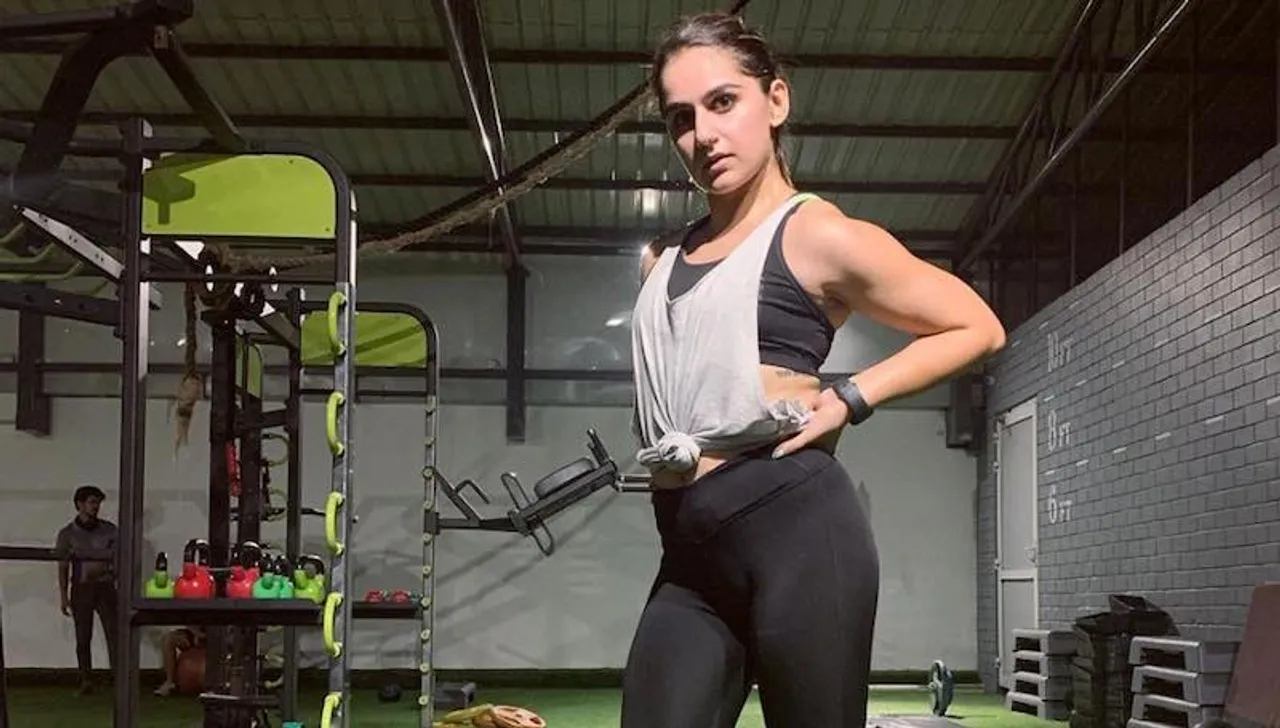 She is battling PCOS and has redefined what it means to be fit. Her resolve to 'hustle for muscle' started with a grim story. When Jiya was in a relationship her then partner raised his hand on her. She realised to be confident, to protect herself and protest anyone who tried to violate her, she needed to be fit. Jiya says being fit does not mean being thin or having the best looking body. In this interview with SheThePeople, Jiya discusses what it means to be a PCOS warrior aiming at a fit lifestyle.
Q. How did your fitness journey begin? 
A. It began from being a very insecure and heart broken place. It began for all the wrong reasons, it began to prove a point. Fat or not, I was always a confident person until someone walked out on and shattered my sense of pride. One incident, one act of defiance, one harsh stroke of his hand on my face changed my life forever. 
I got into fitness to change myself completely. To become a different person. I did not want to be that same person who was weak enough to be hit by a boy. I wanted to be indispensable and become so strong that no force in the world could break me again and fitness came to the rescue at that time. 
I went underground for 6 months and spent them working out relentlessly, following all the wrong crash diets and spending endless hours at the gym. I had one goal only, and that was to not be and look like the same person I was before. 
And I achieved that. 
My story changed when I was introduced to weight lifting and strength training. That is when I realised the true power of a woman. The strength we have inside us. The endurance we possess. 
Read Also: I'm 5"3 And Brown and I Am Extremely Happy: Suhana Khan Calls For Ending Colourism
Q. Did you face any personal challenges from family and friends when you started lifting weights? How did you cope with them? 
In the beginning my family and friends of course were very supportive because my motives were very different. I just wanted to lose some weight. Any punjabi mother would full heartedly support those intentions right? I mean I had to find a suitable Punjabi boy someday. 
However, 2 years into my journey I wanted to compete professionally and by then I knew I had found my calling. At the back of my mind, I was so confident that my parent would be super supportive because they have been for everything else I have endeavoured to achieve but I was so naïve. 
I felt like I was in a Bollywood movie at the time I revealed to my father that I was to compete in the sport of Bodybuilding. I told him I had 8 months to prepare and I was certain I could do. And man, was he pissed. His face turned red and he appalled at the thought of me even mentioning it. He could not even digest the fact that I could even think that he would "let me" enter a profession that involved walking a ramp in a bikini. 
He of course condemned my actions and desires but almost entirely disapproved of my career choice. At that time I had two options, do the same thing I did years ago and try to prove a point pr understand what is it about this sport that barely any Indian woman has ever made a name for themselves. 
Of course I chose the latter and very proudly so. 
Read Also: Noida: Conman Blackmailed 50 Women, Read Out Lines From Durjoy Datta's Novel
Q. Tell us more about PCOS and how that plays into your fitness journey? 
A. PCOS is different is all women who suffer from it. But one thing that is common in most cases is "weight gain". It is extremely hard for women with PCOS to lose weight because of several reasons however it is the most important lifestyle change that any woman suffering from this illness should bring about. I have known that throughout my journey. Yes, PCOS has brought many roadblocks in my journey. The reason today I am not capable of showing off my abs is because of that. No matter how hard I try, I cannot lose more weight beyond a certain point. Every month close to my period, my hormones are a mess and hence my body's shape changes drastically. I cant rely on supplements a lot because they too contain a certain amount of testosterone that is very harmful for anyone who has hormonal imbalance. 
Again, I could let it take me down but I have made peace with it. It is what is it. I strive to make it work everyday. 
Q. Has lockdown impacted your mental health? How does working out help?
To be honest, I needed this lockdown for my mental health. Before the Lockdown I was living in a rut. I was working round the clock and my body was in it's worst shape. I was waitng for a break wherein I could just focus my energies into myself and my mental health and the lockdown happened. 
I spent the lockdown unwinding, exercising and focusing on good nutrition and I have come out stronger than ever. 
Read Also: No Gymming? Athletes Are Using These Jugaads To Workout At Home
Q. What has been the most empowering thing you heard? 
"You can't do it Jiya. It's impossible. Indian women are not made for this." This angered me so much that is almost entirely empowered me. 
Q. What are some myths about PCOS that you want to break?
There's only one. "I can't do ….. because I have PCOS".  There's absolutely nothing you can't do. 
Read Also: Bullying, Homophobia, Conversion Therapy: What Is Pushing Queer People To Suicide?
Q. What is your advice to young women who want to be "fit"?
A. First embrace who you are and understand why you are starting your journey. Know your reasons and Just start. Start anywhere. Start with a morning walk. Don't wait for that Monday, it's never going to come. 
Start with following and talking to the right people and don't believe everything you read on social media. NO diets, No crash courses, no detox drinks, no amount of ab training will help you if you don't get your fundamentals correct. Eat everything but eat good. Stop chasing counting calories and supplements. Don't let your social life and family dinners get affected, eat to your heart's delight. Life is too short to miss out on Gulab Jamuns. Just remember to balance and never regret your food choices. It flushes out the next morning, remember?
Read Also: 10 ways for Startup Founders to make the best of quarantine
Vidhi Bubna is a contributor with SheThePeople.TV