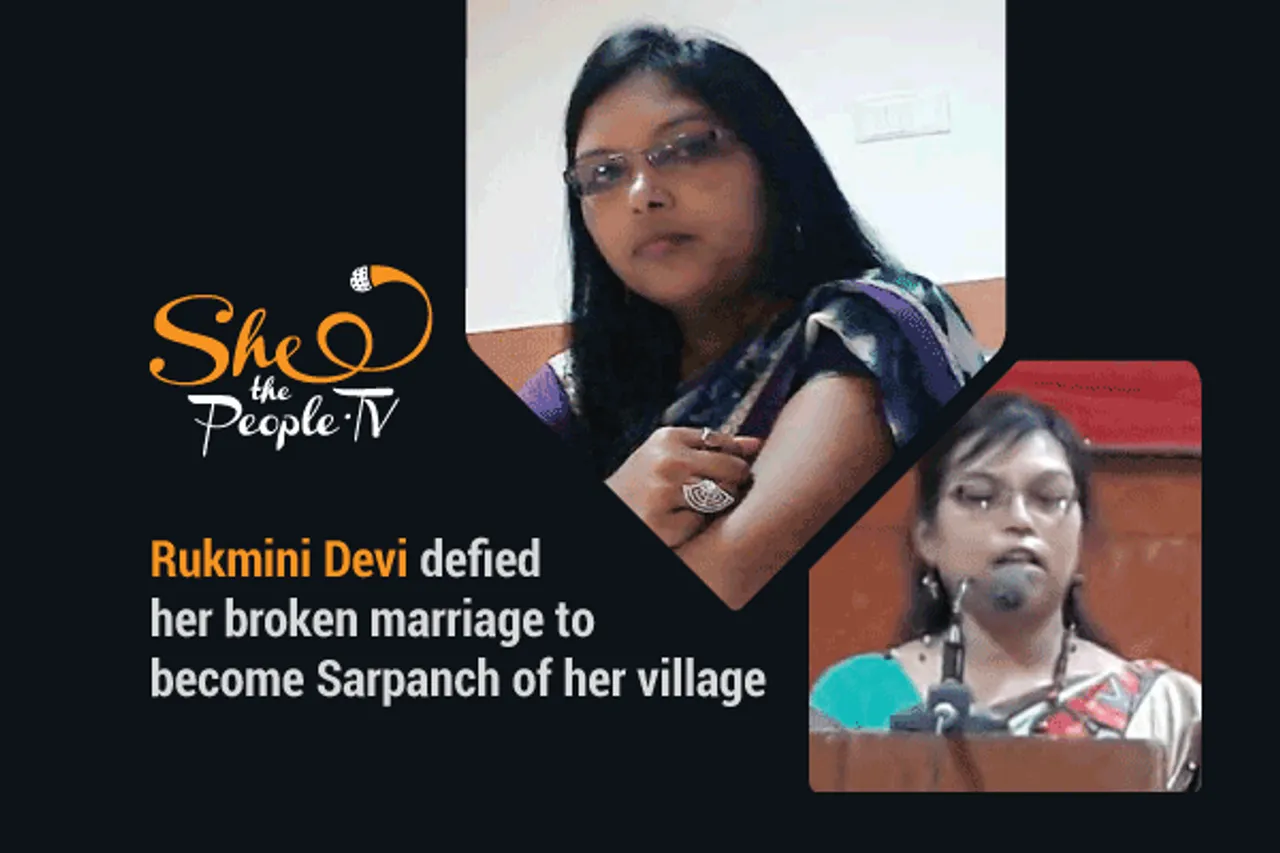 What does it take for a single woman marred by a broken marriage, independently raising two girls - one of whom has a disability-belonging to the hinterland of the country, to defy all these challenges and emerge as her village leader? This is tribal woman Rukmini Devi's story who is a social and legal rights activist, former Sarpanch of her village (between 2006-2011) and continues to fight for the rights of single women in Gujarat.
Life after quitting marriage in rural India
Rukmini was 15 or 16 when she got married to a daily-wage labourer in a village close to her own village of Bhadkuva in Mangrol Taluka of Surat District, Gujarat. Belonging to a financially poor family, Rukmini couldn't study much and was married at an early age due to societal pressure and lack of funds. But her marriage didn't turn out as she expected. Her husband was an infidel who committed adultery at the drop of a hat as she tells SheThePeople.TV, "He was a labourer so whenever he would go out to work, he would follow other women. I tried to talk to him several times but when I realised that he would never change, I left him to return to my parents' house."
ALSO READ: Anupriya Madhumita Lakra: First Tribal Woman To Fly A Commercial Plane
Rukmini was 24 when she came back to her parents' house along with her two girls. Her younger daughter was only one when she returned and she suffers from Cerebral Palsy. Her plight did not stop society from taunting and showing contempt towards her and she says that for years she restrained herself from going out in public. "If I went out to find work, people would call me names and talk about me in front of me. I had to hear a lot of things about me and those were terrible days. But if I had taken what they said about me to heart then I wouldn't get the courage to raise my girls. So, I used to hear it all and get on with work. And since I wasn't even that old, I had to take it all in without uttering a word," she recollects.
She would juggle between farm work, contributing to her house and working with single women who were in broken marriages or were abandoned etc.
She started with farming in other people's farms as a daily wage labourer for a meagre amount. Soon, she heard about an NGO for legal and human rights where she enrolled herself into a course of legal training. "They taught me what an FIR was and other basic terms and rights for women which are accessible to us. It gave me some hope that I could work with the NGO and people to bring some change in my life and other people's life this was around the year 1998."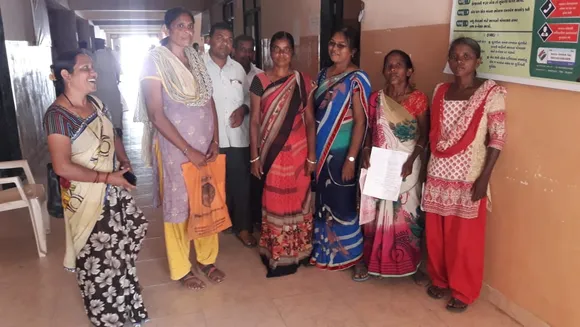 Rukmini Devi with other single women
She would juggle between farm work, contributing to her house and working with single women who were in broken marriages or were abandoned etc. In those days Rukmini earned around Rs 1200 out of which she spent around Rs 200-300 at home, saved the same amount for a rainy day and all that was left, she spent on her children's education.
The struggle to become a Sarpanch
While Rukmini had never thought of contesting an election for the position of Sarpanch of her village, but all the contempt that some people had shown towards her for leaving her husband and returning to her parents' home gave her a purpose to go for it anyway. In her first attempt in 2001, she only got 25 votes out of a total of 1067 votes, but that didn't dampen her spirit. "People laughed at me for even nominating my name and that only strengthened my desire to contest again," remembers Rukmini.
Then in 2006, when the elections came again, she was the first one to start the process by selecting her people from the seven wards in her village. "People were unsure of my candidacy. They didn't have much faith in me but some people supported me because they thought that at least it wouldn't harm them to do so.  Initially, when I was filing my nomination papers, there was no other nomination filed against me. People thought that I might win the election without any opposition so they got the wealthy forest chief conservator's son to fight against me and to scare me.
ALSO READ: Medical Student Becomes Youngest Sarpanch of her Village
I remember they told me that I get one kg rice from the shop and that's how I run my kitchen and I am dreaming of contesting the election for Sarpanch," she adds.
As the voting day neared, it became difficult for Rukmini to even go out of her house because of the strong opposition she was up against. "People threatened me to take my nomination back. It was difficult for me to campaign for myself as I was a single woman so I would just go out with one of my friends to every house to campaign."
The victory
On the voting day, she cast her vote but wasn't allowed to stay at the premises. She also got to know that the opposition had tried to break her ward members that she had selected so she thought that she was going to lose. "Although a few village members told me that despite what the opposition had done, they had voted for me, I wasn't convinced to go for the counting of votes. After much thought, I decided to go.
On the counting day, I went there with a relative. Some time passed and we got to know that voting for both the parties was around the same numbers. As the voting concluded, I had won by one vote. But the other party revolted and called for another round of voting. In the second round, I won by two votes," smiles Rukmini as she remembers the eventful day.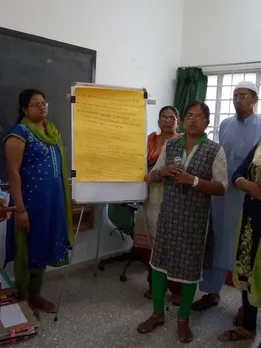 Rukmini Devi at an event
Even after, she won the election fair and square, the opposition retaliated, but this time she snapped, "Main paanch saal raj karungi, agar aap mein dum hai toh aap hata kar dikhana (I will rule for five years if you have the guts then remove me)."
The work she did as a sarpanch
During her run, she built the first high school in her village, built concrete roads for people to travel to their farms easily. She brought the MNREGA scheme in her village. There was no road that went to the village graveyard so she claims to have built that too.
ALSO READ: Five Female Sarpanchs Doing Stellar Work In Their Villages
"Since independence, there was only one road to visit our village and since there was a narrow stream flowing in the middle of it, during the rainy season, it would get difficult for people to go to and fro from the village. It took me two years to get the funds to get a small bridge made across the stream. It is going to be a decade now and even to date, there is only that bridge-way to get to our village that I got built," says a proud Rukmini as she recounts few initiatives she took during her term.
Rukmini's life now
Talking about her life now, she says that the older people in the village now come to her for advice for anything that they want to do in the village. And while she can still contest elections, she believes that she doesn't want to get into the power game and is happy working with single women in her state as she wants to.
Even after, she won the election fair and square, the opposition retaliated, but this time she snapped, "Main paanch saal raj karungi, agar aap mein dum hai toh aap hata kar dikhana (I will rule for five years if you have the guts then remove me)."
Today, her elder daughter is studying law from a college in Baroda and her younger daughter just completed her Bachelor in Science degree. Rukmini shared her ordeal of educating her younger daughter who is disabled, she said, "I have struggled a lot to educate her. It costs around Rs 6000 to get her to college and while I couldn't afford it, I had to educate her so I did anything and everything under the sun to make it happen."
She now works with the National Single Women's Forum. "I now spread awareness around singlehood and how women should not think of themselves as any less even if they come out of a marriage or never plan to marry. Women should have their own identity and now all the single women in my village at least are independent. They are working for themselves and if they have any issue then they come to me for guidance. Today single women aren't alone and it does not matter what the society says. We have strength and time and again we will prove it to the society."
The courage, dedication and grit of Rukmini Devi are truly empowering. Her struggle to become the Sarpanch of her village despite various forms of marginalisation is as inspiring as it gets.