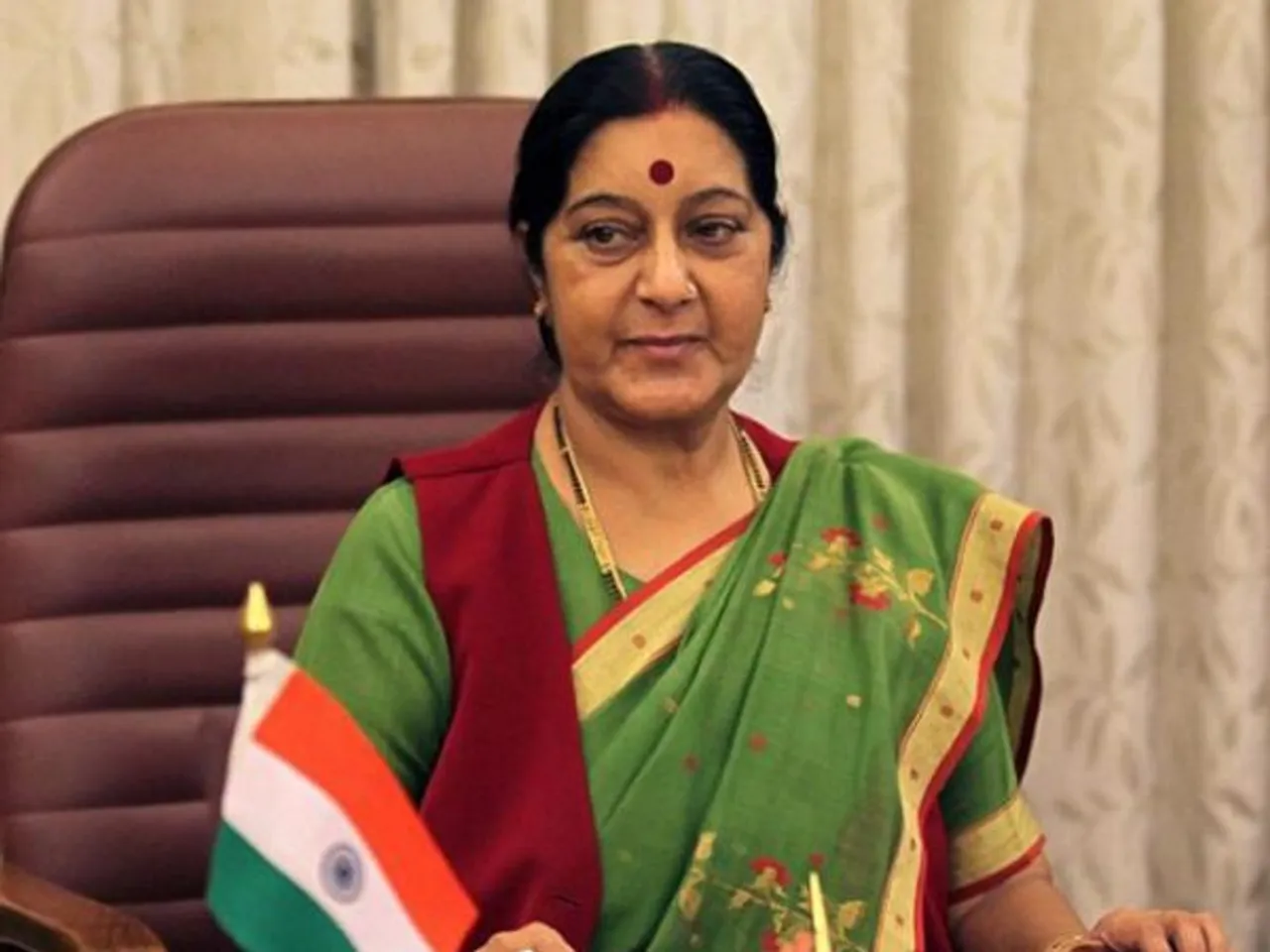 As the Union Cabinet swore in yesterday, along with Prime Minister Narendra Modi, the outgoing Minister of External Affairs, Sushma Swaraj's absence in it was palpable. It didn't escape social media that Swaraj wasn't going to continue on her post for a second term. But since rumours about Swaraj's health issues have been around for a while, and the fact that she didn't contest Lok Sabha polls this year, one could see this coming. More than shocking, her exit from the cabinet is saddening, as Swaraj had emerged as one of the most loved ministers in past five years. But just what makes her tenure so memorable?
KEY TAKEAWAYS:
Sushma Swaraj hasn't returned for the second term as a cabinet minister.
When was the last time we felt so sad about the departure of a minister? 
Swaraj touched many lives with her work and we have witnessed her promptness and empathy on social media.
She demonstrated that the External Affairs Ministry has more to it than maintaining foreign relations.
So less have we begun to think of our elected leaders, that the best we expect them to do is to not disturb the status quo and turn the things for worse.
Five years ago, when Sushma Swaraj took over as the External Affairs Ministry, most didn't think much of it. Here was another cabinet minister, taking over yet another department. So less have we begun to think of our elected leaders, that the best we expect them to do is to not disturb the status quo and turn the things for worse. As long as foreign relations are intact, we could care less about who manages them for us. But there is more to the External Affairs Ministry than maintaining foreign relations and negotiating through tensions with neighbouring countries. For the first time, we realised the big role that EAM played in the welfare of Indian citizens, living both in and outside of the country.
It's a pity to not see people like @arunjaitley & @SushmaSwaraj among the ministers today. I wish them both well as they deal with the health issues that have kept them out of union cabinet.

— Omar Abdullah (@OmarAbdullah) May 30, 2019
Gracious as ever @SushmaSwaraj. Best wishes for your next innings. https://t.co/2nYai21S0A

— barkha dutt (@BDUTT) May 31, 2019
The country will miss you in the cabinet . You brought in emotions and values to a ministry which always seemed so clinical!

— Priyanka Chaturvedi (@priyankac19) May 30, 2019
With folded hands we thank @SushmaSwaraj and @sureshpprabhu for their exemplary work and job commitment.

Thank you

— Atul Khatri (@one_by_two) May 31, 2019
This is what makes Swaraj's term so stellar; she revealed herself to be a people's minister. She brought in a personal touch to her portfolio by interacting with people one on one via social media. But this wasn't it; she was empathetic and prompt in her response too. So she not only addressed queries and complaints addressed to her, but also made efforts to resolve them. In 2016 for instance, Swaraj helped a migrant girl from Pakistan obtain admission in an Indian school, when she reached out to her as she did not have her previous School Leaving Certificate or Birth Certificate from Pakistan. The next year, she helped out a mother seeking visa for her disabled daughters. There are innumerable stories of Swaraj's sincerity and compassion like these that we have been privy to in the last five years.
However, her term wasn't devoid of controversies and health struggles. In 2016, she had to undergo a kidney transplant. While in 2018 she faced massive trolling on social media when the External Affairs Ministry granted passports to an interfaith couple (who had allegedly applied with incomplete documentation) and transferred the official at whose hands the couple alleged to have faced discrimination. Some people have also argued that as an External Affairs Minister her work was mediocre on diplomatic levels, if you leave out all the work she has done for Indians across the globe. But should we indeed neglect it? To a commoner, the intricacies of foreign policies matter a little. But stories like these, they stand out.
The job of an elected leader is to serve her of his electorate. Improving passport services, granting visas to those in need and helping Indian citizen in distress overseas was as much her job, and she did it. Perhaps this is why she earned the respect of politicians from rival parties. From artists and public figures who do not identify with the ideology of the party she is associated with. When was the last time a minister's exit from her or his post made people so sad? Have we ever cared so much about the departure of any Finance or External Affairs or Defence Minister?
Whether or not Swaraj returns to serve her country as a political leader depends on her. But whatever work she has done as of yet is enough for us to thank her and wish her well. Considering the equation people share with politicians in this country, that is a big achievement on its own. Good leaders don't have to command respect from the people or their adversaries, it comes their way, riding on the goodwill they create for themselves.
Picture Credit: Telugu Mirchi
Also Read: Sadhvi Pragya Has Won: Why Are We Even Surprised?
Yamini Pustake Bhalerao is a writer with the SheThePeople team, in the Opinions section.  The views expressed are the author's own.