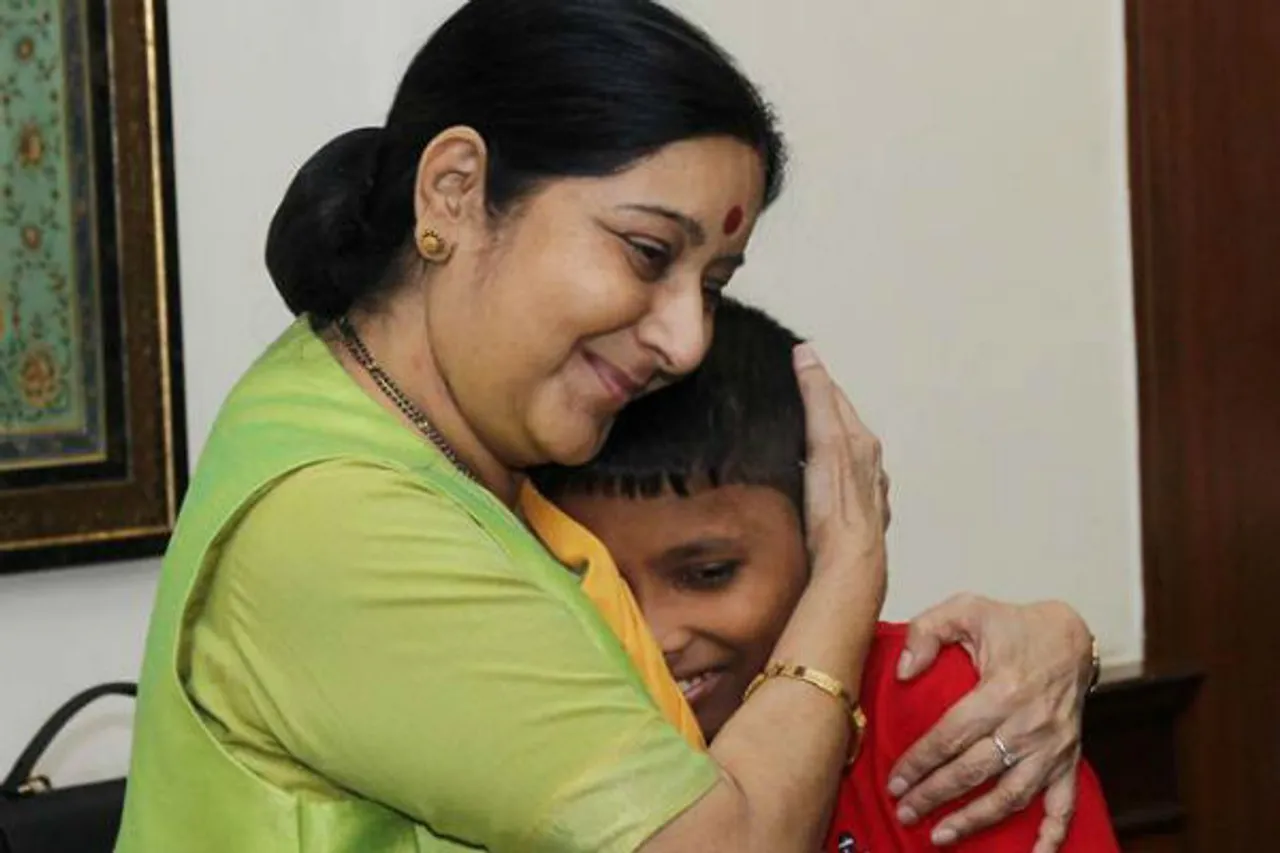 External Affairs Minister Sushma Swaraj has been a saviour again, this time for a mother who was seeking visa approval for her disabled daughters on Monday.
I have gone through your Petition. We will definitely help you. Please give me your address and Phone nos. @CPVIndia https://t.co/5qI4f0eW1n

— Sushma Swaraj (@SushmaSwaraj) January 23, 2017
Elderly couple, Subbalakshmi and her husband, lead a very normal life here and take care of their daughters -- Gayathridevi (72% disabled) and Sarvani (90% disabled). If the girls live abroad, they might get the desired result and proper care. So the parents are hopeful to send the two sisters to stay with their brothers -- Subbalakshmi's two sons who are settled in the US and Canada.
Also Read: Ten Reasons Why Sushma Swaraj is a Great Leader
In her petition, the woman pleaded to Swaraj that she and her husband might not be able to take care of the girls and wished to send abroad at their brothers' residence for care. Subbalakshmi also included the fact that "the nearest Passport Seva Kendra is 110 km away from our residence and my daughters have to be personally present in order to apply. Travelling by bus or train is very hard for them. Due to our old age, my husband and me are also not able to help them travel," she says in her appeal.

Also Read: India's first woman external affairs minister
Earlier, Swaraj had also announced that stranded Indians can register on the government's MADAD portal for help. "Please register your grievance on http://www.madad.gov.in. Then tweet your problem to concerned Indian Embassy/authority giving your Madad ID registration number and endorse the same to me. Your MADAD ID will give us all details. We are here to help you," Swaraj had said.
Many times, Swaraj had showed her generous side. Our beloved External Affairs Minister Sushma Swaraj has been named in the Global Thinkers of 2016 List that was compiled by the Foreign Policy magazine. Swaraj has ushered in a new style of diplomacy through dynamic engagement on Twitter. And, 'India's supermom' is never late to reply promply and always ready with strategic action in helping both Indians and non-Indians.
Some of her notable actions are:
Ma'am , Eman Ahmed (Egypt) 500kgs requested me 2 save her pls help me get her a medical visa as refused thru normal process @SushmaSwaraj pic.twitter.com/93Fwz6m8iL

— Dr Muffi (@DrMuffi) December 5, 2016
Baby Lily - We have taken this up with British High Commission. We hope to resolve this soon. https://t.co/msZrpWLsid @GetLilyHome

— Sushma Swaraj (@SushmaSwaraj) September 18, 2016
Thank you @msisodia ji for this kind gesture. pic.twitter.com/gk0LrLfvFF

— Sushma Swaraj (@SushmaSwaraj) September 12, 2016
https://twitter.com/SushmaSwaraj/status/764874145926557696
https://twitter.com/SushmaSwaraj/status/762698227271421952
We have brought Gurpreet and her 8 year old daughter from the refugee camp to our Consulate in Frankfurt. Pic pic.twitter.com/D1c7B6FidN

— Sushma Swaraj (@SushmaSwaraj) February 3, 2016
Hats off to you, Sushma Swaraj!
Interested in politics in the age of social media?
Read 'The Big Connect' by Shaili Chopra
Feature image credit: Twitter
Join Us on https://www.facebook.com/SheThePeoplePage
Follow Us on https://twitter.com/SheThePeopleTV