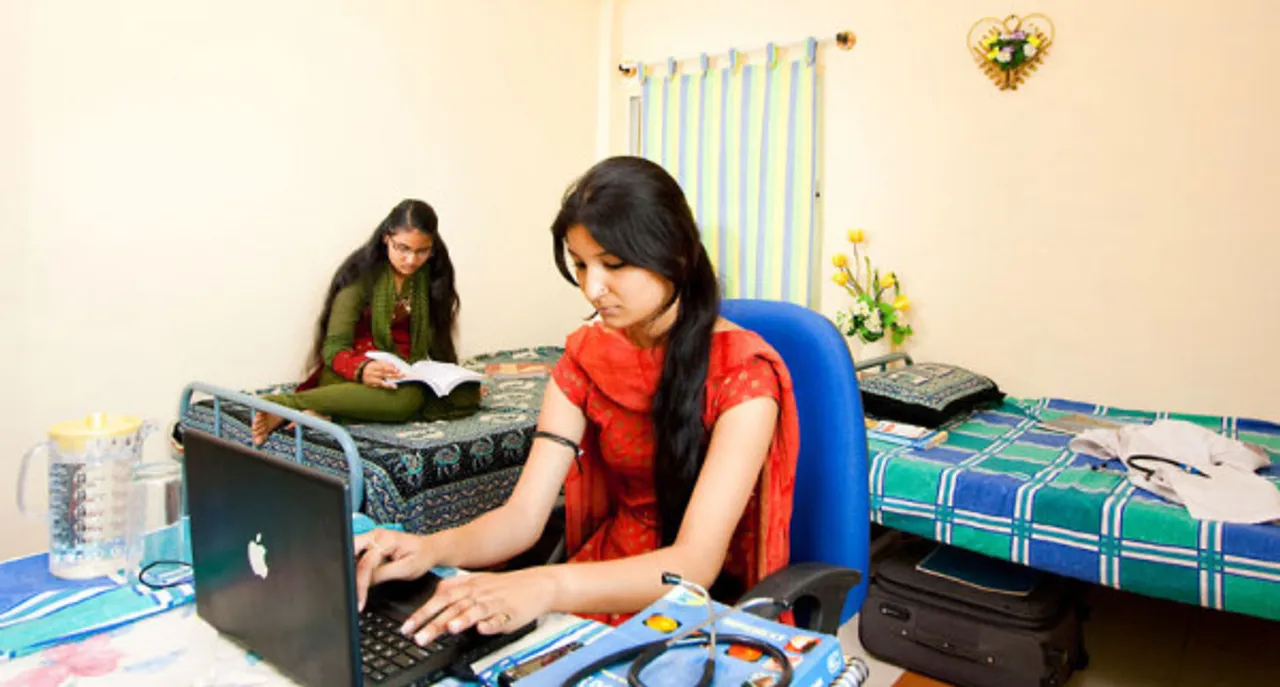 It has been more than six years since I left my parents' home to pursue higher education and further my career. Since then I have stayed in hostels, PGs and flats and the landlord harassment of women tenants simply boggles my mind. What time I should return to my room, what clothes I should wear, what kind of people I meet, what is their gender (read you cannot meet a man)? Many landlords feel entitled to have a say in all these things.
Why should a woman be answerable to landlords or landladies who are essentially strangers, and suddenly take the onus of protecting and restricting her just because you are living in a house they own? Why is it difficult for the society to let women decide and live their lives on their own?
To get an idea of how landlords try to reinforce restrictions masking it as "parental protection", SheThePeople.TV spoke to a few women who have lived or are currently living in hostels and as paying guests. We also spoke to parents to know what kind of restrictions they think are necessary when kids are staying away in PGs and discuss with a lawyer the rights of a tenant. Read on to know more:
Restrictions on girls in hostels
The landlords who judge and restrict their female tenants are only trying to limit and constrict women within the proverbial Lakshman Rekha of patriarchy. For them, women who are staying away from their parents are too immature and can be easily manipulated. They often self appoint themselves as guardians.
Even if there is an argument about a young girl's safety, there is a limit to it. Protecting women is not equal to restricting her freedom to dress, walk alone on the roads at any hour of the day, meet male friends or call them over. When I was 18 or 19 years old, the hostel where I stayed had this weird rule that women should not wear skin-fit jeans as it is too revealing. Shorts, coloured bras, designer spaghetti top and keeping your hair open were also big no-nos. Moreover, we were not allowed to stand in the balcony of our hostel because the boys' hostel was on the upper floor and they were notorious enough to throw a pail of water on girls spotted in the balcony.
Also Read: Kurta Vs Dresses: Why Must My Clothes Decide If I Am Modern Or Not?
Author Yamini Pustake Bhalerao narrated her hostel experience and said, "I did my BDS from Bhopal and lived in a hostel allotted by our college. In the first year, we were forced to wear Salwar Kurta in the hostel throughout the day and even at night. We were fined if we were caught wearing shorts, jeans or track pants. It used to be so uncomfortable to sleep in a Salwar Kurta, but we had no choice."
What kind of protection do the hostel authorities aim at? Is it not just another way to say that the crime against women depends on how women dress or behave?
In PG Or Independent Flats, Landlord Harassment Lurks Everywhere
Not just students, but even working women staying as PGs get questioned about the way they dress. However, some women are of the opinion that the situation is different when you rent an independent flat. Kaveneet Kaur, an MA psychology student who is staying in a flat in Delhi with her brother said, "I think that owning a flat versus living in a PG makes a lot of difference. While in PG I was under 'their' roof and they partially had the responsibility of the people living in their houses." She added that when she lived in a PG, it had time restrictions and visitor restrictions. Now that she is in an independent flat, she does not have to tackle with such restrictions. "When I live in a flat, it is a place that I have rented from you and hence there cannot be any restrictions from their side."
Anjali, an MA student of DU who is currently staying in a flat with her sister who is working says, "Even though we live in an independent flat, we cannot call our male friends over. The landlady says that this will malign her reputation in the colony. 'Colony mein log baate banayeinge.'"
But this is not true in every case. My landlady passed a scathing comment on my sister's dress because she was wearing shorts. "Tum toh pehchan hi nhi aa rhi (I can't recognise you.)" she said running her eyes from top to bottom. She even refused to allow my female friends to stay with me because one of them was "chinki" (the racist term she used to call out my friend from Arunachal Pradesh) and the other did not greet her with "Namaste". And mind you, this was the situation when I was living in a flat and not a PG or a hostel. She made it very clear to me that she allows only those female tenants who are "sanskari", comes back at 8 pm sharp, does not make noise and invite friends over for more than a few hours and that too female ones.
When I lived in a PG, I had comparatively more freedom. I could invite my friends, though female only, and stay out at night beyond the curfew time by informing my landlady. But these restrictions are not feasible for women who are working and have to stay out at night, at least beyond 8 or 9 pm. This is the reason why many PGs do not allow working female tenants because it is assumed that their 'liberated style of living' will deteriorate the environment of the PG. It is the same stereotyping that is followed when some flats do not allow bachelors as tenants. And if they allow, then with a prior agreement that there should be no "shameful" activities happening in their flats.
Also Read: Dear Men, Avoiding Women Isn't A Solution For Sexual Harassment
Landlords Sexually Harassing Women Tenants
Cases of landlords sexually harassing women tenants is another issue that needs to be addressed. Many women that I know agreed that they felt uncomfortable with the way the landlord looked at them. Even when I was in my hostel, its superintendent had allegedly harassed a female hosteller who was my classmate and forced her to vacate the hostel and school. He even touched me and looked at me in inappropriate ways and eventually, I left the hostel a month before my boards. When I moved to Delhi, one of my landlords sent a questionable video on my personal WhatsApp. But many women aren't able to complain against them for the fear of being evicted or being questioned back by their parents.
Kavneet Kaur rightly pointed out that these rules which are often gender-biased are "completely unnecessary".
What Do Parents Say?
Landowners/wardens feel the sense of entitlement to protect and restrict women tenants because they consider themselves as their local guardians. But what rights and authorities do parents of women tenants transfer on to the landlords? SheThePeople reached out to a few parents whose daughters are staying in hostels. Medhavi Ray, mother of a medical student Ritika of KPC College, Kolkata staying in the college hostel, said, "I mainly expect safety and good communication of affairs going on in the hostel. There is no need to impose restrictions on what she wears." Agreeing that there should be no restriction on the clothing, Pushpa Singh, mother of medical student Bhawana from the same college added, "Even if there is a time restriction, it should be limited." "If my child arrives late, I should be informed," she further added.
Commenting on whether there should be a restriction on the visitors, Father of Hemlata Buswal who is living as a PG in Delhi, Subhash Buswal said, "There should be no restrictions if family members pay a visit, whether male or female. However, male friends should not be allowed if there is no necessity like working on a group project."
This clearly shows that parents expect some vigilance at their hands but not to control their entire lifestyle. "I do not give the wardens so many rights that they can curb my daughter's freedom in the name of safety. If the restrictions are mentally degrading for me or if it binds my daughter's basic rights, I would never allow that. If at all heavy restrictions are needed, I would appreciate if the wardens consult with me before imposing them," said Mary*, mother of a graduate daughter staying in a hostel.
What does the law say?
To get a comprehensive idea of the rights of a tenant and landlord, SheThePeople.TV spoke to Advocate Mayank Mikhail Mukherjee. Indian Law provides Right to Privacy to all the tenants when they rent a flat. But, the restrictions on time, visitors, clothing et al. imposed by the landlords interfere both the professional and personal lives of a tenant.
"Landlords have a right to impose reasonable rules and restrictions on all tenants," said Advocate Mukherjee. The restrictions a landlord is entitled to impose "depends completely upon the Lease/License Agreement that a person has entered into with the landlord. If there is any restriction which is not captured in the Agreement, the landlord cannot enforce the same," he further said.
Underlining the difference between the restrictions, rules and rights of tenants and landlords in a PG and an independent flat, he said, "In a flat, you are a tenant, and no unreasonable condition may be imposed. In a PG you are a licensee, which means you have extremely limited rights, and must follow the policy of the PG, akin to a hotel. So while the restriction on timings and visitors may be a reasonable restriction in a PG, it will not be so in a rented flat."
Laws of eviction
Even when landlords impose unreasonable restrictions, many tenants refrain from questioning it for the fear of being evicted. Advocate Mukherjee says laws of eviction stand in favour of the tenants. "Most Agreements allow a landlord to evict the occupiers giving one month notice." He further added, "The landlord cannot merely come and throw out a person's belongings on the street and evict them. There is a due process of law for eviction which needs to be followed and the landlord must file in court for eviction. The process usually takes about a year or more for actual eviction to occur." However, he also said that the eviction rules in a PG depend on the owner.
Laws addressing Gender-based restrictions 
Commenting on how the landlords impose restrictions on women based on their gender, Mukherjee said, "The state does not permit any discrimination on the basis of sex or gender, and thus there cannot be a restriction only on women especially with regard to ingress or egress from their rented accommodation, visitors, clothing, etc." He also said, "Restrictions on clothing (unless some law is being broken) is not a reasonable restriction by any standard."
He further added, "Unfortunately, there is no specific law which addresses this issue of discrimination between tenants by landlords. A landlord has the ultimate freedom to choose her tenants, and it is extremely difficult to prove in a court of law, that the cause for eviction is a refusal to meet such unreasonable demands." "A positive law to protect tenants from whimsical evictions, especially female tenants, would help address many of the issues faced by women and to ensure that women have the same freedoms as men when it comes to housing," he said.
Laws of sexual harassment
Speaking about the sexual harassment cases faced by female tenants, Advocate Mayank Mikhail Mukherjee cited  Sections 354, 354A, 354B, 354C and 354D of Indian Penal Code, 1860 that addresses all the sexual harassment cases, including those committed by the landlords. Focussing on another very common form of harassment that female tenants face, he added, "Women are captured by hidden cameras in PGs, hostels, etc. In this scenario, Section 354C is important to note since it criminalises voyeurism wherein a landlord capturing images of women can be jailed. Even 66E of the Information Technology Act, 2000 punishes offenders who take pictures/transmit digital images of people when they are in the privacy of their own homes.
The Need To Stop Landlord Harassment
It is not easy for most women to step out of their small towns and toxic and patriarchal families and start living on their own. And on the top of it, when the landlords try to control their freedom, they only become the carriers of the same restricting patriarchy that women left behind to fulfil their dreams. Besides, the society's idea of a woman's morality is very fragile and can easily be maligned or questioned.
If landlords and landladies let go of their patriarchal restrictions, more women will learn to live freely, protect themselves, do whatever they want without being answerable to anyone. Pinjra Tod is one of many movements that are creating awareness of the rights of a woman tenant and stop their exploitation at the hands of the landlords. Another very important step to end landlord harassment is to educate families, both the landlord's and tenants', that women should know how to survive alone and restricting them with biased rules only add to the disadvantages they face in a male-dominated society.
*The name has been changed on request.
The views expressed are the author's own.