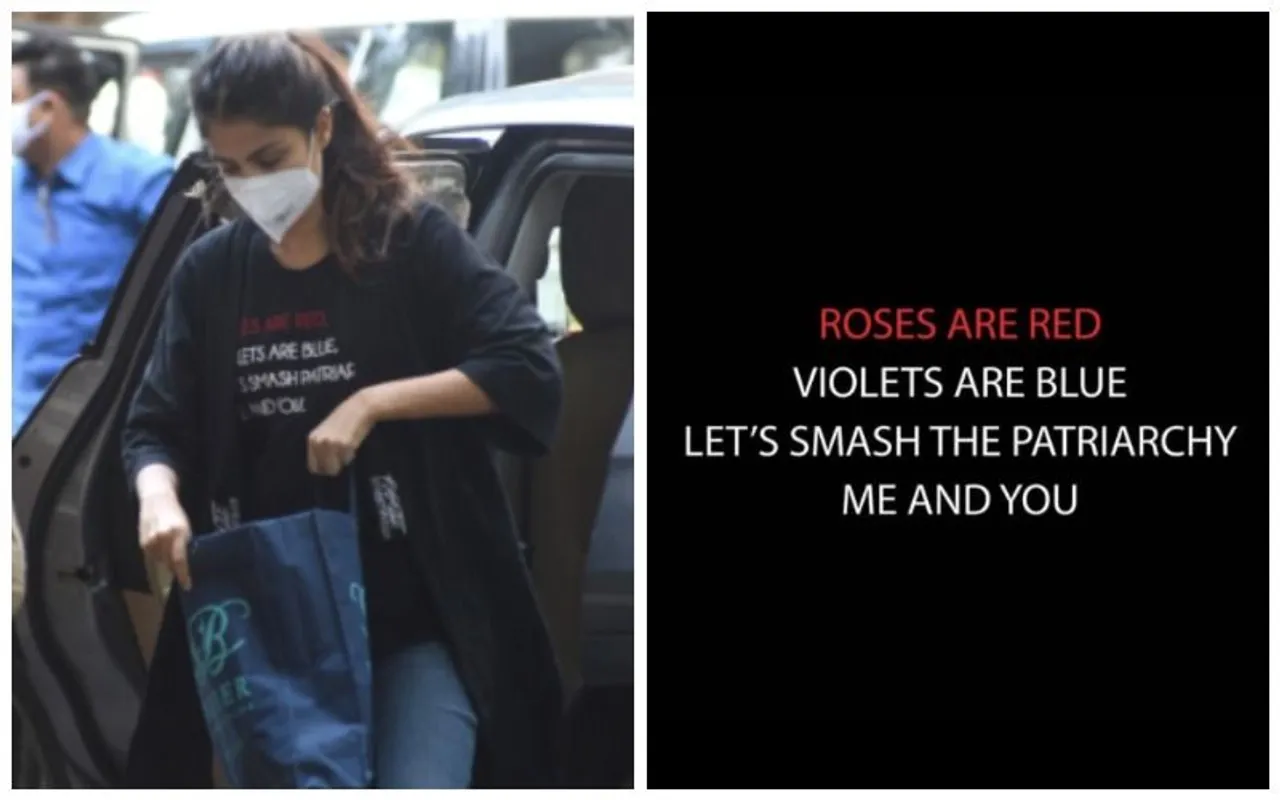 On the morning of September 8, Rhea Chakraborty, who was at that moment the prime accused in her former boyfriend's death case, reached the NCB office for questioning, sporting a casual t-shirt that read, "Roses are red, violets are blue, let's smash the patriarchy, me and you." While the t-shirt was casual, the messaging was solid. Here was a woman - roughed up by cameramen poking and prodding at her, brutalised through several rounds of media trials, name-called with the vilest abuses on the internet - and yet, unwilling to back down.
We don't know whether selecting that particular t-shirt from her wardrobe was a conscious choice by Chakraborty. But it aptly captured the aggression she has been subjected to since Sushant Singh Rajput's death on June 14. "Let's smash the patriarchy, me and you" - it was a strong indication that she was aware of how the treatment she has been given these past weeks was by virtue of her being a woman. Her t-shirt was her statement.
Internet Was Unable To Digest The Message To Smash Patriarchy
Since her arrest yesterday by the NCB on drug charges, a handful few from Bollywood - like Farhan Akhtar, Vidya Balan, Abhay Deol, and Sayani Gupta - have shared pictures of this quote from Chakraborty's t-shirt on social media in solidarity with her.
But the spectacle of seeing a woman - who knew of the injustices she has been subjected to by those seeking "justice" for Rajput, who knew the role patriarchy had to play in her witch-hunt - was indigestible to the common public online. With a "how dare she" attitude, several of them came at her, pointing out that it was "arrogant" of her to wear clothes with that quote.
Tracing back to a copy of her t-shirt, where the quote was clearly visible, a man kindly

Rhea reached the NCB office with a message on her clothes. Decode her arrogant message. #WorldUnitedForSSRJustice pic.twitter.com/zn7OCBHS1w

— Anurag Sinha (@anuragsinha1992) September 8, 2020
Rhea reached the NCB office with a message on her clothes. Decode her arrogant message. #WorldUnitedForSSRJustice pic.twitter.com/zn7OCBHS1w

— Anurag Sinha (@anuragsinha1992) September 8, 2020
Also Read: Bollywood's Silence On Rhea Chakraborty's Media Trial Is Deafening
Instantly, people decoded the message as Chakraborty trying to play the "woman card," the "victim card," the "fake feminism" card. A user wrote, "Patriarchy " means male dominance over our society n female voices are suppressed. Is it so? What she's trying to prove? Madam ji is again playing woman card n indirectly pointing towards SSR family!"
Not just that. A lot of people outraged over the way Chakraborty was walking and her demeanour outside the NCB office. A user wrote, "Her attitude is increasing day by day, the look she gave to the media while coming out of Bandra Police Station & the way she walked in NCB today shows it!!"
Picking On Rhea Chakraborty's Clothes To Her Dignity
Here's what I think. Yesterday, Chakraborty looked the most confident she has done ever since she was caught up in Rajput's death case as a prime accused. In the way that she was walking, she looked immensely sure of herself. And in the way that she interacted with the media, she showed that she was not afraid of her naysayers anymore. That she dared to meet people's eyes was a declaration of her identity as a woman who was standing her ground.
In the way that people reacted to her t-shirt and personality yesterday lies the answer to what patriarchy has to do with Chakraborty's case. In whatever she has worn since her media appearances - be it a white salwar kameez or the tops she has worn to interviews - the common public has been seeking some inherent "meaning" or "fault."
And this is all because a "grieving woman" who lost her boyfriend three months ago is supposed to look and behave a certain way. Can a woman not grieve in private? Is her grief only valid if it shows on her teary face or puffy eyes? Why should she look apologetic after the passing of a partner?
Also Read: Navika Kumar, You Disgraced Journalism by showing Rajput's Dead Body on Television
Why Must A Woman Be Responsible For What A Man Does?
Chakraborty's identity has been completely maligned in this case. She has been condemned as a "scheming" Bengali woman, a gold-digger living off her boyfriend's credit cards, a witch who was doing kala jaadu on him, a promiscuous, unfaithful woman. A picture is being painted of her as a woman who controlled Rajput's life, isolated him from everyone else, and fed him drugs.
Just think. All agency has been taken from Rajput ever having been in command of his own life or being aware of it - be it the marijuana he allegedly consumed or the ill mental health he reportedly had. Chakraborty is having to shoulder the responsibility of every "bad" thing he ever did. She is also being blamed for not taking better care of a man whose life ended in death. If this is not patriarchy, what is?
Is a man not capable enough of being answerable to his own actions? Why should the onus of prohibiting him from any "poor" habits he may have had lie on his female partner? Why does a woman always have to "do better"? How is the reasoning that everything Rajput thought and did was being dominated by Chakraborty even valid?
Also Read: Whether She Is Guilty Or Not? Media Should Be Tried For Harassing Rhea Chakraborty
The Differences In Treatment Of Men And Women Accused
The cherry on the cake of how Chakraborty's case is a classic display of the patriarchy that runs deep in India came with this image that is doing the rounds online, also shared by Swara Bhasker:
But don't bring gender into it! 🙏🏽🙏🏽🙏🏽🙏🏽🙏🏽 #whatwerefusetosee pic.twitter.com/LT3n5iwW0O

— Swara Bhasker (@ReallySwara) September 7, 2020
I believe manhandling of Chakraborty when she reached the NCB office on September 6 was a gross invasion of a woman's private space, where cameras, hands, and mics were being jabbed at her from all sides. Because she's only a woman - a soft target who will not hit back, who is currently at a disadvantage of being named in her boyfriend's death.
But there was no show of this disadvantage when Salman Khan was named in the case of blackbuck poaching in Jodhpur or when Sanjay Dutt had had a TADA case slammed down on him from the 1993 Bombay blasts. These two men - in all their hypermasculine glory - in the image are being guided down with dignity by tight police personnel.
This is a haunting image, one that should be a clarion call for smashing patriarchy that oppresses, subjugates, and mistreats women everywhere. It should be a catalyst in demanding equal dignity and respect for men and women. It should, in fact, even leave everyone wanting a feminist t-shirt as the one Chakraborty has.
Views expressed are the author's own.
Rhea Chakraborty is currently under arrest and CBI is investigating her role in the death of Sushant Singh Rajput. The opinions expressed are not to question the investigation but simply report on media coverage on the issue.