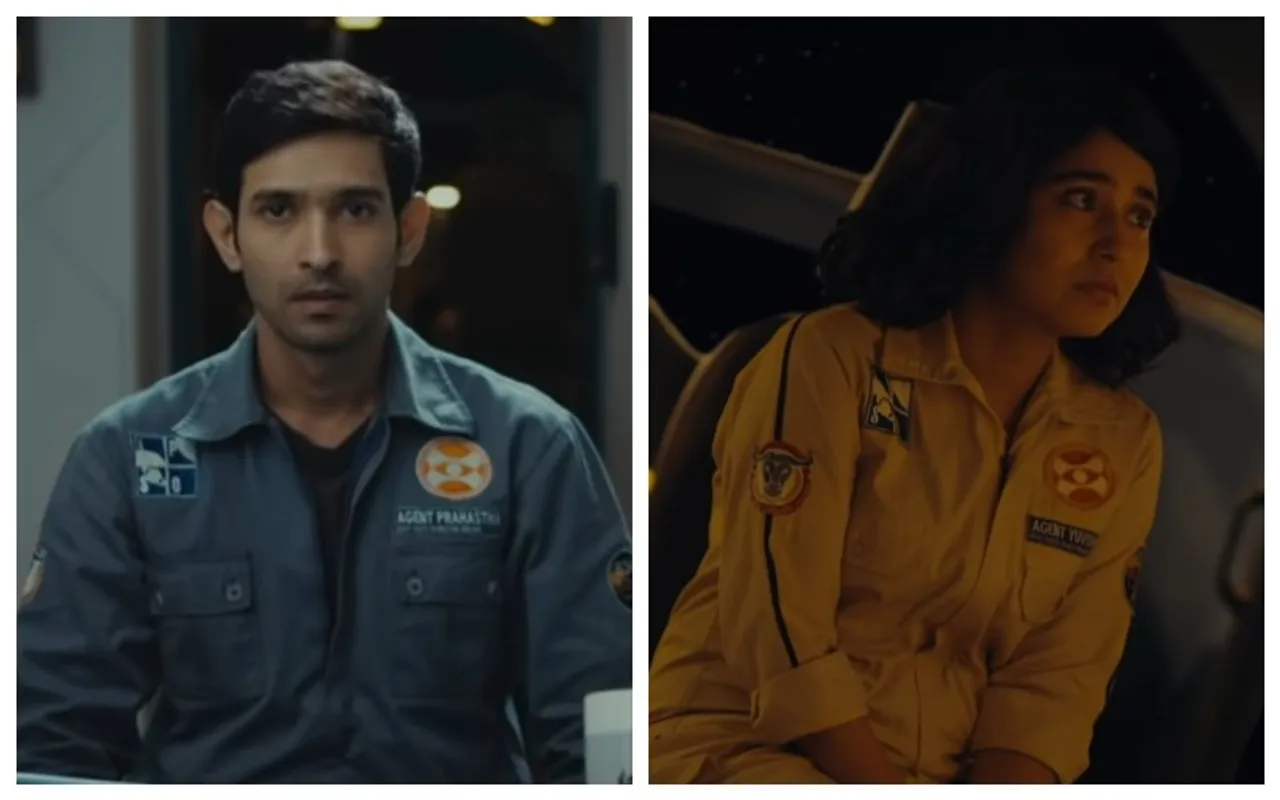 Science fiction has remained one of the least experimented genres in Hindi cinema, and but it seems like the recently-released Netflix film Cargo is about to change that. Starring Vikrant Massey And Shweta Tripathi, Cargo uses western storytelling to deal with themes quintessentially eastern like that of reincarnation. Watching it will remind sci-fi fans of films like Duncan Jones's Moon and Stanley Kubrick's 2001: A Space Odyssey, although Cargo does not seem to be a match for either, neither in its plotline nor in its grandeur. What it instead makes interesting is the unique way in which it contemporises age-old mythologies, giving them a modern and relatable spin. After all, we have rakshasas live chatting with their fans on social media, it really doesn't get better than that!
Cargo is the directorial debut of Arati Kadav who is also the writer of the screenplay. Apart from the promising duo of Massey and Tripathi, the film also stars Nandu Madhav and Biswapati Sarkar. There are surprise cameos by Hansal Mehta and Konkona Sen Sharma, who manage to steal the spotlight even during the brief moments they appear on-screen. The film has its production backed by names like Anurag Kashyap and Vikramaditya Motwane. Cargo had its India premiere at the 2019 MAMI (Mumbai Academy of Moving Image) Film Festival under the spotlight section. However, the film's theatrical release had to be cancelled due to the coronavirus pandemic.
The Plot
The opening shot of Cargo has Biswapathi Sarkar's character shooting a commercial about loneliness. He asks people to call on a number so that he can help them deal with loneliness by staying with them. We spend the next 20 minutes with the film's lead character Prahastha (Vikrant Massey), who is named after the commander-in-chief of the Ravana army from the Hindu epic Ramayana. Prahastha is a rakshas who is in charge of healing humans and sending them back to earth after their transformation, through a service called Indian Post Death Transition (IPDT). He conducts his business on a retro-futuristic spaceship called 'Pushpak', named after the mythical aeroplane from the epic.
Also Read: Expectations I Have From Mirzapur Season 2 As A Feminist Viewer
People who die arrive on Prahastha's spaceship. These people have no idea that they're not alive anymore, and it is these dead souls who are referred to as 'cargo'. Prahastha's work entails readying these deceased people for their rebirth and he does his job with a rigid precision and a no-nonsense attitude. He has single-handedly been at this job for 75 years and has seemingly embraced the loneliness and the monotony of his daily rituals. This sense of loneliness lingers on until the chirpy new assistant Yuvishka (Shweta Tripathi) joins Prahastha on his spaceship. Recently graduated, Yuvishka is a dreamy-eyed astronaut endowed with magical healing powers who has all the idealism, energy and hot-headedness of youth. Together they evolve the transit process, and the film progresses to show us a series of vignettes involving the dead people who pass through the spaceship.
What Works
First of all, a symbolic Yamraj presented as your average hardworking demon is endearing at many levels. Prahastha's way of working looks a lot like he's at a sarkari naukri of helping people get through the boring legalities and formalities of death. He may be a rakshas, but he is shown to be a productive and contributing member of the society. Which is quite funny and sweet to watch. The film breaks many norms and beliefs that have been followed throughout cultures all across the country. It rejects the concept of heaven and hell, by building a parallel universe to Earth, where the deceased simply follow instructions and are ready for rebirth in a jiffy. It also doesn't focus on the physicality of these demons (there are no pointy ears and muscular bodies shown). Unlike all other retellings of folk and mythology, this film is humane in its depiction of the characters: there are no bad guys or good guys, no villains or heroes. Just different types of people.
The air of sadness engulfs the audience despite the presence of comic reliefs. The bluish-black lighting along with the numerous silent moments in the film aids this atmosphere, while the camera angels make sure that we don't view the characters as people (read: demons) larger-than-life. Both Vikrant Massey and Shweta Tripathi are in excellent form. The secondary characters too deliver in what they are given. We have a demon-male lead who has built such a wall around himself to keep everyone out, that it has ultimately made him a prisoner of his own mind. We have a young woman who is enthusiastic of leaving behind a responsible legacy; she embodies the human desire to escape the oblivion's curse and be remembered forever. We have an icchadari naagin and a man with tail, and throughout it all, we can relate to the internal struggles of these characters. To mix Indian mythological creatures and the genre of science fiction, adding slices of geo-politics, caste issues and capitalist critiques definitely takes an other-worldly imagination, which is what makes Cargo brilliant as an attempt.
Also Read: I'm Thinking Of Ending Things Is A Complex Yet Artistic Take On Romantic Relationships: Review
What Doesn't Work
The low point of the film is its story which gets monotonous after a point. There are interesting twists, but the scenes lack punches. The tensions that are built up get inflated easily and are quickly forgotten. The chemistry between Prahastha and Yuvishka is weirdly left high and dry as if the director changed her mind midway to not go ahead with the romantic twist. The outdated set-up too feels a little caricaturish, given that the film constantly points out that the storyline is set in the future and in space. However, despite its shortcomings, Cargo is a great one-time watch which, even though might fail to hold your attention throughout, will definitely impress you with its creative imagination.
Image Credit: YouTube screenshot
Views expressed are the author's own.