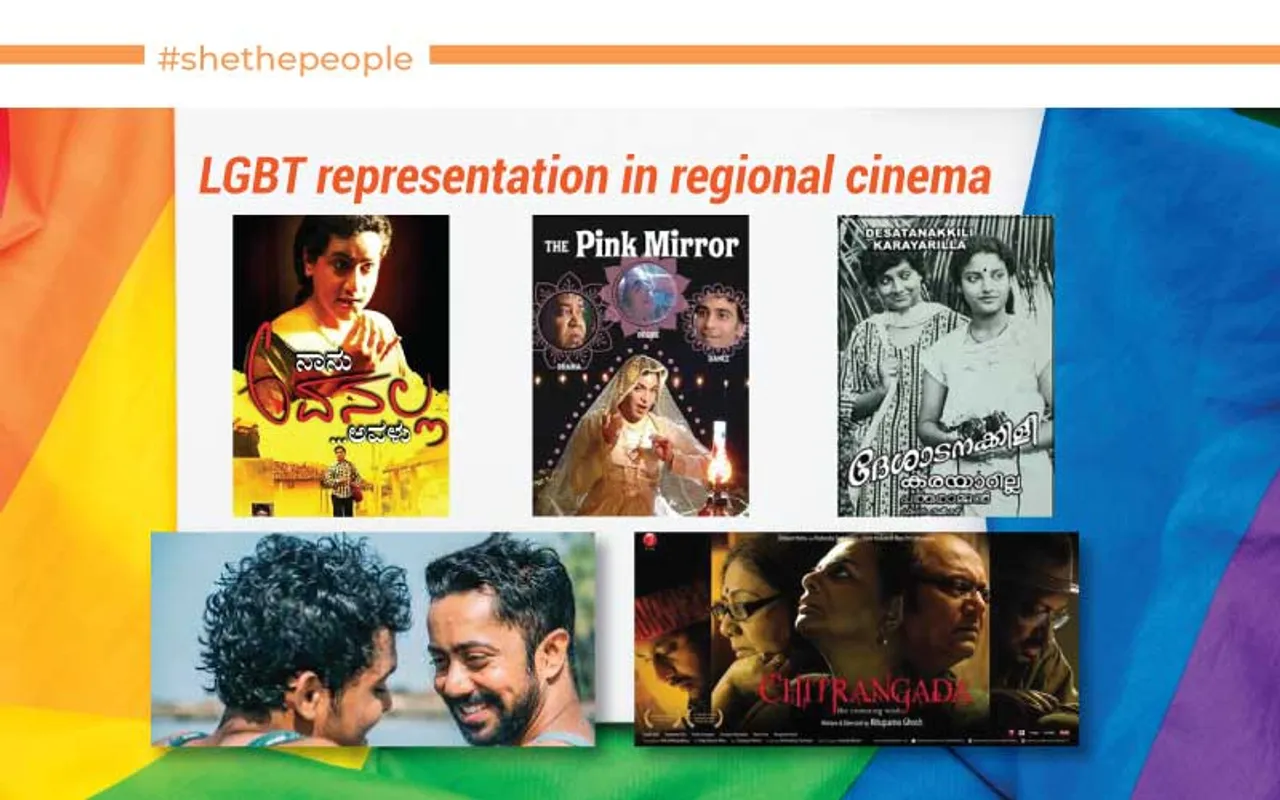 Representation of LGBTQIA+ characters is slowly gaining popularity in mainstream cinema. Bollywood is waking up to the idea of correct queer representation and queer stories. However, the stories of queer individuals, their lives, livelihoods, marginalisation and love stories have been religiously documented and captured by independent and regional cinema. So why hasn't the mainstream audience heard much about these projects? One of the hindrances continues to be a lack of empathy and attention from viewers and the lack of funding for stories that defy heteronormativity.
Despite shortcomings, these films have captured the audience's imagination and made us re-think what LGBTQIA+ representation should look like. In this listicle, we bring you some works from the regional cinema that manage to cross the barrier of language and capture the need for acceptance and desire for love that LGBTQIA+ community feels.
En Magan Magizhvan (2017)
En Magan Magizhvan, which translates to My Son Is Gay, is a poignant story of a mother coming to terms with her son's sexuality. It is a feature film in Tamil language and has been hailed as the first crowd funded LGBT film in the country.
Directed by Lokesh Kumar, the film aims to raise awareness about LGBT issues through the medium of storytelling. Varun, the son of a strict school principal, upon realising that he is gay, opens up to his mother about his sexuality.  The film captures the journey of Lakshmi, Varun's mother, coming to terms with her son's sexuality. It is an important story as it touches upon the theme of acceptance.
Also Read: Dutee Chand Faces Backlash From Family Over Same Sex Relationship
Naanu Avanalla Avalu (2015)
">Naanu Avanalla Avalu which translates to I am not a He, I am a She is a Kannada feature film directed by BS Lingadevaru. The film is based on the autobiography I am Vidya by Living Smile Vidya. It chronicles the journey of an individual who identifies as a female trapped in the body of a man.
The film shows the journey of its protagonist in two parts, the first is the struggle to be identified as a woman and finding their place and voice in the trans community. The second part deals with the everyday struggles of being a gender non-conforming person. The film depicts the struggle of being a transwoman, the lack of opportunities to make a dignified living and the constant humiliation and degradation faced at hands of society by a trans person. Naanu Avanalla Avalu put issues faced by the Indian LGBTQIA+ community at the forefront when it won the National Award in 2015.
Chitrangada:  The Crowning Wish (2012)
">Chitrangada is a feature film in Bengali directed by Rituporno Ghosh. Ghosh, a member of the LGBT community and an ardent advocate of the issues plaguing it, was known for his feminist lens in Bengali cinema. In this movie, the protagonists are a same-sex couple who are living together. Rituporno Ghosh, donning the role of both actor and director,  and Jishu Sengupta play the same-sex couple who wish to adopt a child and start a family.
Also Read: Five Books With LGBTQIA+ Representation For Children And Young Adults
Ghosh starts to question his gender identity and wishes to undergo gender affirmative surgery to become a woman. This will also allow them to live as a couple and adopt a child, which is not possible for a same-sex couple in this country. The film poignantly captures the dynamics of a same-sex relationship and the struggles to lead an authentic life that is perceived as deviant by society.
Deshadanakkili Karayarilla (1986)
">Deshadanakkili Karayarilla which translates to Migratory Birds Don't Cry is often hailed to be the first film to portray a same-sex romance on screen. It is a 1986 feature film in Malayalam which shows a relationship between two women who elope from school after they realise the world has nothing to offer them.
The film is controversial because of the presence of a male protagonist and the exploration of heteronormative love. However, it remains an important film for the portrayal of a same-sex relationship during a time when even a public conversation about LGBT issues was painfully absent. It raised issues of acceptance, finding safe spaces, and the need to run away from the world that many in the LGBT community do resonate with.
Also Read: Bulbbul is not perfect but it forces you to think and engage
Gulabi Aaina (2006)
">Gulabi Aaina or the Pink Mirror, directed by Sridhar Rangayan,  is one of the first films in India to document the drag culture that exists in Mumbai.  It is also one of the first feature-length films to speak of the issues faced by transsexual people. The film was initially banned in India. However, it garnered recognition and acclaim in the International Film Festivals for its portrayal of the issues. After a struggle of 14 long years to get this film to reach Indian audiences, it is finally on Netflix, so the domestic audience can finally view it.
Priyanka Chakrabarty is an intern with SheThePeople.TV. The views expressed are the author's own.