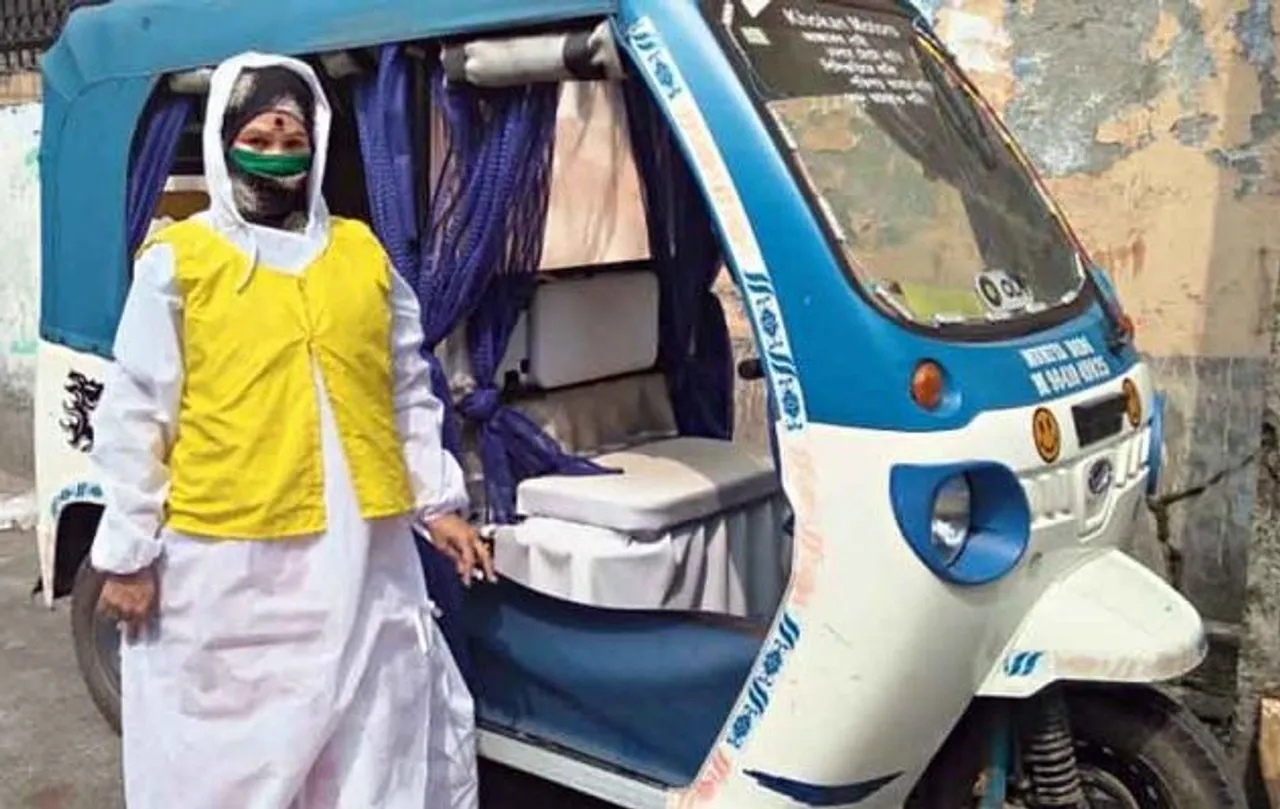 The year 2020 started off fine but soon turned out to be nothing less than the worst year that we came across in a decade. To say 2020 was an end of a decade. But it unleashed upon the world so many unprecedented troubles like a pandemic, uncertainties, tragic and unexpected deaths, unemployment, increase in crime against women and whatnot that we won't forget at least till the next decade. However, in this mess also there was a silver lining.
Many people came forward to perform selfless service and help others sail through the difficult times. Some used their privilege while others did what was possible in their minimalist living. But what remained common was empathy and humanity that shone like a hope in the gloom, reaffirming that together we can face it all.
So here is a list of some of those moments of good deeds of humanity in which women took the lead and gave us something to cherish in 2020.
1. The coronavirus pandemic and its highly infectious nature created a painful distance between the loved ones. Many were stranded away due to work; others had to pine for their family members while recuperating alone in quarantine centres. Even worse was that due to the precautionary measures, people could not perform the last rites of their loved ones who died in the pandemic. However, some Samaritans ensured that the last rites are performed with all precautionary measures and the person receives a respectable farewell. One such Samaritan is Sagai Nair of Pune who has been working in the frontline and ceremoniously burying and performing the last rites of the unclaimed bodies. Since family members are not allowed to go near the dead bodies due to the chances of getting infected, Nair took the responsibility of bidding a respectful and ceremonious goodbye to people buried in  Salisbury Park Missionary Cemetery in Pune.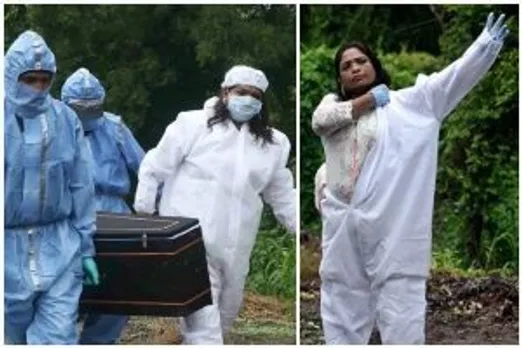 Pune woman who performs last rites of COVID deceased/ Credit: Indiatimes.com
2. People who were infected by COVID-19 were at the receiving ends of not only the fear of death but also the stigma and discrimination that got linked with the infection. However, breaking all the stigma while keeping in mind all the precautionary measures, Munmun Sarkar of Siliguri offered to help the COVID-19 patients. A toto driver by profession, Sarkar transported the COVID-19 patients from home to hospital and back safely. Not only this, but she also delivered essentials, grocery, medicines, among others to those who were in home isolation. Despite facing a financial crunch herself, the 48-year-old woman offered all these selfless services for free.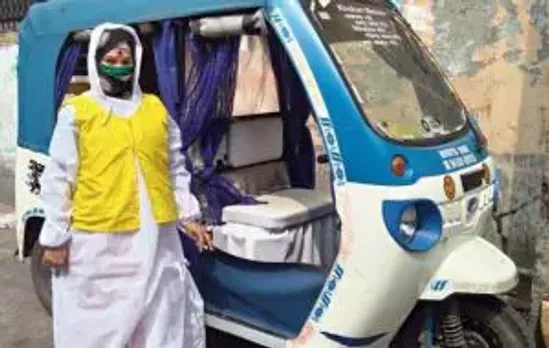 Siliguri First Woman Toto Driver , Picture Credit: Telegraph
Also Read: Thank you For The Claps, But We Expect Safety, Salary And Support: Indian Health Workers
3. Similarly, Delhi's 16-year-old twin sisters, Asheer and Asees Kandhari began COVID-19 helpline on their own without any donation. Trough this, they provided food and medical supplies to people affected by the novel coronavirus.
Meet Delhi's 16-year-old twin sisters, Asheer and Asees Kandhari who are running COVID-19 helpline without any donation. They are providing food and medical supplies to people affected by pandemic. The Kandhari sisters have truly emerged as Corona Warriors! #MondayMotivation pic.twitter.com/WP3uyVScfC

— SheThePeople (@SheThePeople) July 20, 2020
4. In another incident of selfless service amidst the pandemic, Rajeevi, an ASHA worker in Karnataka, drove a pregnant woman to the hospital at the wee hours of 3 am. She got a call at 3 am that a pregnant woman needs to go to the hospital. Without any delay, Rajeevi took her auto to the woman's house, picked her up and drove her to the hospital which was 20 km away.
Rajeevi, an ASHA worker in Karnataka, got a call that a pregnant woman needs to go to hospital. It was 3 am in the morning but without any delay, Rajeevi took her auto to the woman's house, picked her up and drove her to the hospital 20 km away. #FridayMotivation pic.twitter.com/sT0LEf8Gn1

— SheThePeople (@SheThePeople) July 24, 2020
5. If not anything, the year and the pandemic definitely changed the normal we had in the past decade. Hand sanitizers, masks and social distancing became the necessity, handshakes were no longer cool while Namaste became the trend. But an issue that the country faced was the unavailability of good quality of masks for the front-line workers. So thirty-year-old Raji Radhakrishnan, a Karnataka woman with intellectual disability stitched more than 1000 masks and distributed them to the health workers, police personnel and other frontline workers.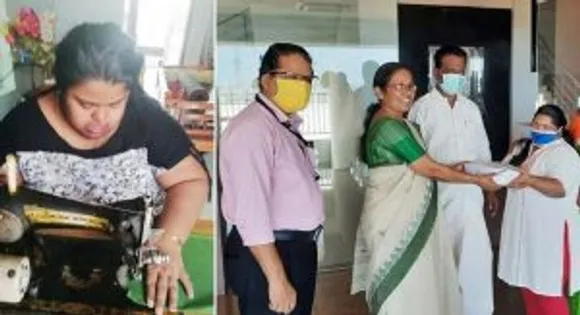 Differently Abled Woman Makes Thousand Masks For Health Workers
PC edexlive.com
Also Read: Things Pregnant Women Should Know During COVID-19
6. Now we come to another very distressing impact of the coronavirus and the consequent lockdown on human lives- unemployment and financial crisis. Lakhs of people lost their jobs. Some faced an unprecedented salary cut while others were dealing with increased expenditure during the lockdown. Mumbai-based Vidya Shelke suddenly lost her job in a ride-sharing company. To meet her ends and simultaneously do a social service, Shelke started her own taxi service that offered rides to the disabled, elderly women and the needy. She patrolled in her taxi in the Mulund area of Mumbai to give rides to people in need and ferry them to their destination safely.
Vidya Shelke is serving the people of Maharashtra in this time of crisis without fear
PC Aapla Mahanagar
7. What also faced an unprecedented impact due to the lockdown was education. All the schools remained shut and classes were shifted to online platforms. However, in India where many people are still under the poverty line could not afford a smartphone and internet connection. Consequently, students of those families faced a setback in their education. However, a group of five girls did a good job of distributing electronic gadgets to such underprivileged girls. Hailing from Chandigarh, a group of five girls collected electronic gadgets from people as donations and distributed them among underprivileged girls so that they could ' attend their online classes.
A group of five school-going girls of Chandigarh are doing a commendable work of collecting electronic gadgets from people as donations for underprivileged girls who need them to attend their online classes. Till now 21 girls have received the gadgets.
Picture Credit: ANI pic.twitter.com/bXBk3tv09d

— SheThePeople (@SheThePeople) September 6, 2020
8. The year 2020 also brought before us the ways in which social media can be used to showcase humanity and togetherness. After Baba Ka Dhaba went viral on Twitter and received the much-appreciated response, Kerala's Parvathy Amma also sought help from the Twitterati to mitigate her financial difficulties. She runs a food corner but due to the pandemic, there were no customers which badly affected her earnings. A video in which she was confessing about her difficulties was shared on Twitter by a journalist. Within a span of time, the tweet received many responses from people who promised to visit her eatery and offer financial aid.
Inspiring Women: Ten Times Women Proved They Were Heroes Despite All Odds In 2020
Also Read: Travel In 2020 Is No Longer A Luxury, But Does That Mean We Stay Indoors Till The Pandemic Lasts?
Kerala Story : This old lady runs a Dhaba in order to feed her family. She doesn't have customers & struggles to earn. It's resilient and delicious Parvathyamma's eatery at Karimba, near Mannarkkad.
After Baba ka Dhaba, Keralites turn to help this elderly woman. #BabaKaDhaba pic.twitter.com/DL3n4VddA8

— Aarif Shah (@aarifshaah) October 10, 2020
9. In another incident showcasing the power of social media, widow Bhagvan Devi, fondly known as "Roti wali amma", received love and support from the Twitterati in dealing with financial problems. She also runs a food joint single-handedly selling thali of pulses, vegetables, rice and roti for just rupees 20. However, she was barely receiving any customers due to the pandemic. The news went viral on Twitter attracting response and help from people.
Agra: One octogenarian woman in Agra, Bhagvan Devi, popular as 'roti wali amma' is selling food at Rs. 20 near St. John College to earn livelihood;

She says, "I have been doing this for over 15 years. But, there's hardly any sale these days." pic.twitter.com/WIJEWW5Hoo

— ANI UP (@ANINewsUP) October 18, 2020
10. Some people do not need a reason or a pandemic to perform good deeds. In a wonderful act of kindness, a woman in Kerala helped a man with visual disability to catch a bus that he had almost missed. The video of the incident went viral on Twitter attracting many appreciations. Later on, the woman was identified as Supriya, a saleswoman with the Alukkas group in the town of Tiruvalla. The chairman of the company gifted her a house and a token of appreciation for her kind deed.
she made this world a better place to live.kindness is beautiful!😍

உலகம் அன்பான மனிதர்களால் அழகாகிறது#kindness #love pic.twitter.com/B2Nea2wKQ4

— Vijayakumar IPS (@vijaypnpa_ips) July 8, 2020
The list is certainly not exhaustive. But these incidents show us that humanity, empathy and kindness are still alive and have the power to defy the most difficult situations of life like a pandemic. Looking forward to more such examples and encouragements to live a life that is remembered.
Also Read: No Distancing, No Ambulance, No Doctors: How Will Rural India Survive The Pandemic?