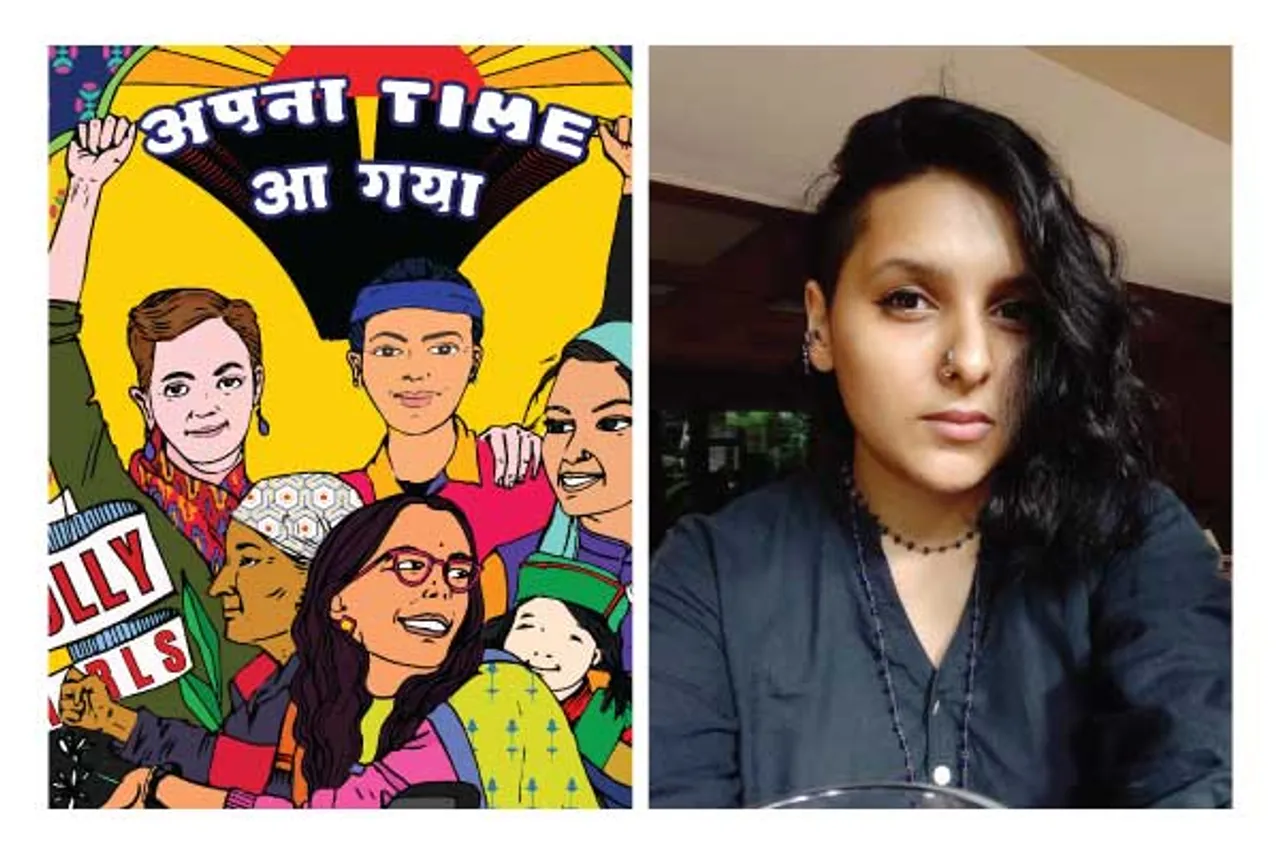 I had met Kokila briefly in the year 2017. The first Bhopal Pride Parade had just happened and the air was buzzing with new possibilities for the State of Madhya Pradesh. I walked into the co-working space she had founded which reflected her artistic sensibilities, using bold colours and minimalist furniture and in there we spoke about the Pride and the success it has been. Since then, Kokila has moved to Mumbai and continues to be an artist, an activist and a feminist.
Using her art today, Kokila is bringing her activism to the forefront. A survey of her Instagram page gives the audience an arc of the themes which is covered in her art. It ranges from spreading awareness on climate change, countering fascism, documenting feminist movements and much more. While living Bhopal she co-founded Bhopal Pride and dylogg co-working and played a crucial role in giving the city its first Pride Parade.
SheThePeople caught up with Kokila to have a conversation on being a freelance artist, using art to dissent and what feminism means to her.
Beginnings of an Artist
Every artist starts somewhere, either in their childhood where they are provided with an environment to create art or through occurrences in adolescence and adult life where they take up art as a medium of expression. "It started in the womb. Both my parents are deeply inclined to artistic practices. Infact, that's what tethered them. Fortunately, I was given the tools before I had to utter words so art as expression was never an unfamiliar territory."
Also Read: Five Books With LGBTQIA+ Representation For Children And Young Adults
She further adds, "As an introverted child art and poetry used to be the only forms I could comfortably communicate through and seek refuge in.  As an anxious pretending-to-be adult: art, music, dance, poetry and fiction continues to be a means to cope, to survive."
On Creating "Dark" Art
One of the aspects of Kokila's art that surfaced in her previous interviews is that her art often gets categorised as "dark". Is the tonality deliberate here? "At most exhibitions in the past, I have chosen to portray the (ongoing) story of the Bhopal disasters, corporate crimes and government negligence. Instead of viewing the struggle as a revolution and much-needed justice people choose to see issues as a brain-itching discomfort."
She further adds that her art is simply reflecting the contemporary scenario and a means of dissent. "In India especially now, concern, dissent and critique or questioning the Government and status quo is considered a cynical, impractical voice which must be silenced. For the ones who don't like to question, anything that's not toxic positivity is apparently 'dark'. They feed on bigoted, biased news and hail the powerful oppressors. All we're trying is amplifying the underlying voices. As if as artists we should draw smileys and pretend the world isn't on fire?"
The Creative Process
Usually, artists guard their creative process dearly, but Kokila has no qualms sharing her creative process. "I discard ideas on a daily basis that generate at odd hours. It takes months of stickiness for an idea to seem worthy of execution when it has crossed the obstacles of self-doubt and meaninglessness. As for other's projects, the design student in me has learnt to create multiple drafts with sketches and choose what seems befitting after a third person's view or feedback from the client. Eventually, instinct takes over and is relayed to the hands. Some projects are more urgent and fortunately, the process has manifested to the fastest form of work efficiency; deadline panic."
Also Read: Art Alleviates A Dreary Mind: Subhashini Chandramani, Garden Art Creator
Art and Social Movements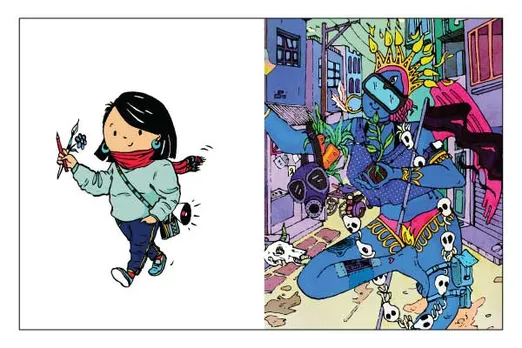 Image Credit: Kokila
Art is political; our political stance does seep into the art that we create. How does one then create politically informed art? Says Kokila, "Since we've spent years (and work in progress) of unlearning patterns and creating beliefs and why must they be different than the things we do/intend to do? I'm an ardent believer of 'the personal is political is professional'. The intersectional, feminist gaze is how we see everything analytically and through a socio-economic+ lens. The skin tones we pick, the way we draw bodies, tell inclusive stories, pick the more important perspectives, portray narratives that need amplification, it all changes as we learn more."
Artists have always played crucial roles in sparking and sustaining social movements. As an artist at the helm of various social movements, how does she interpret the role of art here? According to Kokila, "Artists who blend into social movements critique beyond the time they are born in and re-imagine ideal worlds. As risk-takers it is easier for artists to engage in subversion to demand change and overthrow aggressive imperialist forces."
She further adds that she thinks of artists as chroniclers of our times. "All the history available to us are anecdotes in the form of paintings, poster, poetries, films, theatre and stories. As artists, we witness socio-cultural changes and we also shape them. Cultural production and practice as political activism is nothing new and continues to be one of the few non-violent forms of protest. It provides iconic imagery to a movement and strength because artists can also relate to a threat and the cost of survival," says she.
Also Read: Meet Licypriya Kangujam, The Indian Climate Activist
On the Gendered Nature of Art
For long, even the liberal field of art has been dominated by the male gaze. The history of art is also the history of patriarchy and the lens through which they have viewed women and feminine subjects. But with more women artists breaking into the stream, they are bringing their feminine and feminist gaze to their work, and Kokila is no exception. "Definitely gender, sex and sexuality shape and inform the art I create. It's a perspective born of our collective experiences, identity politics, diaspora and crises, the very being and the struggles it comes with. As a queer woman my perspectives around justice. I will use different sets of connotations," she says.
In such a gendered space, being a female artist also means looking at the world and canvas from a different pair of eyes. "Female artists like me, renegotiate. We draw through our collective experiences a call to change the terms and conditions this domination brought upon us," says Kokila, adding, "We draw power from our bodies, our abuse and inherited resistance and see vulnerability as strength. We use this to question the subjects in art, the inspiration, the practice and medium and the end audience."
According to Kokila womxn artists also grapple with issues of accessibility and misrepresentation. She reveals, "Work by female artists are valued less, their needs are considered burdensome and their depiction in commercial art remains contorted because men continue to represent us and tell our stories."
I cannot resist the temptation to ask her the age-old question of should art be separated from artists. To which she replies, "I do not think the art can be separated from the artist. The easiest example is of sexual predators whose art is built upon exploitation and abuse of their victim alongside their labour. Their influence and social capital are tools to enable them to further power positions. Their ideation will sooner or later reek of sexism and so will their choices of production."
Also Read: Artist Ruby Jagrut reflects on art, expression and cosmos of Natural Dye works
However, age-old questions don't have easy answers, "Having said that, art is also a culmination of the efforts of multiple contributors and they should not bear the brunt of an individual's wrongdoings. We must come up with more ways for healing and retributive justice than banning, boycotting or calling out when it comes to that. As consumers of art, we must support voices of the survivors, not just amplify their statement but their labour and work as well."
Kokila firmly believes that an artwork can exist independently once dispelled into the world. "The artwork is an entity, an individual, context-less, subjective and has the potential beyond the impact the artist itself may have," she adds.
Art and Commerce
In a world dominated by capitalism and profit making, art and artists are merely reduced to commodities and producers. In such a scenario, socially and politically conscious artists have some hard decisions to make with regards to whom to create art for. "Unfortunately, our world and hence the economy is run by corporates feeding off the resources of the voiceless and exploitation of labour. As soon as I realised that I did not feel like contributing directly to capitalism, independently funded organisations/ small ventures became the prime source of income. I acknowledge that I am able to do that because of my privilege," says Kokila, acknowledging that no one starts with what they want to do so it takes patience to survive and a certain amount of consistent integrity.
The proliferation of social media has changed the way art is consumed. Kokila believes that the digital field certainly empowers an artist of privilege to be seen and heard if we bypass the algorithm which tracks human faces. "I am laidback about portfolios and showcasing/documenting my work so very unprofessionally, Instagram makes it easier to collate."
While it is easier for some artists to share and reach out, it is not without its drawbacks, "Subconsciously artists resort to pertinent significance. Hence that need for validation and creating content with shareability quotient as the measuring scale," says she.
Also Read: How Women In The Hills Are Showing Resilience Amidst Uncertainty
Current Projects
So what does her work projects look like currently? "We just released Criminal No More, a year since the Section 377 judgement with the YP Foundation and Two Steps Ahead, the illustrated book about uncovering what people really mean. Upcoming is a distinct project with my therapist and an illustrated book for a friend's personal journey. I do graphics and design for NETRI Foundation."
She further adds, "Currently I am working on a book called Solidarity Series: Conversations during Lockdown and Beyond with the Centre for Financial Accountability, smaller projects around sexuality and climate change and learning new things."
Priyanka Chakrabarty is an intern for SheThePeople.TV.
Image Credit: All images used are owned by Kokila