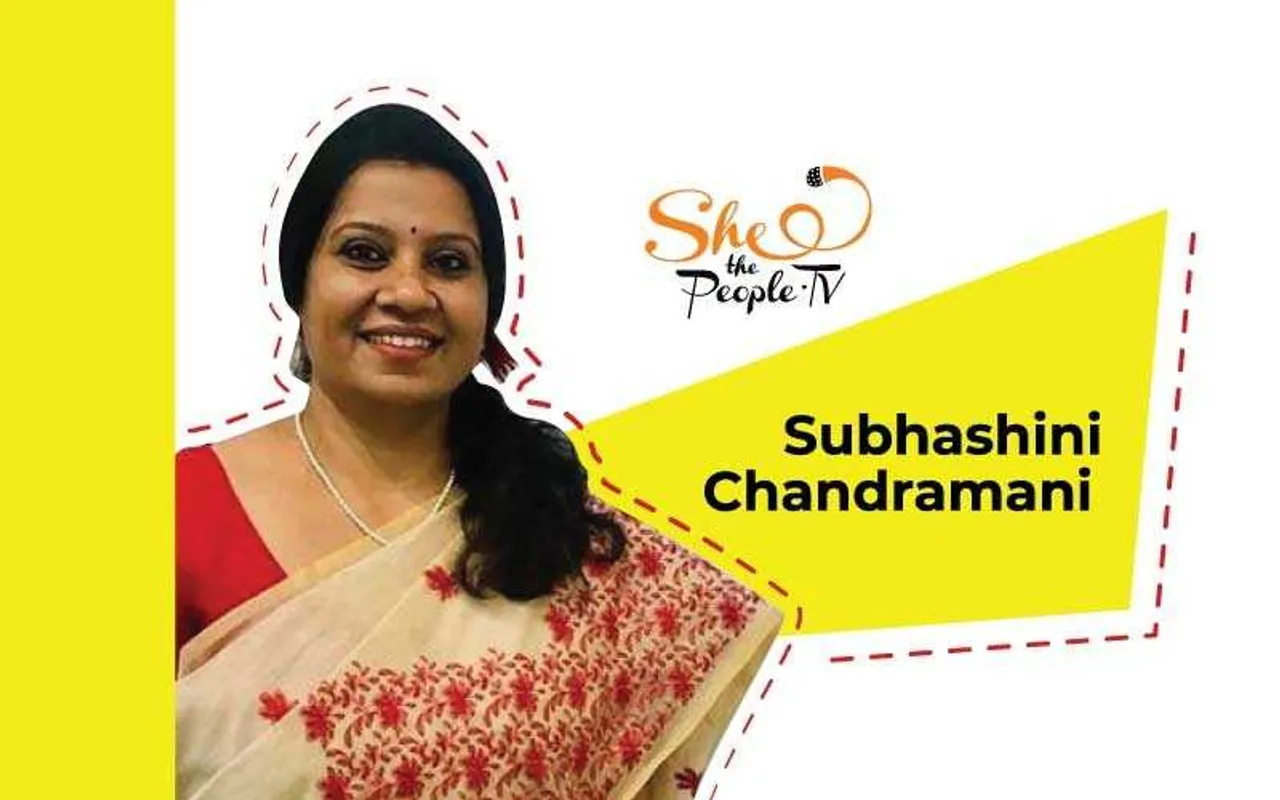 Bengaluru-based artist Subhashini Chandramani believes that the process of growing in one's profession is a beautiful journey of introspection. This soul-searching has led the garden-art creator to evolve more as an artist, who has created a new line of artwork and is now the author of a book, The Garden Art Journal.
In a conversation with SheThePeople, a few years after her first interview with us, Chandramani talks about her latest work, what keeps her connected with gardens and why she still feels inadequate as an artist. 
You create art using flowers, leaves and everything that gardens have to offer. How have you evolved as an artist ever since you started a few years back? 
My sensitivity and perception of how I look at objects have changed. I am now more open and confident to experiment with new elements. Also, the fear that I cannot recreate an artwork has eased. It also so happens in the process of recreating, that I end up with new ideas. Sometimes it leads to different work and I am amazed at how a simple change of elements can give rise to new work.
My sensitivity and perception of how I look at objects have changed.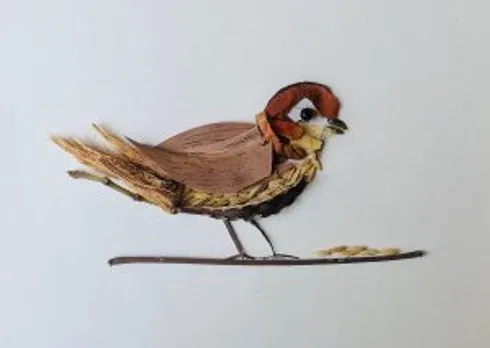 Sparrow created by Subhashini on World Sparrow Day
You believe that garden art is visual poetry. What keeps you intrigued to such imagination in day to day life?
There is no great mystery here, you know. Mostly our day to day life seems boring only when we are unaware. Awareness makes one feel visual poetry in our surroundings. You have to break routines for that.
ALSO READ: Master the Art of Multitasking with your Peace of Mind Intact
Until 2016, you hadn't showcased your art anywhere even after getting requests because you felt you didn't have enough then. How has the transition been since then?
Well, since then, I have exhibited my artwork thrice and I still think I don't have enough artwork. Currently, I am transitioning to my next avatar for creating books. And I love the time spent in creating for them. We never know whether the next art is going to be interesting or not. Even if it turns out to be an interesting one, we are still looking to do something better.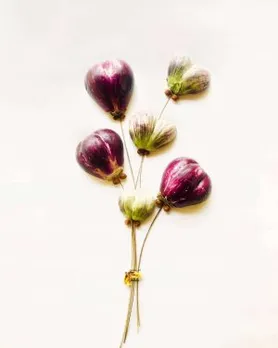 Brinjal balloons by Subhashini
As artists, we are never satisfied, therefore inadequate. This feeling of inadequacy seems natural to me.
What was it like to put together a book as unique as The Garden Art Journal?
It was fun, challenging and I consider it another piece of my art. I wanted a journal to be a companion who would listen, inspire and comfort you. It was designed without a date or a page marker so that you could choose any page to write on. There is no compulsion to write daily.
The book is designed in a manner that one needs inspiration they just have to skim through the pages. Not just for inspiration but also for lifting oneself during low moods.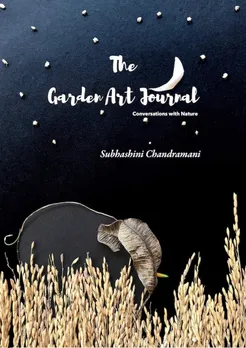 The Garden Art Journal
Tell us about the expansion of your work. 
Like children growing up, my work is getting bolder, more experimental, and it carries emotion. I put in the same amount of work, be it an easy or a difficult board. There are days that I have to let go of many ideas because of the lack of time when the botanical elements are involved. I try to do it when the next opportunity strikes. I persist and that I think is my strength.
You are turning everyday things and experiences into objects of art. Where do you constantly derive your inspiration from?
From everyday things. Visualising the world around us for patterns and uniqueness is like muscle memory. One should keep on practising to create. When you stop, creativity takes a break and loses its strength. One has to restart to gain the tempo. I firmly believe that art alleviates a dreary mind.
ALSO READ: Art Is My Place Of Healing Says Artist Sharmistha Ray
As an artist, poet and gardener, what more do you envision and aspire to blend?
I don't know. I did not plan on any of these in my life. These are things I learnt along the way. I honed my skills by learning them. Similarly, I don't know how things will evolve in future. But am sure whatever I take up, there will be a reflection of one another.  
The digital world is playing a significant role today, especially giving a platform to artists across the world to showcase their line of work. How important is social media to you when it comes to the audience it generates?
The visibility I have today is because of Twitter and Instagram. I have made very good friends and have been introduced to new forms of art here. My only pet peeve is that I have not been able to take my work across the seas. It feels like I am viewing the world through a closed glass window where I can see the world outside but I cannot put my hand out and feel the other side. I hope someday this glass ceiling is broken. 
The visibility I have today is because of Twitter and Instagram.
Which art piece is closest to your heart?
It is hard to choose between them. Every one of them has a story of an object being something else. Be it the chakli turning into an owl, the seedpod becoming an earring, leaf transforming into an elephant, or coffee beans becoming the matted head Krishna, there is a twiddle that is added. There can be no favouritism.
ALSO READ: How Garima Poonia Is Making Andaman Pristine Again
From the viewers' side, I think Coffee with Krishna, was a visual treat. The use of coffee beans as Krishna's matted hair was unanticipated. The rest of the elements were botanical. But the beans boosted the effect. It is still being shared on Instagram by many I know.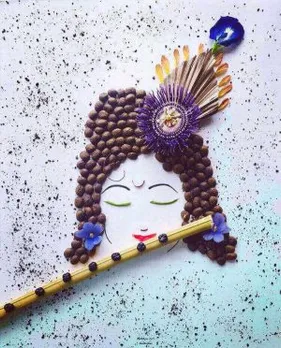 Coffee With Krishna by Subhashini
What is your advice for garden lovers and those looking to find meaning in this form of art?
Live the moment. Be aware of the surroundings you walk into. Have the curiosity of a child to stand and look at the world around you.
Cherish the surprises. Bring dissimilar things together. They will find a language of their own.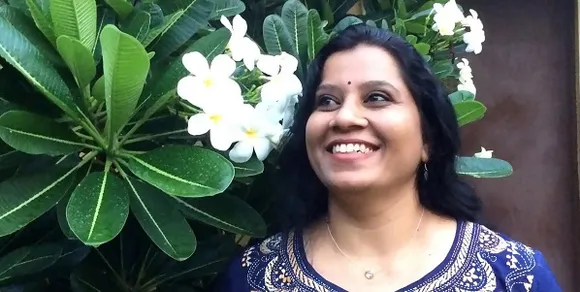 The garden art creator
What would you like to advise aspiring women entrepreneurs in the field of art?
There are several things I'd like to share:
Learn to take risks. It is part of the learning curve. Along with risk comes disappointments, learn to overcome them. Stand your feet. Believe in yourself. Whatever happens, get back to work. The solution for unhappy work is work. Learn to distinguish between constructive and crappy advice. It's important to understand that having a huge social media following doesn't mean everyone will buy your work. Lastly, be open to new ideas that come your way.
ALSO READ: Art & Stories We Make Define Who We Are Or Could Be: Rohini Devasher