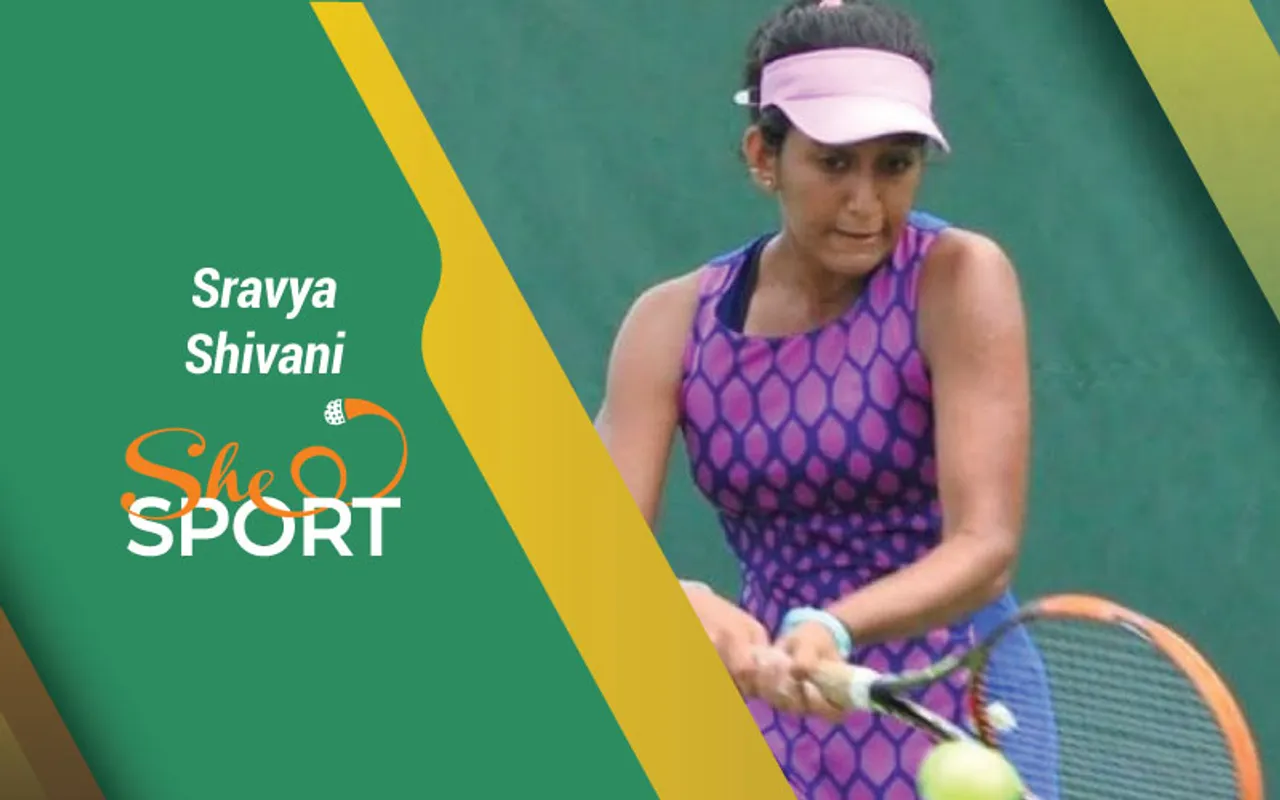 A Potterhead, Sravya Shivani Chilakalapudi had experienced a severe knee injury at a young age, which almost ended her career. It affected her physically as well as mentally. But she is a fighter. She overcame the challenges and today this tennis champ from Hyderabad is one of the rising doubles players in the country. ​Having multiple national level tournaments both singles and doubles in her name, Sravya's current rank in women's doubles is at No. 6 and in singles is at No.19. She's been playing at the national level for almost 10 years now.
Sravya recently started playing international tournaments in the women's category. She was the finalist of two ITF 15K Pro Circuit, doubles, and ranked 900 in WTA and 200 in ITF in doubles.
Her biggest achievements so far:
National under 16 doubles winner
National under 18 doubles winner
ITF junior doubles winners (3)
National series doubles winner (6)
Career high rank of 9 in under 18 in singles in India and 640 in International juniors
Is Silver Medalist in All India Universities (Captain for the team)
Gold medalist in South Zone India Universities
Five time National Series doubles winner
Held the highest number of points in Doubles for three years
Five time ITF junior (international tennis federation) doubles winner
State and District Gold Medalist (multiple times) and State team captain at Nationals
19-year-old Sravya started her career in 2007 after being inspired by her elder brother who plays the same. Riding high on her game, Sravya talks to SheThePeople.TV about her passion in the sport.
What inspired you to take up a career in Tennis? 
I started playing tennis when I was seven. I would tag along with my elder brother to the academy where he used to play, and just like that loved the sport and picked it up.
Every once in a while people will remind you that you are a girl, make sure you remember that it's a good thing, something to be proud of, something that isn't a disadvantage but a privilege.
The career you have chosen can be challenging. What inspires your love for Tennis?
Tennis is a wonderful sport; it's one of the only sports through which you can truly showcase who you really are on court as an individual. It teaches you to be independent and self-sufficient. I think that's my favourite part about the sport.
You are one of the professional female Tennis players in India. How did your life change with sports?
I was about 14 when I decided to take up tennis professionally. My life changed completely. I used to study in a big school and participate in a lot of extracurricular activities, but I had to move schools to a more supportive school with an easier curriculum to pursue tennis wholeheartedly.
Since you belong from a traditional background, do you face any discouragement from the society? If yes, how do you manage to overcome those?
Although I come from a very traditional Telugu family, they have always been supportive and encouraging. They believe that one must pursue what they love but at the same time have a solid education too. So I balance my education even while I'm on tour.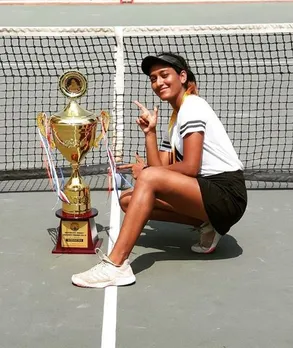 How is the Tennis scene in India for women and girls? Why isn't it popular among women here?
Tennis is a growing sport in India and has immense potential but the lack of proper support from the government as well as difficulty in finding sponsors makes the sport very difficult to pursue as a professional career as it is an immensely expensive sport.
READ: Women-Centric Films We Are Eagerly Wanting To Watch
India has so much talent, far too much, but being nurtured from a young age and coaching the right way, especially fitness wise is something India is slightly behind when compared to other nations
Could you briefly tell us about your goals and upcoming tournaments you're aiming at?
My short-term goal for now is to improve my international ranking, and my long-term goal is to someday play for the country in the Olympics and bring laurels to our nation and of course play the slams.
Your message to young girls who aspire to be like you...
Every once in a while people will remind you that you are a girl, make sure you remember that it's a good thing, something to be proud of, something that isn't a disadvantage but a privilege.
What drives you towards the sport? What does it mean to you?
Tennis is a sport with a lot of ups and downs, but being on court, playing the points, the adrenaline, the competition that's what makes the sport what it is.
Share your strategies and insights for it. What is your thought process before a game?
Tennis is one of the only sports where you are all alone on court, what you do, depends completely on you and being able to control what the outcome can be is my favourite part, win or lose ... it's on your own terms.
Strategies change from match to match, in fact point to point depending on the opponent but the main attitude I always strive to maintain is to never give up. Because in tennis anything can happen, everyday you should try your best.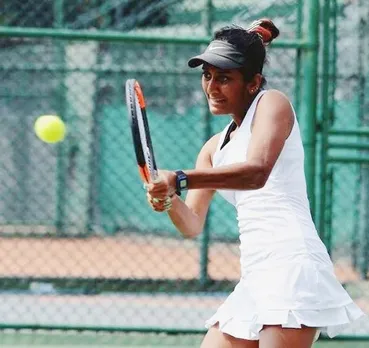 What are the biggest challenges that came your way?
Being injury prone, that's my biggest challenge so far. I have had been a very bad knee injury at a young age, something that affected me a lot, mentally as well. And, even after recovering from the knee injury I had a series of other injuries, all of which made me a lot tougher mentally. Now with the right training and guidance, I have worked hard to prevent injuries.
READ: 83-Yr-Old Granny Is A Tennis Champ
How do you balance life? Both your studies and your profession?
As my brother plays professionally too, tennis is both a family affair as well as a career... Balancing my time between training, college, tournaments and travel and family and friends is very very difficult but also very essential to me. Being able to have a little bit of a normal life once in a while is a good way to balance everything on my plate.
Tell us about your most amazing moment?
The most amazing moment is easily when my partner and I won the junior nationals without dropping a single set…it was exhilarating. But more recently, making it to the semi-finals in an ITF 15K held in Kenya after beating the fourth seed in the tournament was one of my best memories.
What do you think India lacks in terms of appreciating all kind of sports?
India has so much talent, far too much, but being nurtured from a young age and coaching the right way, especially fitness wise is something India is slightly behind when compared to other nations.
Do you struggle for sponsors to continue with your passion?
Luckily my coach CV Nagraj has been by my side throughout. The fundamentals of not just tennis but also overall development as an individual are something he taught me very well.
Tennis is an extremely expensive and exhaustive sport. The constant travelling, the equipment, the training all are extremely difficult to afford and sponsors are quite tough to find. As a family with two professional tennis players it is quite tough so yeah, a sponsor would be very helpful.
Tennis is a very high paying sport for both men and women, but only in the highest level...
How has sports in general liberated women in the field? Do women now seek to take up sports professionally?
One way I feel women in tennis inspire me is the independence they have achieved, from travelling alone, and taking losses to winning big and staying grounded. Being able to go through all the physical and mental turmoil, women in tennis really are great examples for young girls.
READ: How Naomi Osaka Rose To The Top From World No.72 In A Year's Time
What is your take on women sportspersons and gender discrimination in our country overall.
Gender discrimination or patriarchy is a very deeply embedded part of our society, which will take years to get over but tennis has started to already make changes, like giving equal pay to both men and women in national tournaments. Although we have a long way to go for an ideal world, personally, I feel like the tennis circuit is on the right path.
Feature Image Credit: Sravya Shivani