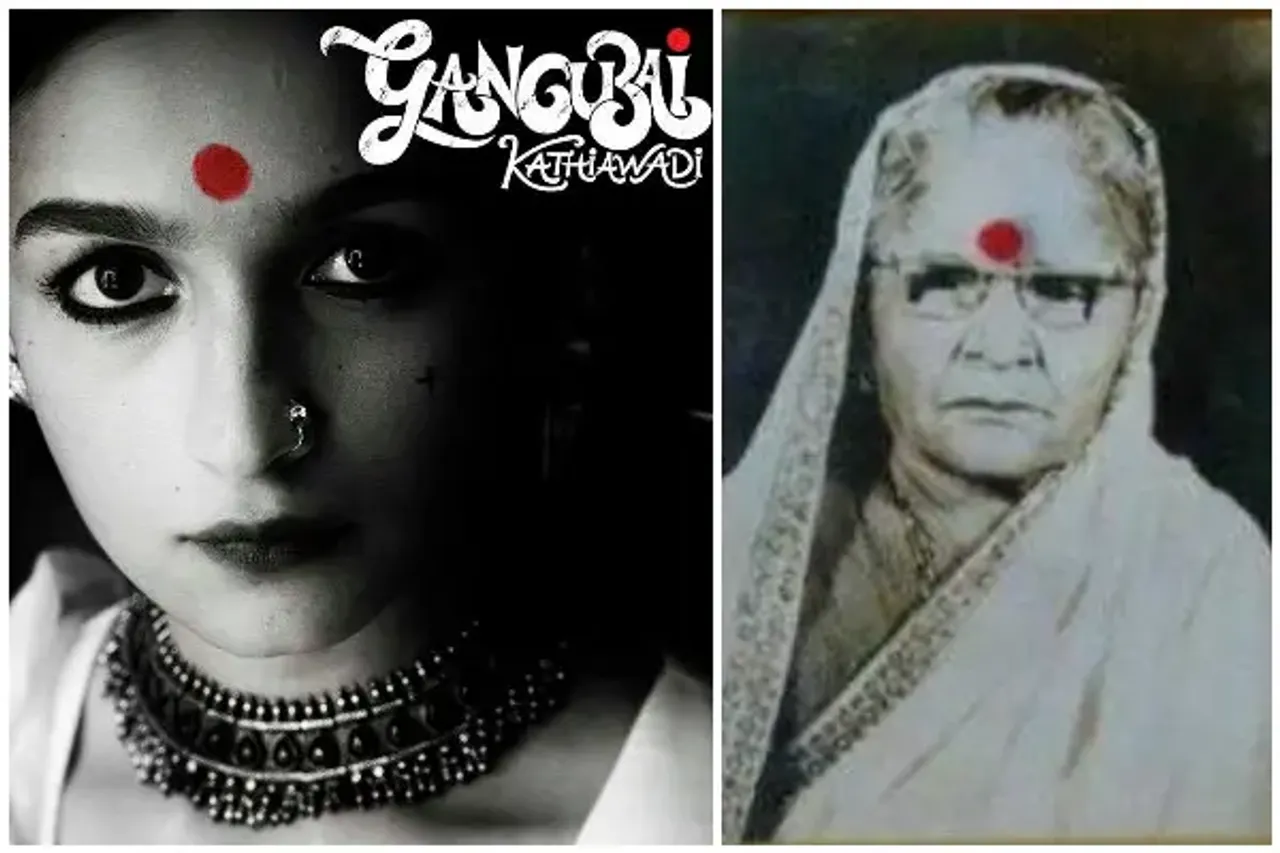 The first look of director Sanjay Leela Bhansali's Gangubai Kathiawadi is making waves on social media. Starring Alia Bhatt in the lead role, along with Ajay Devgn, it set to release on July 30 this year. The film, that will be Alia's first project with Sanjay Leela Bhansali, is based on the life of a real life mafia queen.
The film's first look, which sees Alia as Gangubai, is being showered with love both by the actor's fans and industry friends. Deepika Padukone wrote "love" and attached a heart emoji in the comments section on Alia's Instagram post. Ranveer Singh, who worked with Alia in Zoya Akhtar's 2019 film Gully Boy, wrote, "Here she is indeed Lulu, the gangster. Come on."
But who was Gangubai Kathiawadi, on whose life this film is based?
Gangubai Kathiawadi's life has been chronicled in a chapter devoted to her, in the book Mafia Queens of Mumbai, penned by best-selling novelist and retired investigative reporter S Hussain Zaidi.
The real woman behind the character
Gangubai Kathiawadi was an Indian criminal, don, sex worker, businesswoman; all in all, a controversial figure from Kathiawar, India. She operated a sex racket in the Hera Mandi red light district. She was a very influential figure in Mumbai through the 60s.
Ganga Harjeevan Das Kathiawadi was born in 1939 in Kathiawar. She came from a well-settled family, being the only girl child in her family. Thus she was pampered by her parents. She studied a local government school of Gujarat and despite finishing her school education she didn't study further.
Sold into prostitution
Gangubai Kathiawadi fell in love with her father's accountant and ran away with him to Mumbai at the age of 16. Kathiawadi is said to have been interested in acting and wanted to try her luck in films. But her life changed when her husband sold her for Rs. 500 to a brothel, forcing her into prostitution.
Rise to Power
Gangubai was compassionate towards other women from the community. She used her influence to champion the rights of sex workers and affirmed that their job didn't authorise anyone to violate them.
Gangubai slowly rose to power through her links with the Mumbai underworld. She maintained and operated many brothels in the red light district of the city, ultimately earning herself the name, 'Madam of Kamathipura'. She rode in a black Bentley, the only brothel owner to have one in those times.
Also Read: Sex Workers Demand Better Health Facilities And Zero Discrimination
Advocate for rights of sex workers
Because of her personal ordeal, Gangubai was compassionate towards other women from the community. She used her influence to champion the rights of sex workers and their empowerment and affirmed that her job didn't authorise anyone to violate her. Reportedly, she even requested then-Prime Minister Jawaharlal Nehru to address difficulties encountered by sex workers. Her attempts to better the living conditions in Kamathipura won her respect from the community.
Mafia Queens Of Mumbai
Gangubai was truly empowered. Even though our society measures empowered by education, here's one woman who talks of financial independence by earning her own living. Can empowerment have a different definition based on the circumstances in a person's life? Here we have the inspiring story of a Mafia Queen, who owned a brothel. She was a champion of rights of sex workers, Gangubai Kathiawadi. Rightly differentiated as a woman of spirit from a victim of circumstances in Hussain Zaidi's and Jane's Mafia Queens Of Mumbai, Kathiawadi stands for the empowerment that comes from the will to fight any circumstance and simultaneously earn respect and wealth.
The Film
Gangubai Kathiawadi - A story, based on the book Mafia Queens of Mumbai, written by S. Hussain Zaidi, is a film that celebrates the rise of a simple girl from Kathiawad who had no choice but to embrace the ways of destiny. The Alia Bhatt starter was finally released in theatres on February 25, 2022, despite facing legal hassles from the real Gangubai's family, who objected to the matriarch's portrayal as a sex worker, insisting that she work for the welfare of women thrown into prostitution instead. After a successful run at the box office, Gangubai Kathiawadi will be releasing on OTT on April 26.
&t=6s
Saumya Rastogi is an intern with SheThePeople.TV