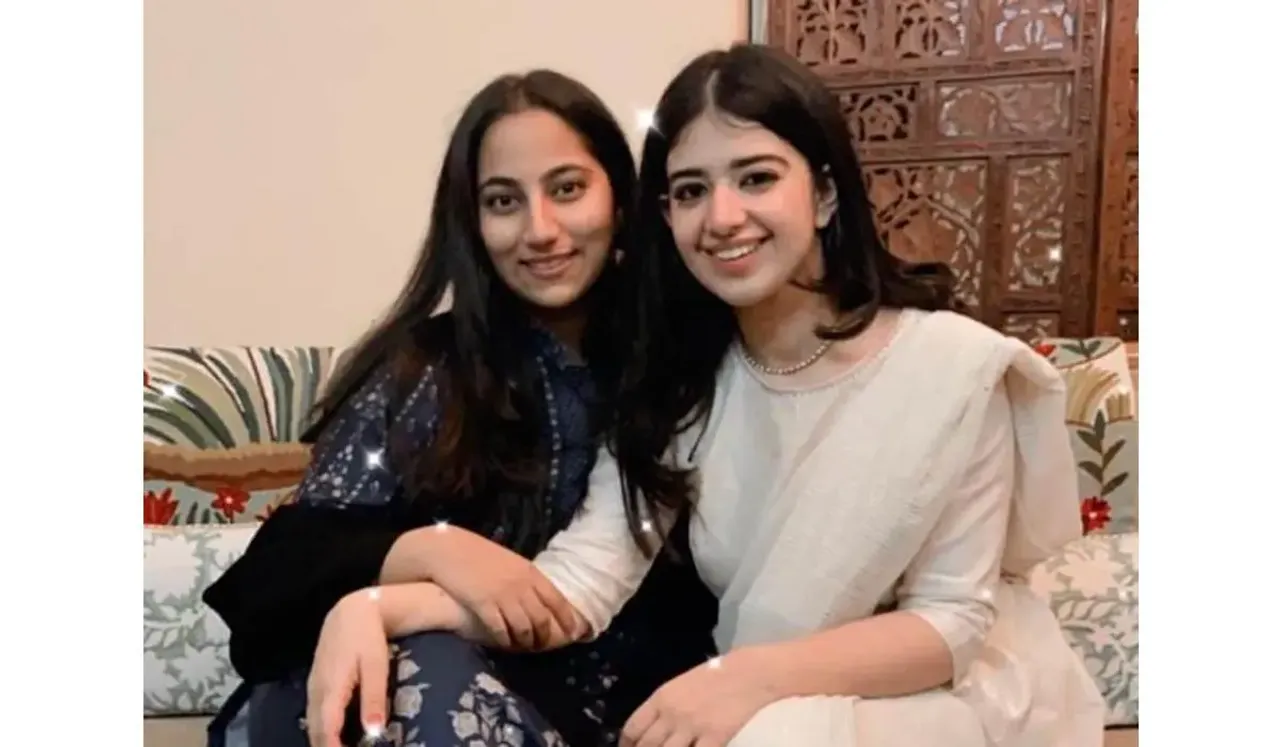 Protests by farmers against the newly passed Farm Bills are raging in full force at a national scale, especially at the Delhi border. Farmers from across India are headed to the national capital on foot, in large numbers, to demand a repeal of the legislation they say will endanger their livelihoods. Countless citizens have extended solidarity to these protesting farmers on social media, amplifying their concerns. But there are several - who have chosen to work in silence from the sidelines - who are supporting the farmers' protests in real-time. Gurpreet Kaur Bhatti and Gursahiba Gill, friends from Chandigarh, are two such women who, through a collection drive, have managed to deliver medicines, essentials, and love to farmers.
Bhatti, 23, and Gill, 24, are both students currently pursuing degrees in law and psychology respectively. Having known each other since childhood, they claim to now share a bond of sisterhood tied together by their mutual interest in social work. The two began a medicine collection drive for farmers in the last week of November, receiving a thundering response from people who sent in medical supplies and other essentials, including handwritten messages of solidarity, for the protestors. SheThePeople spoke to Bhatti and Gill on their motivation behind the drive and belief in the farmers' protests.
Also Read: Mother Of Instagram Star Alexis Sharkey Suspects "Foul Play" In Daughter's Death
About The Medicine Collection Drive
Seeing farmers, along with their wives and children, make the long, cold journey to Delhi on foot and tractors, the two women were moved to do their bit in standing by the protests, even if from the privilege of their homes. Thus, they began their collection drive.
"We had a point of contact at the farmers' protests and reached out to ask if they required anything. The farmers were carrying three months' worth food supplies, and said they had enough sustenance on that end. We figured out that medicines could be something they need - because it's cold, there were attacks on farmers, they were getting injured. So we began a 24-hour medicine collection drive," they tell us.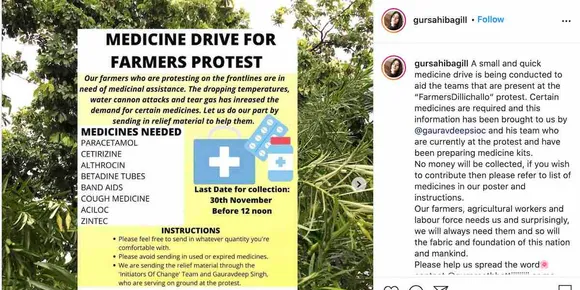 Elaborating on how the drive materialised, they say, "We made a poster for the drive and reached out to our friends to be put up on social media. The response was overwhelming. Within an hour or two itself, the number of people who were calling us was unbelievable. Donations began coming in, and by the end, both our houses were filled with medicines. There were cartons upon cartons of them; from Kerala, Madhya Pradesh, Maharashtra. We packed everything and are now shipping them in batches."
Gill and Bhatti had categorically stated that they wouldn't take monetary contributions, only medicines.
But people began sending in other essentials they thought the farmers might need. Some even delivered handwritten letters for the protestors, expressing gratitude and solidarity in their national movement.
Also Read: Shaheen Bagh's Bilkis Dadi Sets Out To Join Farmers' Protest; Detained By Police
On Why They Feel So Deeply About The Farmers' Protests
About the motivation that led them to begin a collection drive, the women's reasons have both a personal and historical range. Bhatti says, "Farmers and farming is a big part of Punjab and our culture. We've both been brought up in families that belong to this background. When we found out about the Farm Bill, and studied it properly, we realised it is a complete injustice to our anna-datas: farmers who are providing us food. It will end up exploiting the farmers, and we were shocked at the audacity of the Bill. We both felt very deeply about the cause and therefore decided to do something about it."
Gill adds to that saying, "We've always been passionate about a lot of things, one of them being where our country is headed and how minorities are treated. We don't just feel so strongly because we belong to Punjab or our families are so deep-rooted in agriculture. But also because the unconstitutional way in which things are being handled is a threat to democracy. The year began with the Shaheen Bagh protests and ended with the farmers' protests. It's like we've come full circle."
Also Read: These Punjabi Women Artists Are Supporting The Protesting Farmers
What Are The Farmer Protests in India about?
The national farmers' agitation can be pegged to the three Farm Bills that were proposed in the Parliament this year: Agricultural Trade and Commerce Act, Farmers Price Assurance Act and Essential Commodities (Amendment) Act. Farmers are fearful that their agrarian livelihoods will be at risk through these Acts, since "it will put farmers and their families at the mercy of agri-businesses."
Two out of the three bills have already been passed, and agitating farmers are scheduled to be in talks with administrative authorities today, December 3, over the detriment that a corporatisation of agriculture will allegedly cause their incomes. Read more here.
Views expressed are the author's own.