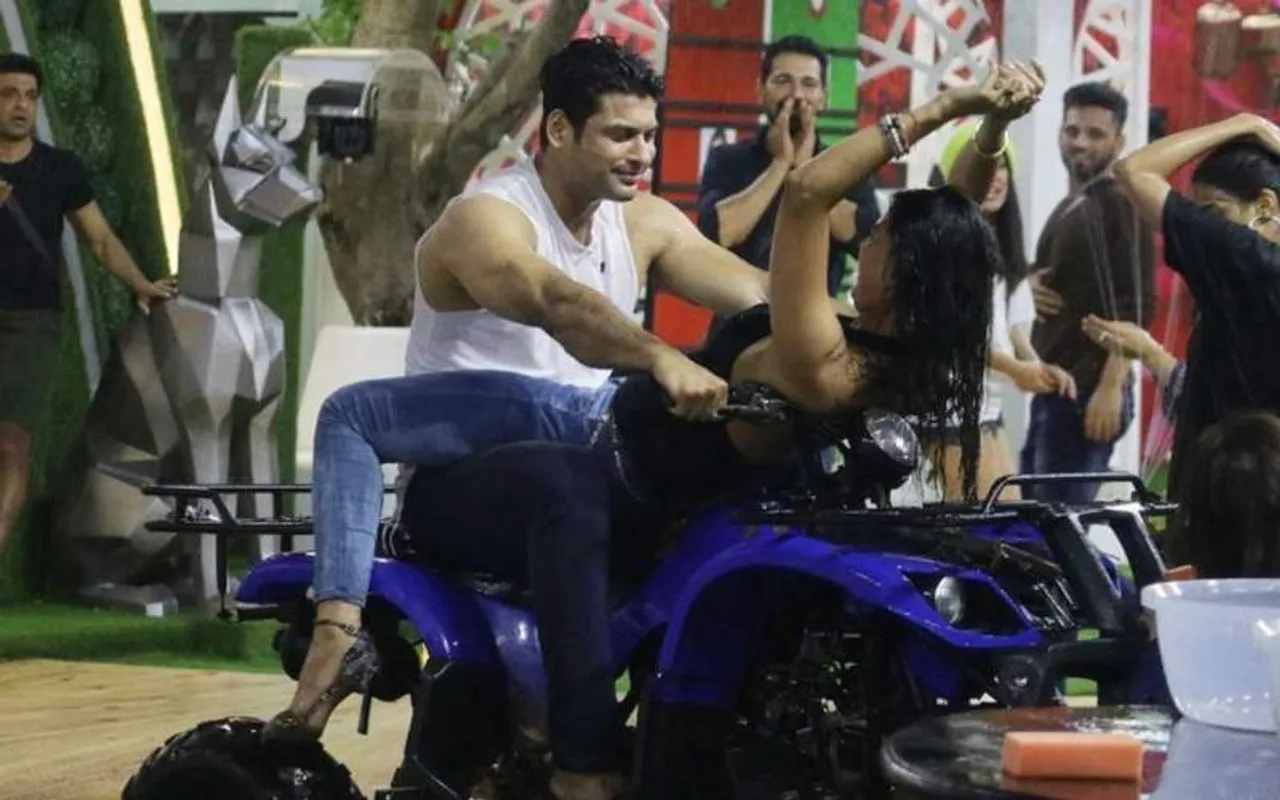 The promo for an upcoming episode of Bigg Boss 14 has led to a furore on social media. But contrary to the fanatic excitement that is usually the pulse of all furores around this show, people this time are demanding for its boycott. Apparently, in the next episode viewers will see female contestants seducing Sidharth Shukla, winner of Bigg Boss 13 and cringingly called 'Toofani Senior', to exempt themselves from nomination. This "task" has angered people, who are calling it "vulgar" and "uncomfortable to watch". Some are even remarking, rather naively I feel, that Bigg Boss is not the "family show" it used to be. I can't remember a time it was a family show by any measure of the imagination. Reality TV, or what is categorised as reality TV, hardly ever is.
But frolicking aside, it is a welcome surprise that viewers are finally calling the show out on its problematic points. This reckoning for Bigg Boss has been a long time coming. Even though the clamour for a boycott or ban is most definitely going to die down in a matter of days, it's good that the conversation has at least started. And justifiably so, because the promo was seriously questionable. Are such "tasks" not normalising harassment in a way? Is it not propagating the idea that inappropriate touch should be taken lightly, laughed away? Also is it not saying that women can get favours out of pleasing men? What precedent is that setting for impressionable minds of the youth watching this show?
Also Read: Mirzapur Season 2 Trailer Crackles, But Without Much Attention To Its Female Leads
The promo has since been deleted from Twitter, but here's a preview of what it looked like:
SidharthShukla with the Girls
Promo pic.twitter.com/S8ltVq3Dr5

— The Khabri (@TheRealKhabri) October 7, 2020
Reality TV Breeding Toxicity?
Indian reality shows like Bigg Boss or Splitsvilla or Roadies have been fostering dangerous stereotypes and projecting sexist content for decades now. For the generation that grew up in the new millennium, these shows changed the way television was being experienced. They were young, impulsive, always hot, always in vogue. For us who grew up binging on them, these shows were almost aspirational. You always wanted to be like one of the contestants on these shows.
Fully adult now, I realise how toxic this content I had fed on for years was. And the worst part is, it still is. The millennium youth has grown a conscience, but surprisingly these shows haven't. To see that Bigg Boss, even in 2020, is relying on the objectification of people to drive TRPs is enraging, not to mention, an eyesore. Isn't it high time they were actively opposed?
Also Read: Turning 30 As A Single Woman: The Joys And More Joys
Sexism On Previous Seasons
That's not to say that women in the Bigg Boss house haven't tried doing that. In Season 10, contestant Nitibha Kaul had called out Swami Om for his controversial remark when he said during a task, "Bahu ko apne pati ki aagya ka palan karna chaiye (A wife should follow the orders of her husband)." This had sparked off a heated debate. But what end did it serve? Nothing at all. Bigg Boss returned for another season.
What's more, Season 11 returned with renewed vigour to degrade, objectify, and shame women. There are just so many instances that one honestly doesn't know where to begin and where to end - Sapna Chaudhary allegedly passed racist comments against a housemate with fair skin; Priyank Sharma body-shamed two women saying, "Saand jasi bodies hai unki"; Benafsha Soonawalla got called a "flat-screen TV". The list could go on forever.
Also Read: My Imposter Syndrome Finds Its Root In A Gendered Upbringing
Women Getting Favours Out Of Pleasing Men?
Women have constantly been used as puppets meant to entertain, please, be ordered around with a sleazy call to action on Bigg Boss. And the worrying part is, housemaster Salman Khan, doesn't feel the need to curb this narrative of the show. He is sometimes seen reprimanding contestants for saying or doing something objectionable, in the tone of an offended parent, but how will that ever be enough?
What this seduction task reinforces is that women can receive favours out of physically pleasing men. If they "successfully" satiate a man to his liking, Shukla in this case, he will have the power to decide who did it best and deserves to be "safe". The metaphor of women only being assured of safety if they pander to the interests of a man is glaring. It's a directive that is potentially dangerous and may have real-life consequences. Everyone, viewer or non-viewer, must see it for what it is and call it out.
Views expressed are the author's own.