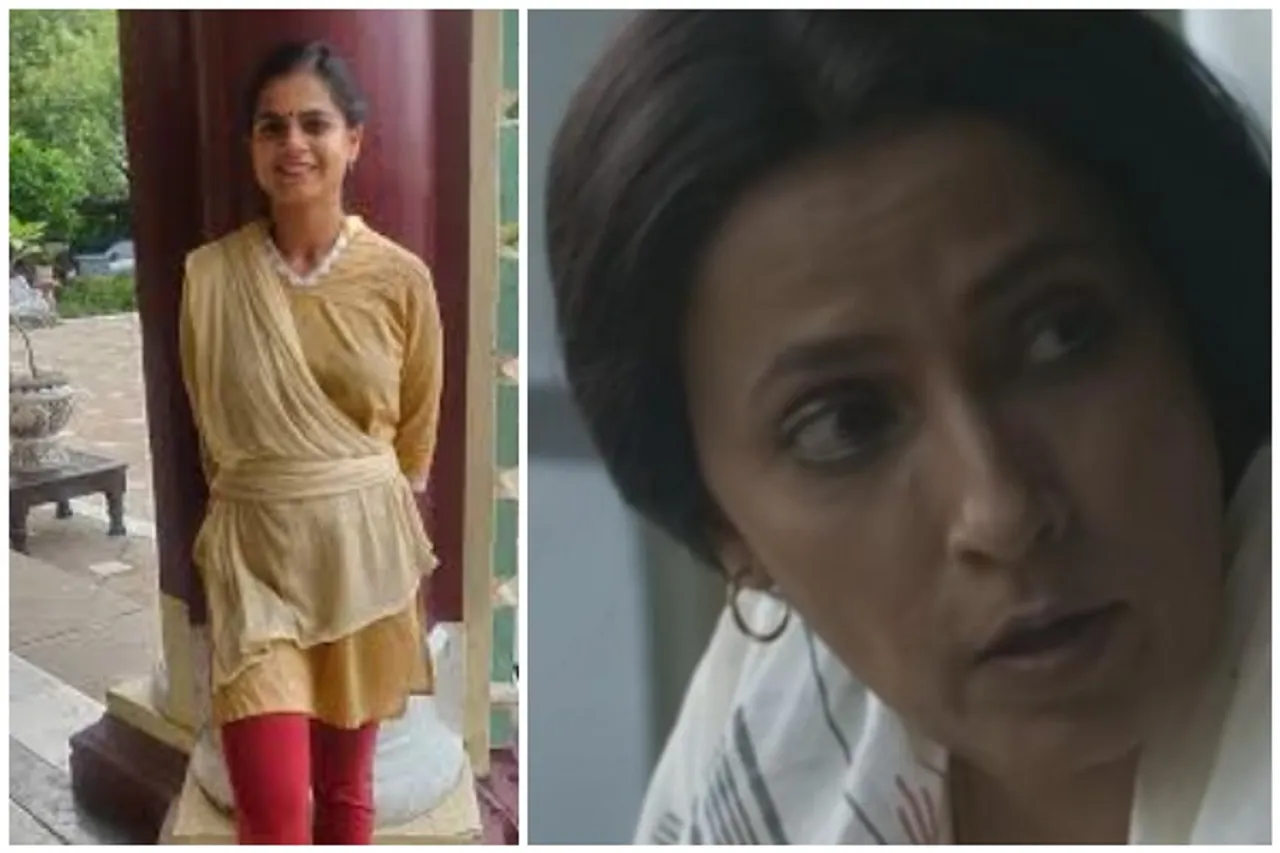 Even when the set-up is that of Hindi hinterland UP, which is possibly where caste and class biases are most rampant in India, does Mirzapur 2 give a fair representation to its marginalised women characters? Agreed that the makers would have had no idea that there could be something as unfortunate as the Hathras gangrape that would shake our collective conscious just around the release of Mirzapur season two, but the setting being the notorious state, one feels compelled to ask whether the caste-gender dynamics is explored enough and whether women on the margins are given a voice?
(Spoiler Alert)
The character which comes first to my mind is Radhiya (Prashansa Sharma), the house-help at Tripathi mansion.
Also Read: Expectations I Have From Mirzapur Season 2 As A Feminist Viewer
Radhiya is sexually abused by the spoilt brat Munna Tyagi (Divyenndu) throughout the first season and in the second season, even Babuji aka Satyanand Tripathi (Kulbhushan Kharbanda), violates her.
In case of Munna, Radhiya dutifully helps him to "relax" on orders from Beena, her mistress. However, in the second season, we get a sense that perhaps she was not a completely unwilling participant after all. She tells Madhuri, the granddaughter-in-law of the household (Isha Talwar), on her wedding night that she knows her marital bed is very strong. She knows she can never take her position, even though Madhuri is a widowed Yadav girl, remarried to Munna. The alliance is made to serve Kaleen Bhaiya's (Pankaj Tripathi )political ambition. There is no doubt that all women in Mirzapur exercise their sexual agency to the fullest and some are okay with exploiting the men involved - both Beena(Rasika Dugal) and Golu (Shweta Tripathi Sharma) do that. Perhaps that is the only way for them to assert their power.
Let's go back to Radhiya - she confesses to Beena what Babuji is doing to her. And at the end of season two when Beena takes the gun from Maqbool Khan (Shaji Chaudhary) to kill Babuji, Radhiya hands her a cleaver instead. It begs the question whether this is an act of emancipation, of two women coming together, or just tokenism? Throughout season 1 it was Beena who pushed Radhiya to go to Munna's room and he had been taking out his frustration on her. Now suddenly the two women are shown to be allies, without enough explanation being offered on how they developed a kinship.
We spoke to Puneet Krishna, writer and creator of Mirzapur, to know what he thinks about Radhiya. Krishna says, "It doesn't matter what caste Radhiya belonged to; Baubji would have violated her anyway. And that is because of the kind of person he had become. Remember that he didn't spare his daughter-in-law."  He adds, "It is a conscious effort to not mention Radhiya's caste throughout the two seasons. And explains that in many upper-caste houses it is upper caste people who are engaged as house helps as they will not eat something touched by a lower caste person."
Watch:  Shweta Tripathi and Rasika Dugal answer what is a perfect woman
Krishna also points out another incident, when in second season the Senior Superintendent of Police Ram Sharan Maurya (Amit Sial) visits the Tripathi mansion he is served food in the glassware while others eat in traditional metal vessels and he points it out loud to Kaleen Bhaiya. It is not just Kaleen Bhaiya discriminating him but Maurya calling out that discrimination.
Also Read: Mirzapur 2 Review: The Women Characters Are Strong But Wish They Were Explored More
However, the most progressive presentation is of Sharad's (Anjum Sharma) widowed mother. Even though upper caste, a widow is a helpless person. (For the uninitiated, Sharad Shukla is the son of Rati Shankar who is now the Don of Jaunpur and believes Mirzapur is rightfully his.)However, Shakuntala Shukla (Meghna Malik ) doesn't at all follow the traditional trope of a helpless widow. We do not see her sobbing for her deceased husband, who was killed by Guddu Pandit in season one. She is a mentor to Sharad, more than a mother figure. She doesn't clinch to her son as her only anchor in life and, instead, constantly reminds him about his ultimate goal. Her measured but strong words and reaction tell us that something is simmering inside her. We would hope to see more of her in the next season.
When is Mirzapur Season 3 Releasing
The Pankaj Tripathi starrer, Mirzapur Season 3 is expected to release on Amazon Prime Video in 2022. However, the exact dates of its release has not been revealed yet.
With Gajgamini Golu Gupta taking over Mirzapur with Guddu it will be interesting to see how the women characters will be played up in the upcoming season. It is expected that Isha Talwar's Madhuri will emerge as a much stronger character in the next installment of the show.
Pankaj Tripathi as Akhandanand Tripathi, Ali Fazal as Guddu, Shweta Tripathi Sharm as Golu, Rasika Duggal as Beena Tripathi, Harshita Gaur as Dimpy Pandit, Shaji Choudhary as Maqbool Khan are all expected to reprise their roles. It is being said that Divyendu Sharma may not return for the third season.
The views expressed are the author's own.