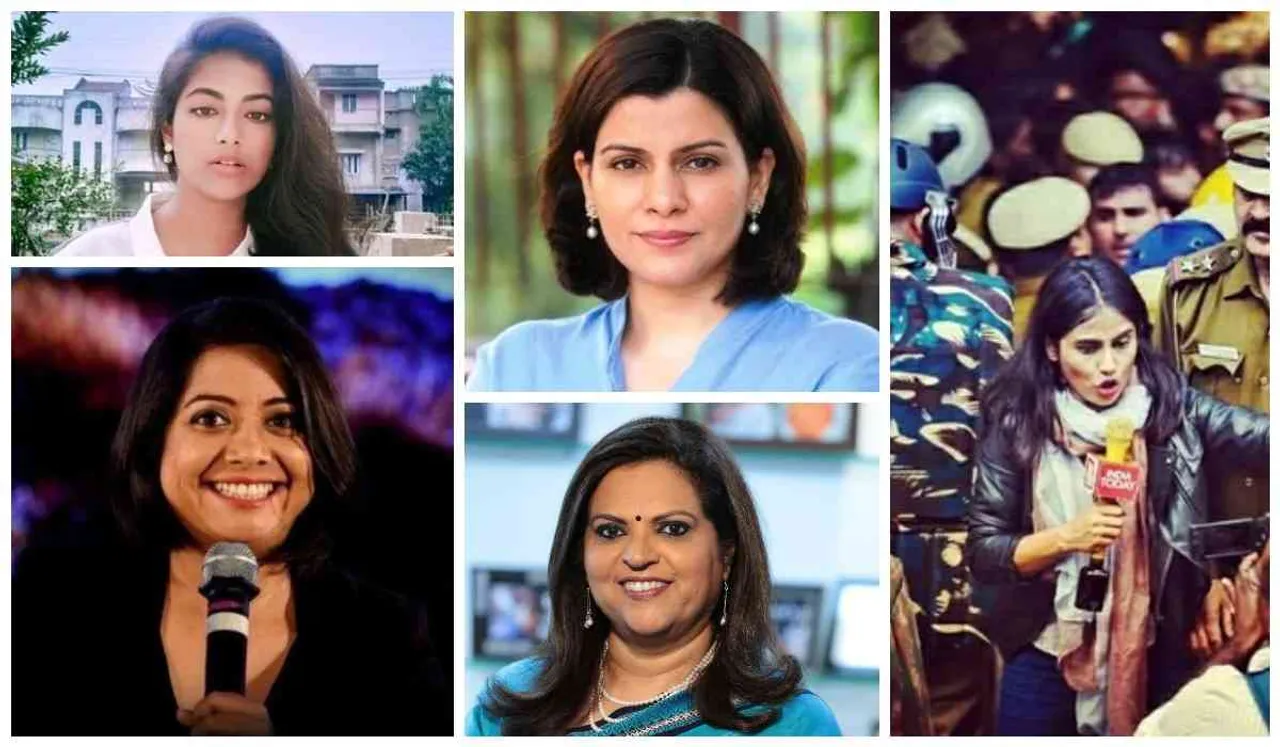 It is seldom that a newsperson becomes the newsmaker. But since 2020 imploded on us with a bag full of surprises, why not? This year witnessed a number of Indian women journalists, known for delivering significant headlines, making headlines themselves. To some, the public gave a nod, while reactions towards the others were hostile. These journalists who became the news spearheaded some of the most important newsbreaks this year. They left the general public debating their journalism, giving us all an opportunity to turn the glare inward into where Indian media stands today.
Also Read: 2020 Worst Year for Journalism says Seema Mustafa. New Editors Guild Head Hopes Media Will Change
Here are five women journalists who were the face of Indian journalism this year and were involved in the major news events of 2020:
1. Tanushree Pandey
Pivotal in leading one of the most important newsbreaks in the Hathras gangrape case, Tanushree Pandey, reporter with the India Today Group, reported on-location since September 29, the day the Dalit rape victim was cremated by the UP police against the family's wishes. Through videos, Pandey was keeping social media updated with all that was happening that night. Her videos were some of the only standing proofs of the situation in Hathras. Through her reporting, Pandey took on no less than the UP administration itself, and by extension Chief Minister Yogi Adityanath. Read more here.
HAPPENING NOW — #Hathras rape victim's body has reached her native village, Boolgarhi in Hathras, where the horrific incident took place. SP, DM, Joint Magistrate all here accompanying the family. My camera person Wakar and I will get you all the updates all through the night pic.twitter.com/VxEWDVVpsU

— Tanushree Pandey (@TanushreePande) September 29, 2020
2. Nidhi Razdan
One of Indian broadcast media's longest-standing faces, Nidhi Razdan, announced in 2020 that she would be quitting NDTV after a 21-year long stint to head to Harvard University as a professor. Razdan, among the channel's front faces, anchored the award-winning show Left Right and Centre and had been at the forefront of covering many key international and Indian assignments. A recipient of the Ramnath Goenka Award, Razdan led her show to pick the International Press Institute Award-India for its "expose of the conspiracy to scuttle" the Kathua rape and murder case probe. Tweeting her career milestone, Razdan wrote, "Later this year, I start as an Associate Professor teaching journalism as part of Harvard University's Faculty of Arts and Sciences." 
Read her exclusive interview with SheThePeople on her move.
NDTV has taught me everything. It has been my home. I am proud of the work we do, the stories we cover, the values we stand for, especially at a time when the much of the media has surrendered its objectivity 2/n

— Nidhi Razdan (@Nidhi) June 13, 2020
3. Navika Kumar
Sushant Singh Rajput's young demise shocked the nation in June. But what was perhaps more lamentable was the way in which the media coverage of his death was handled by mainstream news channels. While some spread rumours, others breached journalistic ethics to get ahead in the TRP rat race. Journalist-anchor Navika Kumar displayed "exclusive" pictures of Rajput's dead body on her news channel, Times Now on 27th August, at prime time for the national audience to see. SheThePeople reported that a clip of the same was even shared by the channel on social media. Kumar received wide flak for her reporting and the said clip was later removed from Twitter. Kumar was also later in news for revealing personal WhatsApp chats of celebrities in the related drugs case, which many termed "unethical."
'Drugs, Destruction & Dhoka'.
Sensational WhatsApp chats nail Team Rhea. @thenewshour AGENDA with Navika Kumar. | #IndiaForRheaArrest pic.twitter.com/YmF5UQalds

— TIMES NOW (@TimesNow) August 26, 2020
Also Read: My Father Saw The News And Started Crying: Hathras Deceased's Brother On CBI Chargesheet
4. Shantasree Sarkar
In the same drugs case related to Rajput's death, it was visibly noted how news channels were hounding the actor's last girlfriend Rhea Chakraborty. Condemned as a top suspect in Rajput's demise, several channels were demanding Chakraborty's arrest, even as the official investigation was underway. Shantasree Sarkar, former journalist at Arnab Goswami's Republic TV, took to Twitter to announce her resignation from the channel citing "ethical reasons." She shared how the news channel had been running an "aggressive agenda" to "vilify" Chakraborty. Sarkar even claimed that amidst the "trauma" she was facing on "how a woman is shamed publicly," she "was even punished for not bringing out biased stories." Read our full report here.
I am finally putting out on social media. I have quit #RepublicTV for ethical reasons. I am still under notice period but I just can't resist today to throw light upon the aggressive agenda being run by #RepublicTV to vilify #RheaChakraborty . High time I speak out!

— Shantasree Sarkar (@sarkarshanta) September 8, 2020
5. Faye D'Souza
Through the coronavirus lockdown, the public that can afford it has been massively reliant on digital apps and social media as a way to stay abreast of current affairs. A journalist who timely adapted to people's needs in this arena was Faye D'Souza. Formerly a broadcast journalist on television news, D'Souza picked on the young pulse of the generation that is always online to use social media as a means to communicate daily news and headlines. She has emerged as one of the most trusted independent journalists, leading important conversations and panels on national events such as the farmers' protests, gender issues like menstrual leave policies, and discussions on student protests.
Watch her exclusive interview with SheThePeople below:
&feature=emb_logo
Views expressed are the author's own.