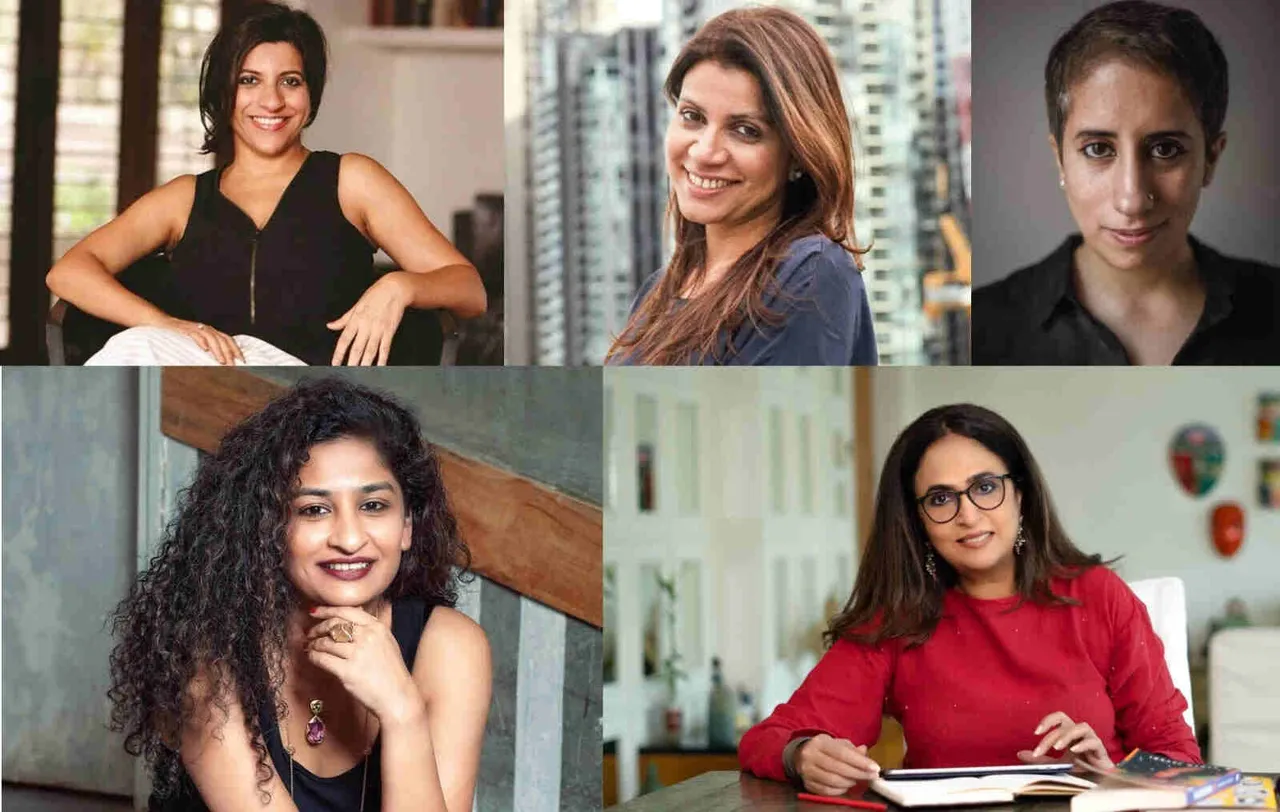 In the last few decades, with an increasing number of women wielding the megaphone, helming production houses, making inroads into male domains, and getting equal representation in board rooms, story-telling and mass entertainment has undergone a huge shift.
This Women's Day, we profile five such powerful clutter-breaker women redefining Indian entertainment with unconventional stories and originality.
Women Redefining Indian Entertainment
Alankrita Shrivastava
Alankrita Shrivastava's work demonstrates that women's stories when narrated by a female auteur have a stunning resonance and power. Her 2017 feature 'Lipstick Under My Burkha' gave voice to a diverse cross-section of female protagonists from different age groups and social and economic backgrounds to show that the oppression of women is universal and takes many forms. The film, which is now recognised as one of the most important &list=PL7q0plMPm0wuBawx-d5FfmhvXqoJokJLs">feminist stories ever told, travelled to over 80 international film festivals and won 18 international awards. Her third film 'Dolly Kitty Aur Woh Chamakte Sitare', web-show 'Bombay Begums' and her work in 2019's 'Made In Heaven' explored themes of desire, guilt, shame, ambition, and fulfilment through the lens of female characters who have never been seen before on the big or the small screen.  
Shailja Kejriwal
Shailja Kejriwal, Chief Creative Officer – Special Projects, Zee Entertainment Enterprises Ltd is a pioneering visionary who continues to harness the power of storytelling to celebrate not just diverse streams of culture but the #RiseofWomeninTheatre.  Be it Zindagi, a treasure trove of cross-border entertainment or Zee Theatre, India's first major curation and digital archival initiative, Shailja has tirelessly demonstrated that mass entertainment can be meaningful and enriching.
Zee Theatre not only preserves the riches of Indian and global theatre for future generations but has also aired international musical blockbusters like 'The Sound of Music Live!', 'Hairspray Live!', 'Peter Pan Live!' and 'Billy Elliot: The Musical' in India for the first time. From curating award-winning documentaries like 'Shut Up Sona' to producing original teleplays like Gunehgaar, Shadyantra, Yeh Shaadi Nahi Ho Sakti and original shows like Churails, Qatil Haseenaon Ke Naam, Barzakh, Shailja's focus on women and their stories remains unwavering. In a recent interview with SheThePeople, she spoke about how she thrives through challenges and more.
Gauri Shinde
Gauri Shinde's sensitive, empathetic gaze depicts the vulnerabilities and unexpressed emotions of women in her delicately nuanced films like 'English Vinglish' and 'Dear Zindagi'. While the former depicted Sridevi, the biggest superstar of her generation as a self-effacing, under-confident homemaker, the latter explored the angst of a young girl who has been labelled as the proverbial 'black sheep' of her family and finally gets therapy to deal with her pain. The film made much-needed observations on self-love and mental health. Gauri engaged with gender questions even as an ad filmmaker and in 2004, made Y Not? a short which was about the nation's preoccupation with a boy-child. She also created the 'ShareTheLoad' campaign with Ariel India and 'It's Between You' for WhatsApp India.
Zoya Akhtar
From her very first film 'Luck By Chance' (2009), Zoya Akhtar established herself as a unique and refreshing storyteller with a distinct style of her own. With 'Zindagi Na Milegi Dobara'(2011) and Dil Dhadakne Do (2015), she joined the category of makers who are critically acclaimed and also capable of delivering blockbusters. In 2015, she along with Reema Kagti founded Tiger Baby Films, and the success of the web series, 'Made in Heaven' and the raw and gritty 'Gully Boy' underscored her versatility and demonstrated that she was a creative force to reckon with.  As a prominent director and producer, she is willing to take risks and break free from commercial tropes entrenched in a male-dominated business. She is not only creating a space for unusual stories but also powerful female characters with agency, dignity, and defiance who take on the patriarchy and win. 
Guneet Monga
As the founder of Sikhya Entertainment, Guneet Monga has gone where no producer has gone before. This winner of the Chevalier dans l'Ordre des Arts et des Lettres award is known for 'Period- End of Sentence', an Academy Award-winning documentary short film, 'The Elephant Whisperers', another Academy Award-nominated documentary short film, BAFTA nominee, 'The Lunchbox' and also path-breaking films like 'Gangs of Wasseypur' - Part 1, 'Gangs of Wasseypur' - Part 2, 'Masaan', 'Zubaan' and 'Pagglait'. In 2018, she was inducted into the Academy of Motion Picture Arts and Sciences and has also been voted as one of the top 12 women achievers in the global entertainment industry by The Hollywood Reporter.
---
Suggested reading: Women Rule On Billboards And Films: The Changing Face Of South Indian Cinema