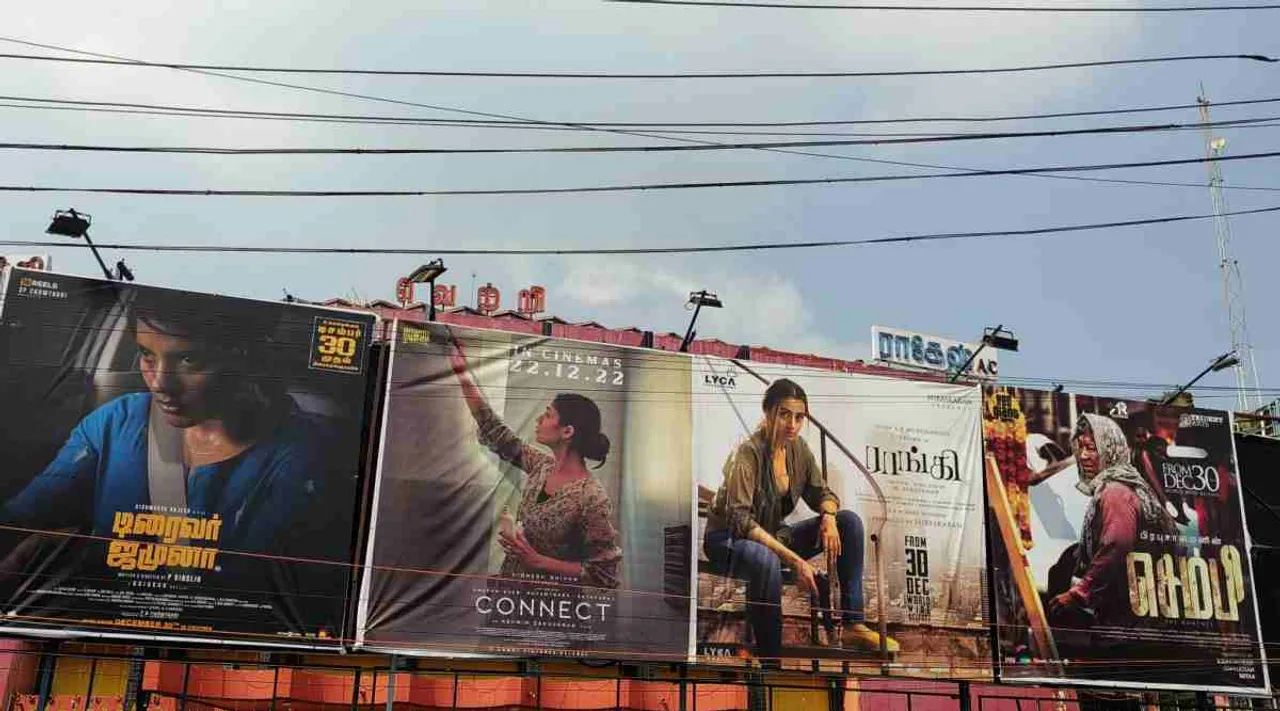 A photo of Chennai's Vettri theatre having its walls decorated with posters of all movies with female leads was uploaded on Twitter by a passerby on Monday. The viral picture featured movie posters of Nayanthara's Connect, Trisha's Raangi, Aishwarya Rajesh's Driver Jamuna, and Kovai Sarala's Sembi. This reflects the changing representation of women in the Tamil film industry and the increasing number of women-centric films.
"Passing by the Vettri theatre in Chromepet, my sister and I realised it had the banners of all the movies with a woman lead. What a long way Tamil cinema has come! 10 years back this would have been unimaginable," read the tweet by user Deepan Qweeter Kannan.
The tweet went viral on social media and drew the attention of celebrities like Samantha Ruth Prabhu. Prabhu retweeted the photo and wrote, "Women Rising!" Another user countered her with a tweet saying, "Yes. Just to fall." Prabhu hit back at the misogynistic troll with class and confidence, saying, "Getting back up makes it all the more sweeter, my friend."
Women-Centric Films - The New Trend Of South Indian Cinema
As Kannan rightfully said, a decade ago, this would have been unthinkable. Women had long been sidelined in films and movie posters. Movie posters usually feature gigantic images of male actors, and having a decent image of them in a tiny corner of the poster was a dream come true for female actors. Only over the past decade has there been an increase in the number of women-centric films. And that has changed the position of women on movie posters as well. Women are now feminist icons on movie posters, having gone from being "damsels in distress" and having their bodies objectified. They are the heroes who own and lead the film.
In a recent promotional interview for her movie Connect, actor Nayanthara ">said, "There are so many women-centric films today. Many producers are willing to produce such films. This change itself is good. If 15-20 films with male leads are made in a year, at least 5-6 films are made with female leads."
Actor Trisha ">stated in a promotional interview for her latest film Raangi, "It's a good thing that women are gaining importance in the film industry. The increasing popularity of films with female leads is a significant step forward. What matters is that audiences appreciate films with good content, regardless of whether they are led by a male or female actor."
The transition started a couple of decades ago, in the early 2000s. This progress has been possible mainly because there are more women working behind the screen now. With directors like Sudha Kongara and cinematographers like Yamini Yagnamoorthy, as well as many female actors, becoming producers, the representation of women in cinema has improved significantly in the last decade. South superstars like Nayanthara and Trisha have been in the industry for 20 years now, and they started their careers at a time when women were barely given a substantial role in movies. Actor Nayanthara is widely regarded as the South's pioneer of female-led films. At an award function, actor Aishwarya Rajesh thanked Nayanthara for establishing the trend of women-centric films, proving that they will be commercially successful and critically acclaimed, and inspiring many upcoming female actors.
The year 2022 alone has been remarkable in the South Indian film industry with the release of various women-centric films. From Gargi in Tamil to Ammu in Telugu to Jaya Jaya Jaya Jaya Hey in Malayalam, south Indian films have delivered blockbuster hits with female leads. With the release of four women-centric films that have led to this discussion, 2022 came to an eventful end. Looking forward to seeing more films in 2023 with women both in front of and behind the camera. Regardless of the success of the films, the makers and audience welcoming women-centric films is huge progress. Every actor, male and female alike, has both hits and flops in their career. While male actors can still manage to stay at the top of their game despite flops and all, why can't female actors do the same? Why should a few flops be the endgame for female actors alone?
---
Suggested Reading: An Exploration Of Characters Played By Aishwarya Lekshmi in 2022
---