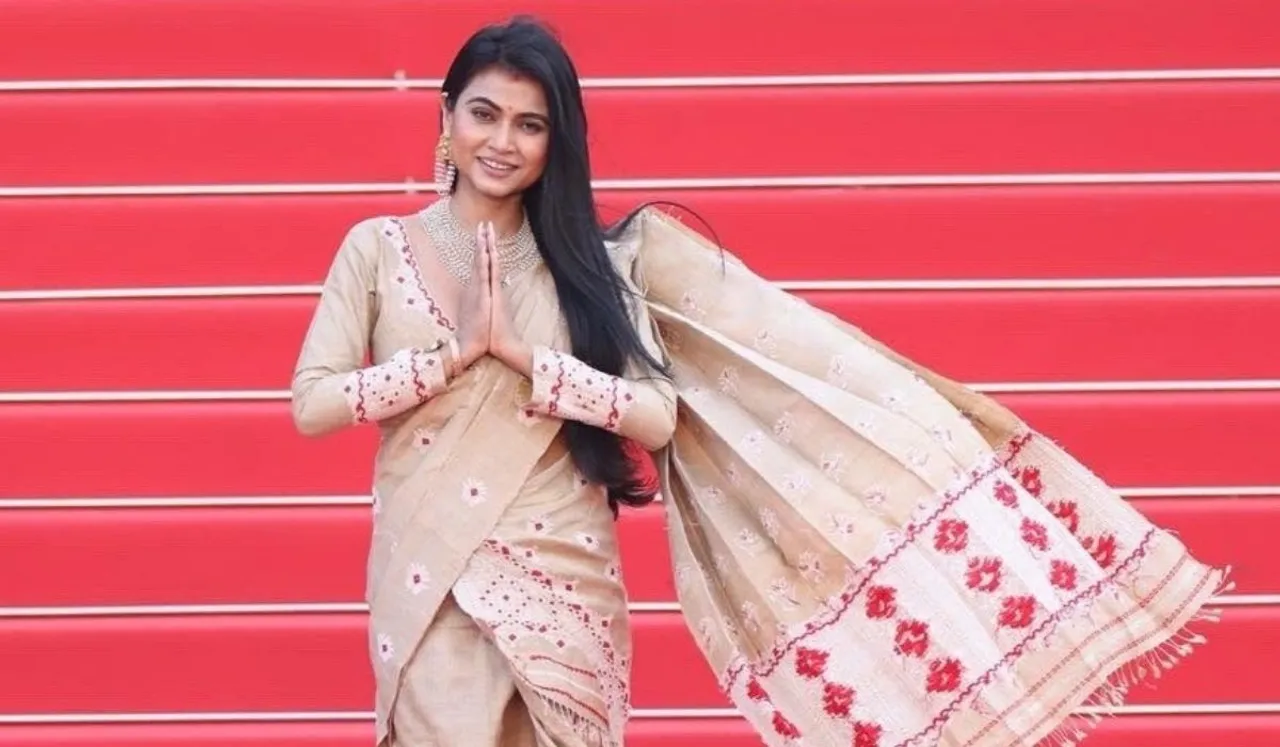 The 75th Edition of the coveted Cannes Film Festival is approaching its conclusion on May 28. The Indian delegation at the film festival hit the headlines this year for multiple reasons including marking the red carpet debut of folk singer Mame Khan and actor & filmmaker Aimee Baruah.
Aimee Baruah shared glimpses of her debut on the Red carpet of the film fest on her Instagram; she walked down the carpet in a traditional Assamese outfit: Mekhela Chador. Her film Semkhor, the first-ever Dimasa language film helmed by her, was showcased at the Indian Pavilion.
She shared a photo of her in the traditional outfit on the staircase and captioned it, "I walked down the red carpet at the 'Cannes Film Festival', one of the most esteemed events in the world of cinema, draped in Muga silk, the pride of every Assamese. As an Assamese myself, I am delighted to be here at this prestigious festival representing my language and place. I am filled with boundless joy. My heartfelt gratitude to the Government of India, the organisers of the festival and the people of my home state, Assam."
She also shared photos from the India pavilion where she was interacting with attendees and wrote, "I was overwhelmed to see the interest amongst people from different parts of the world to learn about Semkhor. I thank my team for helping me bring a film about my soil, and its language, to this prestigious platform and for the immense respect, it has garnered from all across the world. May this victory parade of our film fraternity continue unabated."
---
Suggested Reading: Who Is Keerthi Jalli? IAS Officer Goes Viral For Doing Her Job In Flood-Hit Assam
---
Who Is Aimee Baruah?
Baruah is an Assamese actor and filmmaker who has been working in the Assamese cinema industry for nearly three decades. A Nagaon resident, she was born to parents Mala and Purna Baruah. Her late father was a police superintendent, suggest ">reports.  Aimee has a Bachelor's in Economics and a Master's of Arts in Social Work.
Aimee debuted in the film industry as a child actor when she was in grade six and has since then worked in critically acclaimed films like Jetuka Pator Dore, Kadamtole Krishna Nache and commercial films like Prem aaru Prem and Xoru Buari.
She married BJP politician Pijush Hazarika in 2011 and has two young children. Aimee Baruah and Pijush Hazarika are considered to be one of the youngest power couples of Assam.
She recently made her directorial debut with Semkhor which has been critically lauded and felicitated at several domestic and international film festivals. She was awarded the Best Actor award at Toronto International Women's Film Festival for her Dimasa-language film.