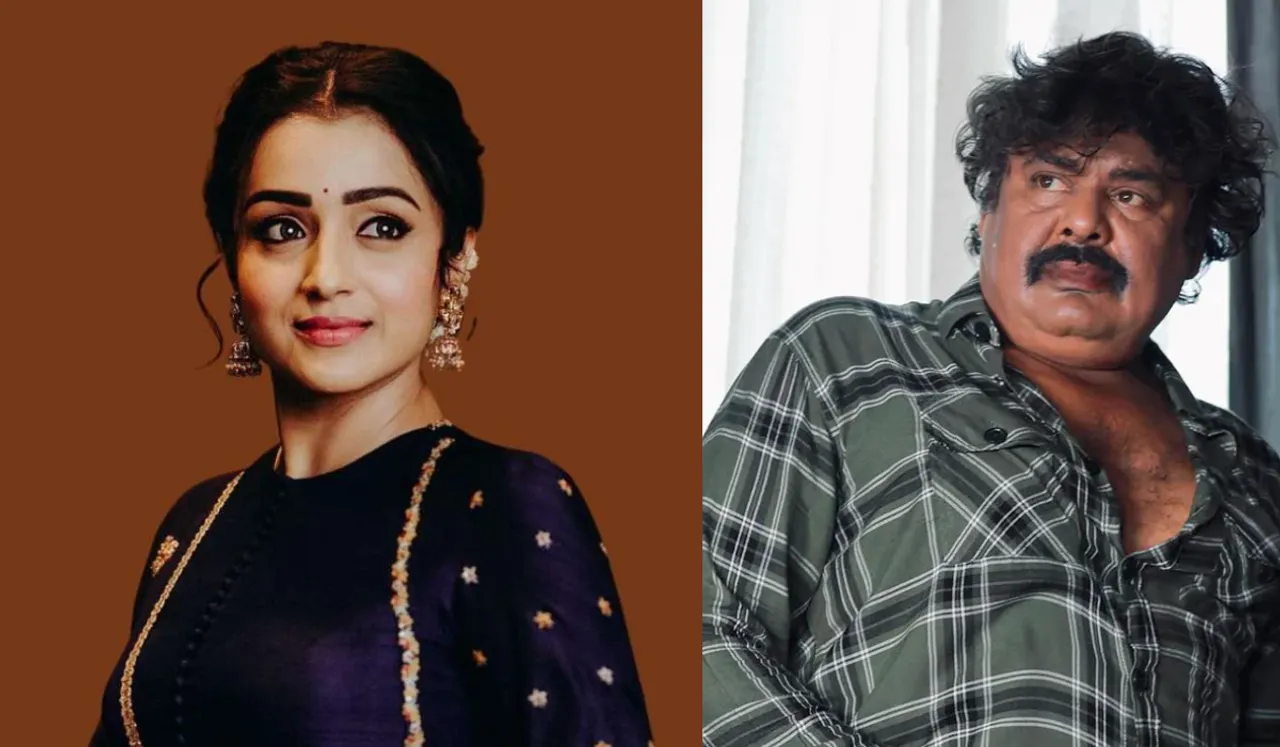 "The biggest joke"-- That is what Mansoor Ali Khan of Leo fame told the media about his apology to his co-star Trisha Krishnan, adding that he will file a defamation case. He said, "We are doing it (filing defamation) today, November 29. 

We have prepared all the documents. My lawyer will share all other information later today at 4'o clock. He will meet the press." Less than a week ago, Khan had shared a statement apologising to Trisha

 amid backlash reportedly for his misogynistic remarks towards Trisha.
In his statement, Khan expressed remorse, asking for forgiveness from Trisha and wishing for "blessings" to be part of her wedding. He said, "My co-actress Trisha, Forgive me. Let the god bless me by having me during your wedding." Khan, after the social media uproar, penned a lengthy note on Instagram claiming he is the one who has been defamed. The caption of the post stated how people know who he is and his personality needn't be questioned. 
Trisha Krishnan And Mansoor Ali Controversy
According to the news agency Asian News International, the 61-year-old actor Mansoor Ali Khan in an interview in Tamil shared his thoughts, recalling that when he heard about working with Krishnan, he expected there would be a "bedroom scene" of them together in the film. As quoted, the actor continued "I thought that I could carry her to the bedroom just like I did with other actresses in my earlier movies."
Khan also mentioned performing several "rape scenes" with his co-actors and added how the filmmakers did not even "show Trisha" to him during their Kashmir schedule for shooting the film. 
The context ....😡😡pic.twitter.com/n0ge3Qkzer

— Aryan (@chinchat09) November 18, 2023
Actor Trisha Krishnan strongly condemned Mansoor's comments from the interview video clip that surfaced on the internet as Krishnan on Saturday posted her statement on X (Formerly Twitter) calling his remarks "vile" and "disgusting" and remarking them as "sexist", "disrespectful", "misogynist", and "repulsive". 
Krishnan also straight-up called Mansoor "pathetic" and vowed to never work with him again concluding her statement by saying people like Mansoor bring a bad name to mankind. 
A recent video has come to my notice where Mr.Mansoor Ali Khan has spoken about me in a vile and disgusting manner.I strongly condemn this and find it sexist,disrespectful,misogynistic,repulsive and in bad taste.He can keep wishing but I am grateful never to have shared screen…

— Trish (@trishtrashers) November 18, 2023
Following Krishnan's Tweet creating uproar amongst the netizens, Leo's director Lokesh Kanagaraj also came out to support Krishnan condemning Ali's behaviour. "Respect for women, fellow artists and professionals should be non-negotiable in any industry." Actor Nithin who was Krishnan's co-star in past also condemned the "vile" and "vulgar" statements Tweeting "chauvinism has no place in our society."
Disheartened and enraged to hear the misogynistic comments made by Mr.Mansoor Ali Khan, given that we all worked in the same team. Respect for women, fellow artists and professionals should be a non-negotiable in any industry and I absolutely condemn this behaviour. https://t.co/PBlMzsoDZ3

— Lokesh Kanagaraj (@Dir_Lokesh) November 18, 2023
Many prominent figures from Malavika Mohanan to playback singer Chinmayi Sripada expressed their disappointment. Sripada tweeted how such behaviour has been normalised giving examples of other similar incidents where filmmakers even told villains to do more "rape scenes". She wrote, "The thing about men like Mansoor Ali Khan - they have always been talking like this. Never been condemned, with other men in power, money and influence laughing along."
The thing about men like Mansoor Ali Khan - they have always been talking like this. Never been condemned, with other men in power, money and influence laughing along; eeyy aamaa da macha correct ra maccha sorta thing. Robo Shankar said something on how he wants allowed to touch… pic.twitter.com/ZkRb2qxmMl

— Chinmayi Sripaada (@Chinmayi) November 18, 2023
After the social media flak, Mansoor Ali's statement was translated by an X user who is a trade analyst. He translated that Ali claimed that Krishnan and everyone else had watched an edited clip of an interview and his comments were said "in lighter vain" urging people to "focus on other issues".
"Since I didn't get those scenes.. I spoke in lighter vain..

I respect my female co-stars.. Trisha saw an edited version.. If anyone played mischief, I won't be cowed down.. My daughter is a fan of Trisha..

Focus on other issues.."
: #MansoorAliKhan 's pathetic rejoinder https://t.co/pA06RWWsLO

— Ramesh Bala (@rameshlaus) November 19, 2023
However, celebrities and netizens are not the only ones responding to Ali's statement as the National Commission for Women (NCW) also responded announcing that they are taking suo moto directing DGP to take cite IPC section 509 B, Sections 354 A (sexual harassment) and other relevant sections under the law, stating how such remarks "normalise violence against women and must be condemned." 
The National Commission for Women is deeply concerned about the derogatory remarks made by actor Mansoor Ali Khan towards actress Trisha Krishna. We're taking suo motu in this matter directing the DGP to invoke IPC Section 509 B and other relevant laws.Such remarks normalize…

— NCW (@NCWIndia) November 20, 2023
---
Suggested Reading: The Idol: Problematic Hypersexualisation Of Female Characters