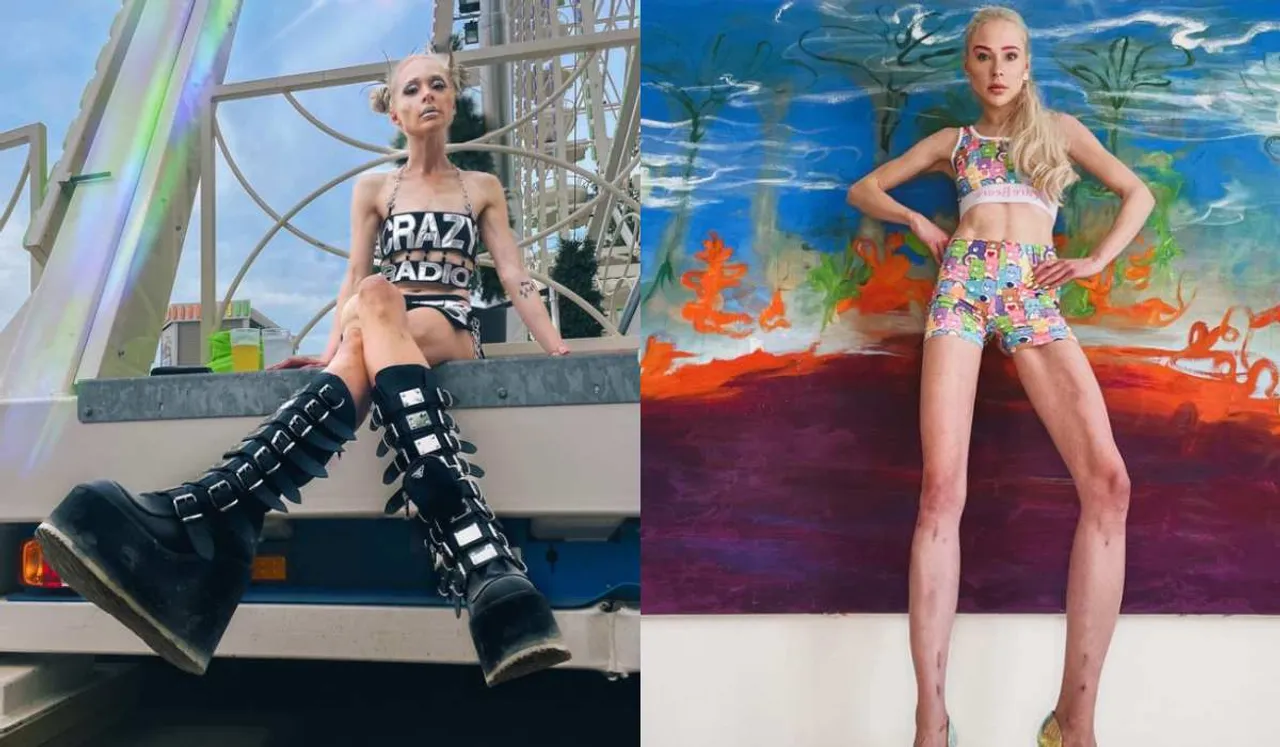 German model Theresia Fischer recently expressed her regret about blowing £130k (around 1.33 crore rupees) over a leg lengthening surgery. The model went through two surgeries and stated them to be physically and emotionally tolling. 
Fischer claimed she underwent the surgery as her ex-husband told her he liked "big ladies" and he would really love it if she would get an extra 14 centimetres. 
Model Theresia Fischer Regrets Extending Legs As Ex-Husband Liked "Big Ladies":
31-year-old German Model Theresia Fischner shared some harsh realities behind the controversial and odd leg-lengthening surgery. The model was 5'6 inches tall and underwent two surgeries to get her legs extended. She recalled her surgery experience and also the reason behind it. 
Fischer shared how the odd operation to extend her legs left scars on her both emotionally and physically. She explained how her bones were deliberately broken and calf muscles were torn to perform surgery after which she had a long and difficult stretch period of recovery where she had to wear casts on her legs for several months and use crutches to walk. She also experienced pain and swelling.
Fischer got her first limb-lengthening surgery when she was 24 years old to extend her legs by 3.3 inches and got her second surgery in March 2022. The surgery involved breaking her tibia and fibula bones in each leg and inserting telescopic rods to extend them. The surgery was successful and Fischer gained 5.5 inches in height extending her original height of 5'6 to 6 feet. 
Fischer explained how, back in 2019, she was happy with her surgery as it helped her get over her past trauma of getting bullied while she also hoped this would also give an impetus to her modelling career. 
Unrealistic beauty standards?
While these surgeries should be absolutely a person's choice in whatever way they choose to love themselves or experiment with their bodies, these surgeries are often labelled as unethical and mark unrealistic "fake" scales of beauty.
Fischer also expressed that she was ashamed for consenting to a body-altering surgery that shouldn't have taken place in the first place. 
While talking to a radio station MDR Jump, Fischer alleged that her ex-husband Thomas Behrend came up with the idea and persuaded stating he liked "big ladies" and he would really like her if she would get 14 centimetres more. She recalled being told that she was nothing without him and expressed that if a person hears that 20, 30, 40, or 60 times a day, they tend to believe it. 
I don't understand why men adopt the entitlement to impose their "preferences" on women and have the audacity to dictate the women in their lives to have a certain body to be likeable. 
Fischer and Behrend first met in 2015 and got married in the last episode of the show Germany's Next Top Model in 2019. However, the couple separated in September 2022, six months after the surgery and chose to keep their reasons to separate a private affair.
Fischer expressed how she would have never undergone the surgery if her former husband hadn't pressured her and how she was always happy with her body. 
She also shared that the body-altering surgery has really added to her sex life as her legs are now more flexible so she could explore a lot in bed. Fischer also elucidated about getting a lot of hate on the internet for undergoing surgery which highlights the heavy stigma around cosmetic surgeries and the entitlement that people adopt for celebrities to comment and have opinions on their choices only because they are public figures. 
---
Suggested Reading: US Blogger Sells Home For $14,000 Facelift To Look 20 Years Younger