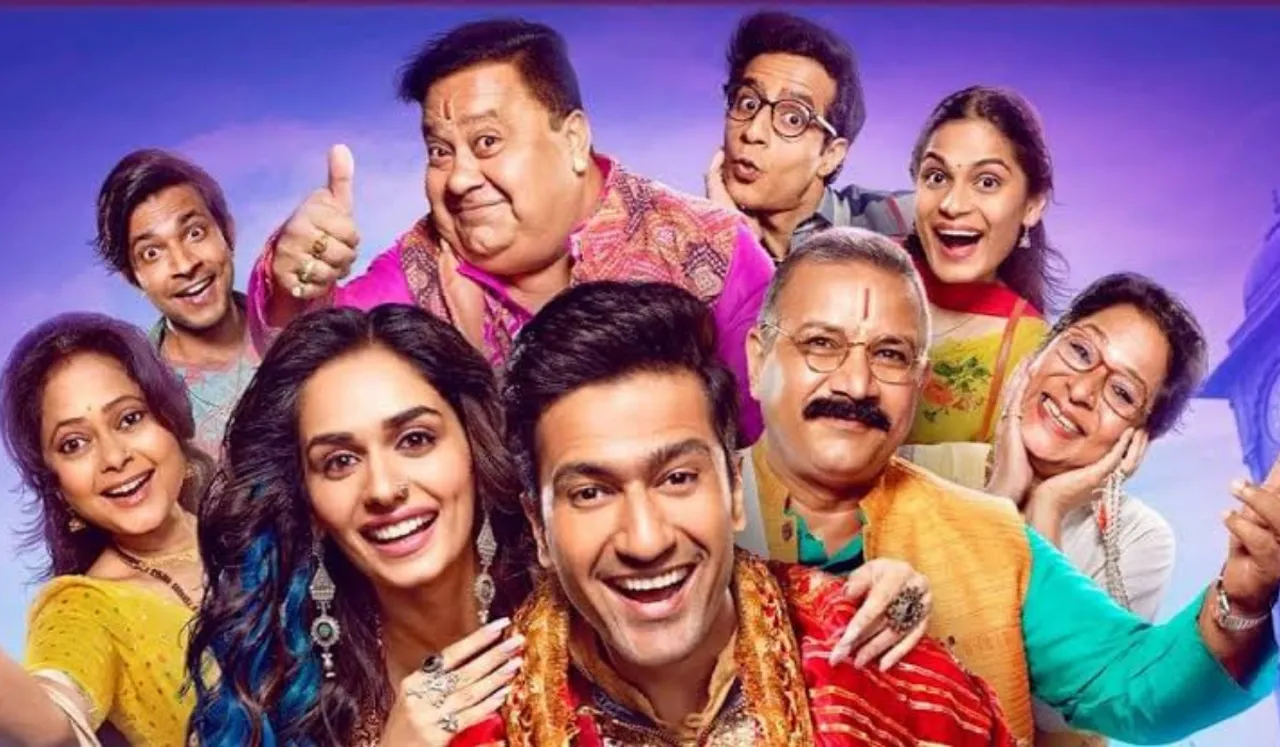 The trailer for The Great Indian Family, starring Vicky Kaushal and Manushi Chhillar, has been unveiled. While the teaser hinted at fun entertainment, the trailer reveals a significant twist that alters the storyline. Directed by Vijay Krishna Acharya, this family entertainer is set to release on September 22.
The trailer opens with Kauhsal introducing his character, Bhajan Kumar, and his family, who are known for their religious rituals and ceremonies. They hold a respectable position in society as Brahmins. Although Manushi's character is introduced, her role remains undisclosed in the trailer. 
The Great Indian Family Trailer
However, as the trailer progresses, a major twist is revealed. Following a dance montage, Kumar comes across a letter that alters the trajectory of his life. The letter reveals that Bhajan Kumar was born into a family of a different faith. He learns that he is not the legitimate child of his parents and actually belongs to a Muslim family. This revelation sets the stage for the real story, as his family disowns him. It will be intriguing to see how this situation is handled.
Watch the trailer here
Apart from Vicky Kaushal and Manushi Chhillar, The Great Indian Family boasts a stellar cast, including Manoj Pahwa, Kumud Mishra, Yashpal Sharma, Sadiya Siddiqui, Alka Amin, Srishti Dixit, Bhuvan Arora, Aasif Khan, Ashutosh Ujjwal, and Bharti Perwani. The movie is directed by Vijay Krishna Acharya and produced by Aditya Chopra.
In an interview, Vicky Kaushal expressed that The Great Indian Family is a family-oriented film designed to create a unique community viewing experience. On the other hand, Manushi Chhillar shared her enthusiasm about the simultaneous announcements of two of her films, Operation Valentine and The Great Indian Family, on the same day. She mentioned that these films belong to different genres, with Operation Valentine being an action-drama in an Air Force setting, while The Great Indian Family is a light-hearted and heartwarming family entertainer. She expressed her gratitude for the opportunities and mentioned that both films showcase her in distinct roles, and she is eagerly anticipating their release.
The Great Indian Family is scheduled for a theatrical release on September 22.  
---
Suggested Reading: Rashmika's Pushpa 2 Release Date Out; Find Further Details Here