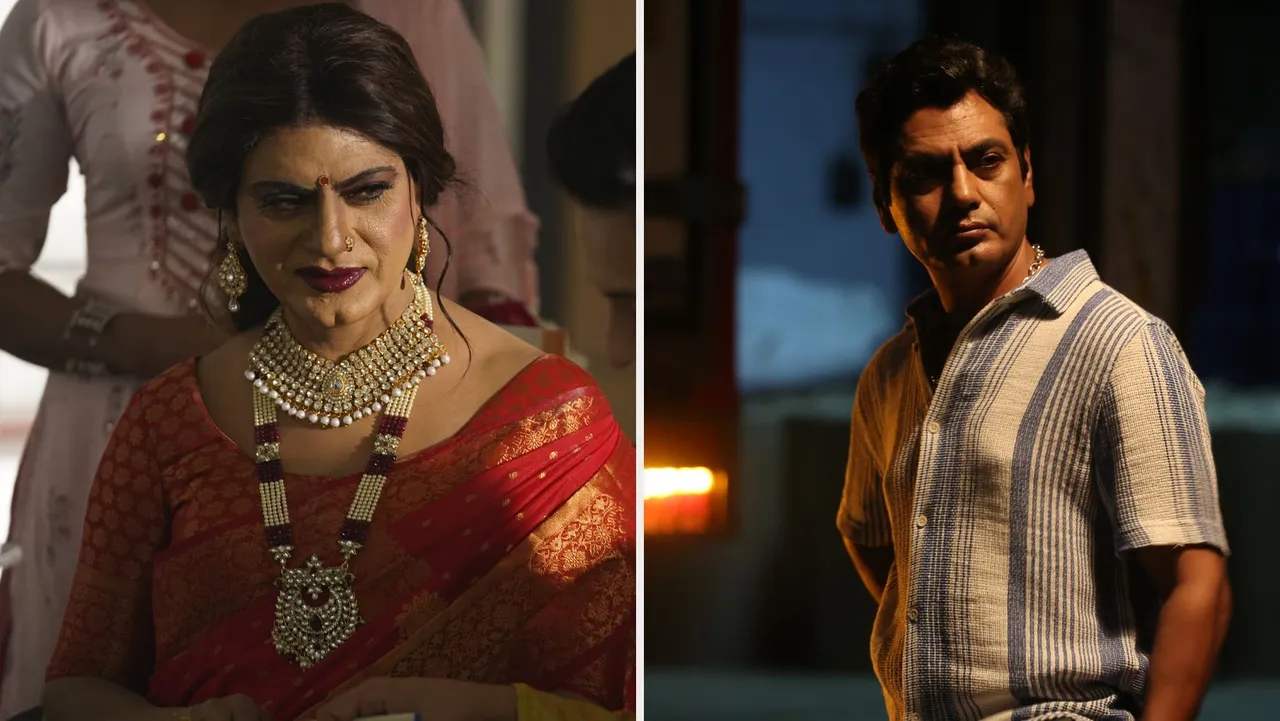 Nawazuddin Siddiqui's bone-chilling crime drama, Haddi, is a rollercoaster of emotions. It will send shivers down your spine, make your blood boil with anger, and evoke a profound sense of fear.
Yet, amidst this darkness, the innocence of Harika shines through and brings a warm smile to your face. 
The Plot
Director Akshat Ajay Sharma skillfully employs the transgender community as a clever and intriguing trope to drive the narrative. Using vengeance as the heart of the story, and the haunting lighting scheme to set the stage, the tale involves a significant body count.
Set against the backdrop of modern ruins in the Delhi-NCR, the movie delves into the life of Haddi (played by Nawazuddin Siddiqui), a fledgling transgender who arrives in Delhi from Allahabad to join a gang of fellow transgenders. Haddi's journey takes him to the top of the criminal hierarchy as he seeks revenge against a powerful gangster-turned-politician Pramod Ahlawat (played by Anurag Kashyap) who wronged his family.
The film opens with Harika, a trans woman, explaining the significance of her community's blessings, curses, and revenge. The narrative then shifts to Haddi, who leaves his hometown to join a group of transgenders led by Ahlawat and is involved in numerous illegal activities, making him a formidable enemy.
Flashbacks provide insight into Haddi's past, including his mentor (Ila Arun) and his lover, Irfan (Mohammed Zeeshan Ayyub). These flashbacks offer moments of tenderness in an otherwise dark and metaphorically twisted film.
The Performances
Nawazuddin Siddiqui's portrayal of Harika is simply beautiful. His meticulous adaptation of the body language, dialect, and persona of a transgender individual is strikingly accurate. Even as Haddi, the pain in his eyes is palpable, and he does justice to both facets of his character. Haddi showcases Nawaz's versatility in a powerful yet vulnerable manner, and it's a performance to be admired.
One of the most touching subplots revolves around Harika's love story with Irfan (played by Mohammed Zeeshan Ayyub), handled with sensitivity and maturity. Their romantic scenes are not awkward but rather deeply comfortable.
Meanwhile, Anurag Kashyap's portrayal of Pramod Ahlawat is intimidating and formidable, adding depth to the narrative. It's simultaneously enraging and full of fear. Ila Arun's portrayal of Amma exudes incredible power and dominates the screen like none other. Additionally, the film boasts a talented ensemble cast deserving of accolades.
Final Verdict
The 134-minute-long, intricately woven revenge drama is well-intentioned, fast-paced, and crafted meticulously to avoid underplaying the transgender community. The screenplay and unfolding of events receive special attention, complemented by finely developed characters. Co-written by Sharma and Adamya Bhalla, the film delivers a compelling narrative, and it's the subtle intricacies in the writing that work their magic.
The film maintains its edgy tone, infused with dark humour, and features moments of gratuitous violence, ultimately finding coherence before plunging into a full-fledged fantasy. Stripped of its lead character's gender identity, the movie follows the trope of heinous crimes committed by individuals who ultimately reap what they sow.
Rohan-Rohan's mesmerising musical score, paired with lyrics by Rohan Gokhale, is a standout feature of the film. The music aptly captures what Harika experiences in her heart when she confronts the woman within her.
Haddi is currently available to stream on Zee5.
---
Views expressed by the author are their own
Watch the trailer here
---
Suggested Reading: Taali Creates A Much-Needed Noise: Why Is It A Must-Watch