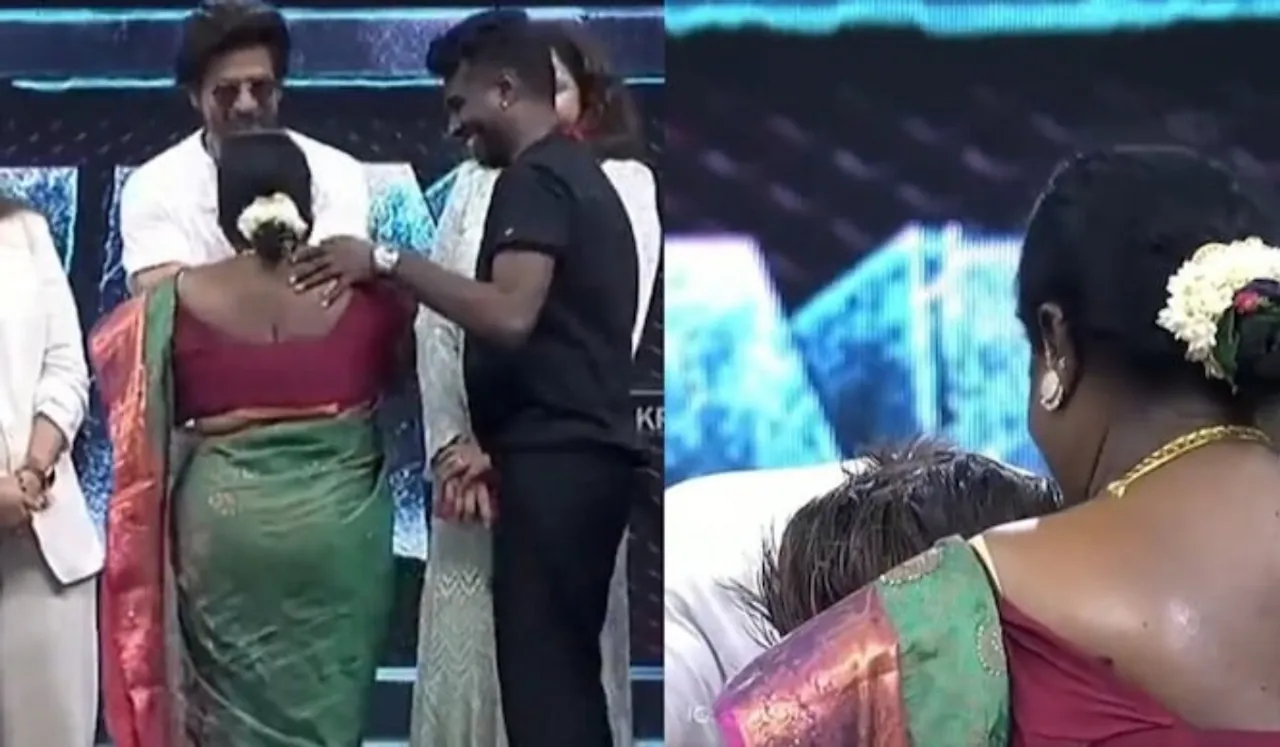 Shah Rukh Khan graced the pre-release event of Jawan in Chennai on August 30. Now a viral video from the event shows the moment when he respectfully bowed to Atlee's mother while on stage.
On August 30, Shah Rukh Khan made a special appearance in Chennai for the pre-release event of Jawan. He left the audience enthralled with his energetic performance to the tune of Vandha Edam (Zinda Banda in Hindi). 
SRK Bows Down To Atlee's Mother At 'Jawan' Event
During the event, a video captured the heartwarming moment when SRK humbly bowed down to Atlee's mother, receiving admiration from fans. This video has quickly gained popularity on social media, where fans commend Shah Rukh Khan's down-to-earth nature.
In the surfaced video from the Jawan pre-release event, Atlee can be seen introducing his mother to Shah Rukh Khan. In a display of respect, SRK bowed down to her and warmly greeted her. Atlee then went on to introduce SRK's manager, Pooja Dadlani. This gesture of humility from Shah Rukh Khan has garnered praise from numerous admirers as the video circulated widely on social media.
Watch the video here.
This is so cute. SRK met Atlee Anna's mother❤️ #JawanAdvanceBooking
pic.twitter.com/SJxMcNlwdr

— Syed Irfan Ahmad (@Iam_SyedIrfan) September 3, 2023
Shah Rukh Khan's Message of Inclusive Entertainment
During the trailer launch event at the Burj Khalifa, which drew an enormous crowd of over 20,000 fans, Shah Rukh Khan emphasised that entertainment should transcend boundaries, saying, "We should all come together to celebrate entertainment." He expressed that what they provide in terms of entertainment should not have language, religion, caste, colour, or creed distinctions. According to him, the goal is for people of all backgrounds to come together with their families and loved ones to celebrate entertainment, and this event marked the first step in that direction.
Empowering Women and the Essence of Jawan
Additionally, he underscored the importance of empowering women, acknowledging them as the most influential force globally. He mentioned that the film primarily revolves around women but assured the audience that it would encompass a mix of love, happiness, action, drama, and emotion.
Watch the trailer here.
All About Jawan
Jawan, an action thriller written and directed by Atlee, features Shah Rukh Khan in dual roles. Atlee collaborated on the script with S. Ramanagirivasan. The film also marks the Bollywood debut of Atlee and actor Nayanthara. Alongside Shah Rukh Khan and Nayanthara, the movie includes Vijay Sethupathi, Priyamani, Sanya Malhotra, and Yogi Babu in supporting roles, with Deepika Padukone making a cameo appearance.
With music composed by Anirudh Ravichander, cinematography by GK Vishnu, and editing by Ruben, Jawan is set to hit theatres on September 7, marking its release in Hindi, Tamil, and Telugu languages.  
---
Suggested Reading: First Weekend Of September: Five New Shows You Can Watch