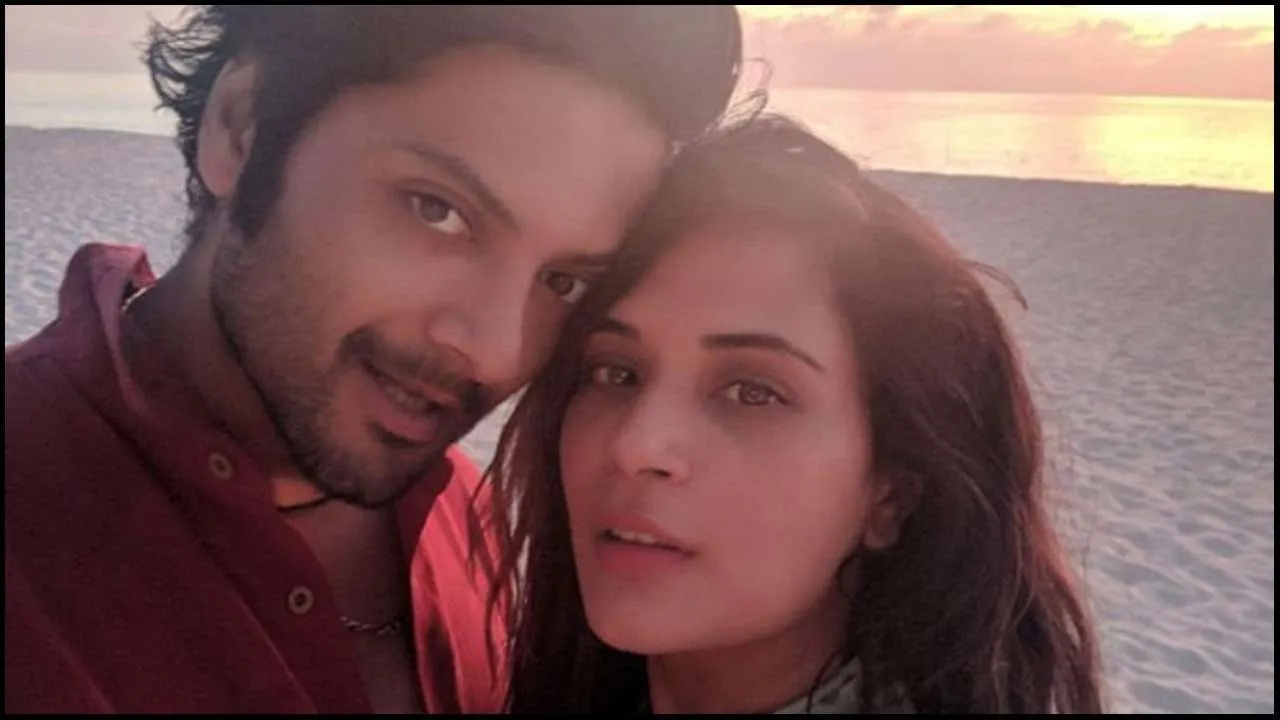 Richa Chadha reply on Twitter: Richa Chadha slammed a Twitter user who commented on the actor's picture with Ali Fazal saying their marriage will soon end in divorce like Aamir Khan.
Actor Richa Chadha had posted a picture with her partner and actor Ali Fazal on Twitter. Chadha and Fazal were set to have a wedding last year but it got postponed due to the COVID-19 pandemic.
A man with a Twitter handle named Sarvesh Pandey commented in Hindi asking "when are you getting divorced? Tell fast because your marriage will also break off as Aamir Khan's."
To this, Chadha also replied in Hindi, "Sarvesh, forget about me, are you losing your mind because no one married you willingly? In your case, it must have been the girl who asked for dowry. Neither do you have looks nor intelligence and you are also poor? Your mother must have switched from LPG to an earthen stove. My regards to you aunty. What kind of a s**t-like devil you have brought into this world? This unemployed, pitiable person can dare to speak only here." (as translated by The Hindustan Times)
सर्वेश,मेरी छोड़,तुझ भिखारी से स्वेच्छा से शादी नहीं की किसी ने तो बौरा रहा है?दहेज तो लड़की ने मांगा होगा तेरे case में?🤣न शक्ल,न अक्ल और गरीब?मम्मी LPG से चूल्हे पे आ गई होंगी?पायलागू आंटी🙏🏽ये क्या गू रूपी कुपूत दुनिया में ले आईं?ये बेरोज़गार दया-पात्र बस यहीं चौड़ा हो सकताहै https://t.co/FzbERQ6CYk

— TheRichaChadha (@RichaChadha) October 11, 2021
In his comment, Sarvesh referred to Aamir Khan and Kiran Rao's separation which was announced on July 3. They separated after 15 years of marriage. The duo also got trolled on social media after the announcement.
In an interview with the Hindustan Times, Chadha said that she has lived one lockdown together with Ali Fazal, where they divided the daily household chores. They give each other space and according to her, Fazal's is an egalitarian household. She also appreciated his cooking skills and how good a cat parent he is.
For Chadha facing trolls who question her inter-faith relationship is nothing new. In an interview with Mumbai Mirror, she had said that she has received a lot of love from Fazal's parents and he has got the same kind of love from hers. She feels sorry for "loveless people who have problems with other people's choices."
The duo has previously worked together in Fukrey, a 2013 Hindi film. Chadha was last seen in Candy, a Voot Select series, which is about drugs and masked killers and Fazal was recently seen in Ray. He has a couple of projects lined up--Prithviraj, set to release in 2021 and Death on the Nile, which is set to release in 2022.
---
Suggested Reading:
Kajol and Revathy Join Hands For Upcoming Film The Last Hurrah
House of Secrets: The Burari Deaths – Going Beyond Unsettling Details
Instagram Therapy: How Women Use Social Media For Mental Health Support
---
Also Trending: