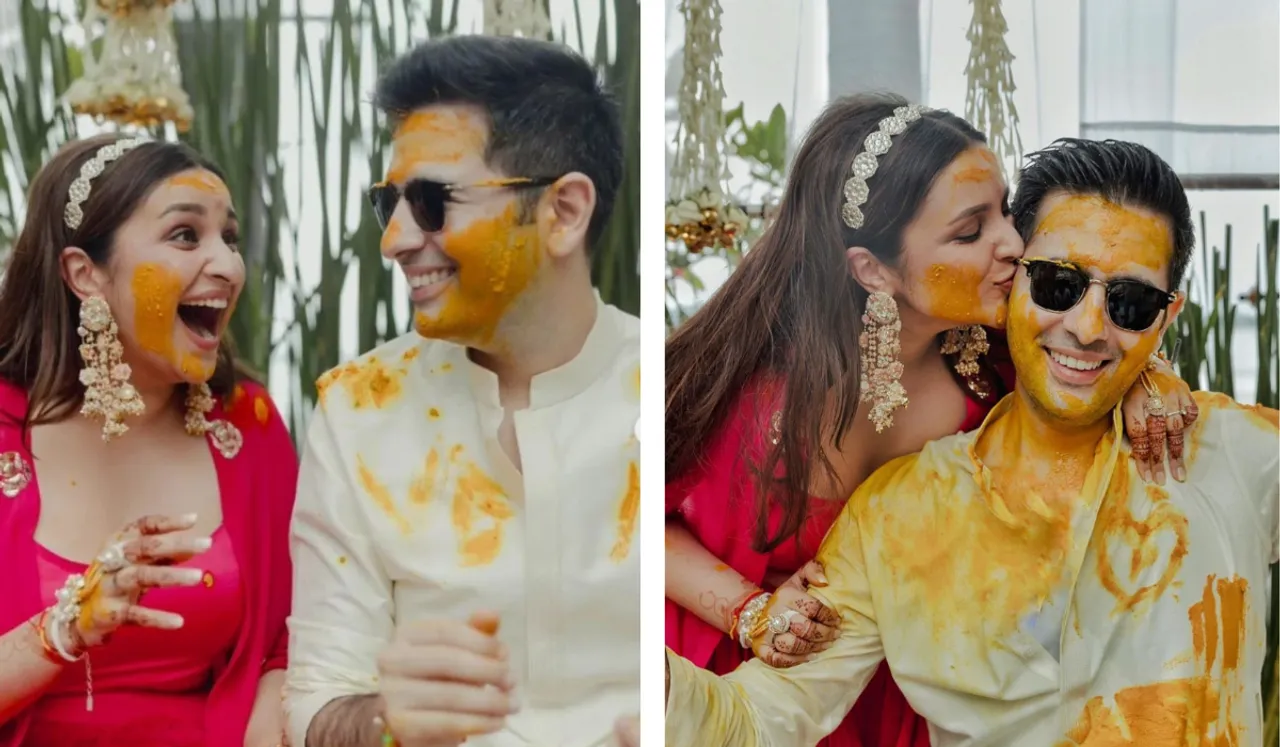 Parineeti Chopra and Raghav Chadha tied the knot on September 24. A fresh and heartwarming housewarming video has surfaced from the wedding celebrations of  Chopra and Chadha.
A month following their wedding, a recently surfaced video on social media captured the haldi and choora ceremonies of the couple. In the video, both Chadha and Chopra appear delighted and deeply in love with each other.
Parineeti-Raghav's Haldi & Choora Ceremony
In a recent Instagram video capturing their haldi and choora ceremony, we are granted a peek inside the event. The video showcases the lavish setup of the pre-wedding ritual, where Chopra is seen adorned in a yellow anarkali outfit with a multicoloured striped dupatta. Family members assist her in tying the kaleera, and the video offers glimpses of the actor partaking in the choora and kaleera traditions.
Both Parineeti and Raghav radiate joy during their haldi ceremony as friends and family apply turmeric paste to them. Chopra dons a stunning rani pink lehenga, while Chadha dons an off-white bandh gala. The video also captures moments of guests playfully spraying water on Raghav.
 Watch the video here.
Watch Parineeti Chopra's Grand Bahu Swagat At Raghav Chadha's House
Parineeti Chopra, in addition to her acting skills, is known for her singing talent, often sharing videos of her singing. She recorded a song titled O Piya for her wedding to Chadha. The song, which featured lyrics in both Hindi and Punjabi, added a unique and heartfelt element to their wedding celebration as Chopra expressed her love for Chadha.
Sharing the video, Parineeti wrote in the caption, "To my husband... The most important song I've ever sung... walking towards you, hiding from the baraat, singing these words... what do I even say...O Piya, Chal Chalein aa"
The video sees Parineeti walking down the aisle as the song plays in the background. She can also be seen lip-syncing at the wedding too. 
Actor Recorded Special Song, Check It Out
Chopra and politician Raghav Chadha tied the knot in an intimate ceremony at Udaipur's Leela Palace on September 24th.  A heartwarming wedding video has recently surfaced, capturing the sweet moments between bride Parineeti Chopra and groom Raghav Chadha during their wedding ceremony.
Shared by a paparazzo on Instagram, the candid video showcases the couple on the beautifully decorated mandap adorned with white flowers. In the video, Chopra and Chadha share an affectionate moment as she holds his hand and lovingly kisses him on the cheek. The actor playfully urges her friends to "stop it" and "behave" just moments before sharing a sweet kiss with Chadha.


Another delightful video captures Parineeti Chopra and Raghav Chadha dancing together while being recorded by a camera. As they walk gracefully towards the camera, Raghav Chadha carries an umbrella. Parineeti Chopra's expressions in the video are utterly charming and heartwarming.
The couple posted photos from their dreamy Udaipur wedding on Instagram. The pictures show the couple dressed for their day wedding - a cream lehenga for the bride and cream sherwani for the groom. The photos give glimpses of Parineeti and Raghav's varmala and pheras ceremony.
"From the very first chat at the breakfast table, our hearts knew," Parineeti wrote, referring to a post she shared after the engagement in May in which she revealed that she had known Raghav was "the one" over a fateful breakfast date.
"Been waiting for this day for a long time. So blessed to finally be Mr and Mrs Couldn't have lived without each other. Our forever begins now," read Parineeti's caption.
Ever since their engagement, Parineeti Chopra and Raghav Chadha have become the talk of the town, making headlines for various exciting things. From leaked wedding invites one day to food tastings at their chosen venue on another, this couple has kept the internet buzzing with anticipation.
Both families arrived in Udaipur on Friday, and although Parineeti's cousin Priyanka Chopra was expected to attend, she hinted on Saturday morning that she might not be able to join the festivities.
The first photo of the couple features Parineeti Chopra in a sequined pink saree as she poses with her husband Raghav Chadha by her side. Parineeti Chopra is seen with sindoor on her forehead. Raghav Chadha is seen dressed in a black tuxedo.
According to the online wedding card, a welcome lunch was scheduled for September 23 at 1 pm for the guests, followed by a 90s-themed party at 7 pm. The main events will be held at the Leela Palace, while some ceremonies, particularly those on the groom's side, will take place at the Taj Lake Palace.
Read on to uncover all the captivating insights about their highly anticipated nuptials!
Wedding Festivities 
On Saturday, the schedule of festivities includes a daytime haldi ceremony set to commence around 11:30 AM, followed by a welcome lunch for the guests in the afternoon.
Reportedly, later in the evening, they have a Bollywood-themed night planned, akin to a sangeet ceremony, with a unique twist—the theme will be a nostalgic throwback to the 90s. It's worth noting that a mehendi ceremony already took place the previous night.
Earlier, they hosted a Sufi night for close friends and family members. Parineeti Chopra's cousin Priyanka Chopra was absent, but the actor's mother, Madhu Chopra, and brother, Siddharth, attended the special gathering held at Raghav's home in the national capital.
Before the musical evening, Parineeti and Raghav received blessings at a Gurudwara in New Delhi, where they participated in Ardas and Kirtan. On Wednesday, photos from her ardas ceremony made their way online. One of the pictures shows them surrounded by their family sitting on a mat for the prayer ceremony. 
Wedding Venue
 The grand wedding will take place at The Leela in the picturesque city of Udaipur, known for its stunning backdrops and luxurious venues.
Wedding Outfit
For her special day, Parineeti Chopra has entrusted her close friend and celebrity designer Manish Malhotra to create her wedding ensemble. Known for their long-standing friendship, Parineeti and Manish share a deep understanding of the actor's style preferences. Chopra has chosen a simple yet elegant pastel-coloured lehenga designed by Manish Malhotra, which she plans to complement with statement jewellery.
Style Continuity
This decision aligns with Parineeti's previous choice of a Manish Malhotra pastel outfit for her engagement ceremony with Raghav Chaddha.
Keeping it Simple and Subtle
Both Parineeti and Raghav are committed to maintaining a simple and understated ambience for their wedding. They aim to ensure that their guests thoroughly enjoy the celebrations and actively participate in the ceremony. Consequently, meticulous attention has been paid to aspects such as the music selection and decorations.
Family Arrival 
The families of Parineeti and Raghav are scheduled to arrive in Udaipur on September 22, adding to the anticipation and excitement surrounding this joyous occasion. Although, it's unclear if Priyanka Chopra and Nick Jonas will be able to attend the wedding festivities anytime soon. Currently, Priyanka is in Los Angeles with her daughter and Nick.
---
Suggested Reading: Parineeti Chopra's Mumbai Home Lights Up Ahead Of Wedding Celebrations