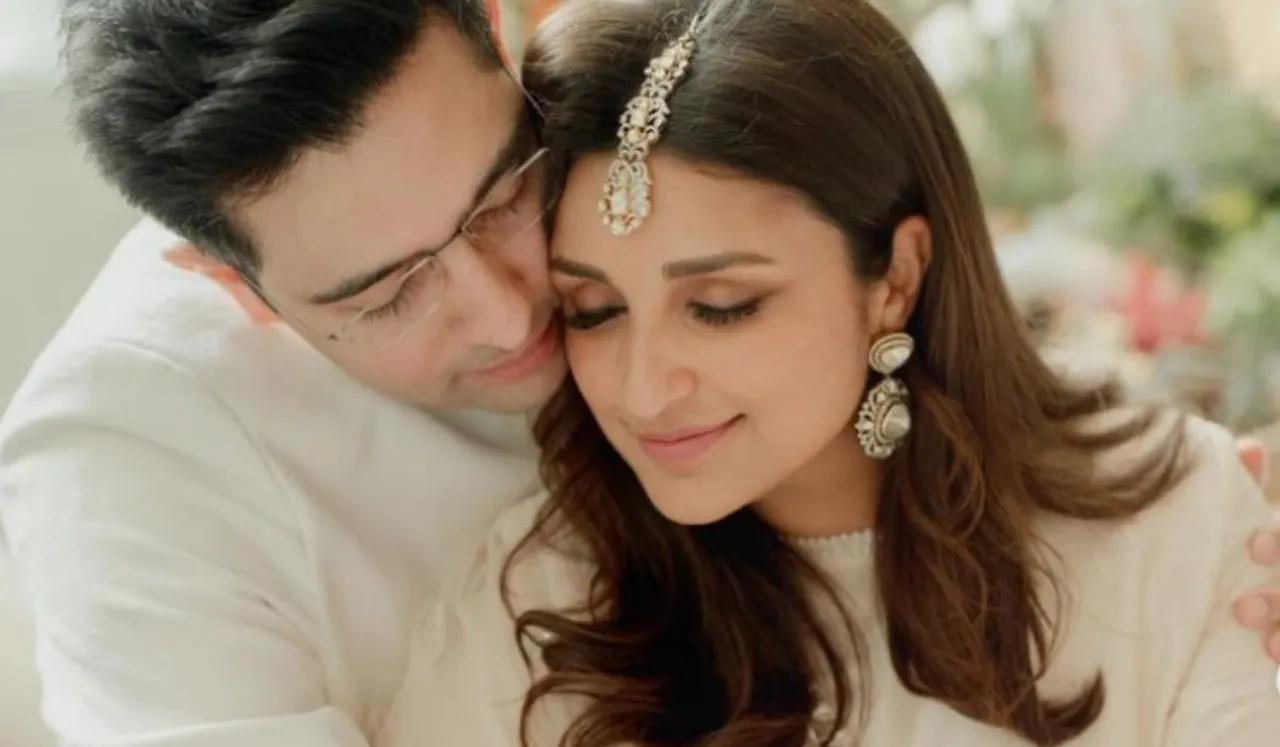 Actor Parineeti-Chopra and AAP leader Raghav Chadha are slated to be wedded on September 24 as per the reports, while paparazzi shot the soon-to-be-wedded couple's house lit up both in Mumbai and Delhi confirming the wedding and highlighting that the wedding celebrations have begun. 
Earlier this year, on May 13, Parineeti Chopra was engaged to politician Raghav Chadha as the actor shared the pictures on her Instagram handle. 
Get Ready For Wedding Celebrations
In the latest shots and videos snapped on Monday outside the residence of Parineeti Chopra ahead of her wedding this week, her residence is seen lit up and decorated confirming the commencement of the wedding celebrations. 
Even though the grand wedding is reportedly happening in two luxury properties of Taj Lake Palace, and Leela Palace of Udaipur, Rajasthan, the families have made sure to deck up their residence as well for the auspicious occasion. 
A paparazzo, ViralBhiyani has now shared a glimpse of Parineeti's high-rise apartment decorated with golden lights hinting about the wedding celebrations. Meanwhile, the actor reportedly left for Delhi on September 17 for wedding rituals at Raghav Chadha's residence which is also said to have been beautifully decorated. 
All About The Wedding
The grandeur destination wedding is slated to be held on September 24, i.e., this week's Thursday in Udaipur. According to India Today reports, the wedding festivities will begin on September 23 with Chopra's chooda ceremony as per the Punjabi wedding rituals followed by the welcome lunch on the same day. 
Reports also hint that there will be a grand Sangeet with the theme of 'Let's Party Like It's The 90's' on September 23rd's night. 
However, September 24 will start with Chadha's Sehrabandhi ceremony at Taj Lake Palace, following an afternoon Barat leading to the wedding ceremony at the Leela Palace. 
The soon-to-be-wedded couple has reportedly opted for a 'Pearl White Indian Wedding' theme while the grand wedding reception with the 'A Night Of Amore' theme. 
According to ET Times, the wedding will also have a cricket tournament between Chadha's and Chopra's families which sounds like a fun Punjabi wedding with dreamy themes. 
---
Suggested Reading: Reddit Sparks Patch-Up Rumours As Samantha Unarchives Wedding Pic