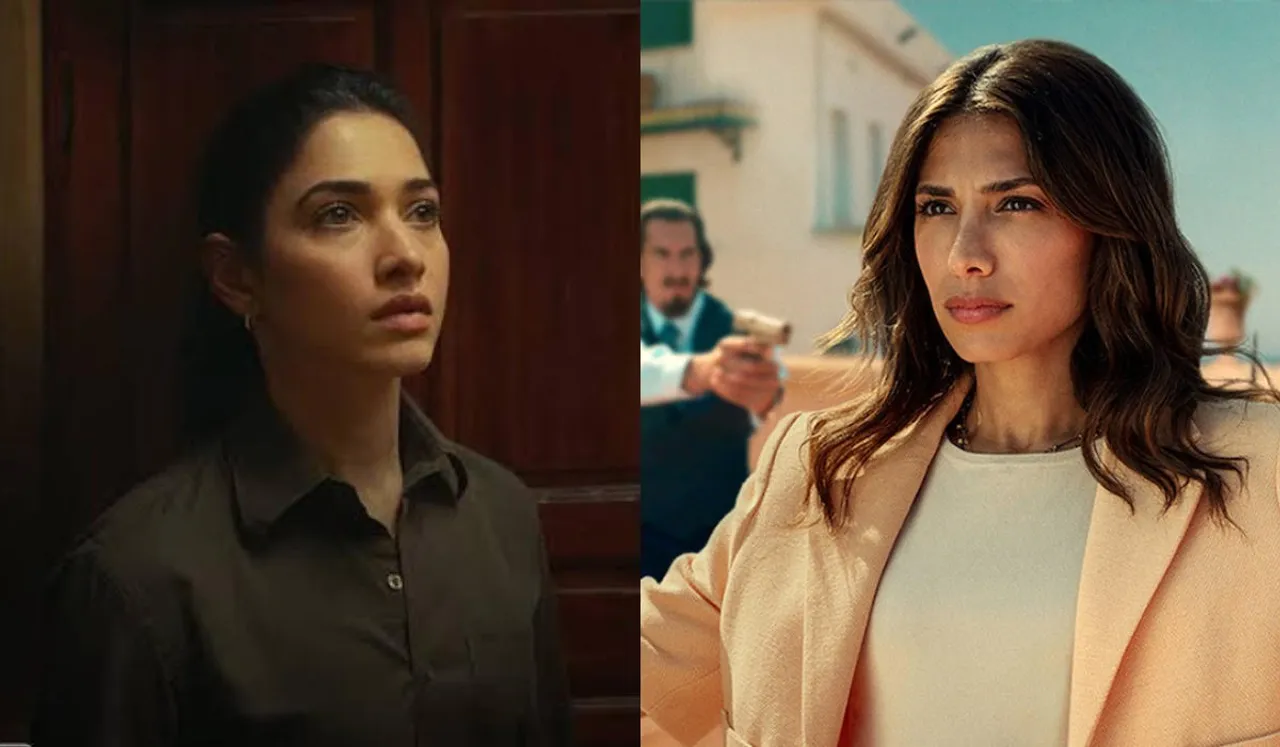 Get ready for an entertainment-packed weekend as the world of OTT streaming platforms unveils a diverse array of captivating new releases.
From gripping dramas to side-splitting comedies, this weekend promises an immersive experience for viewers of all tastes. Whether you're a fan of heart-pounding suspense or heartwarming narratives, the latest lineup of OTT releases has something special in store for you.
Here is a sneak peek of five releases that are set to light up screens and offer a delightful escape from the everyday hustle and bustle.
5 OTT Release This Weekend 
1. Lakhan Leela Bhargava, JioCinema
Release Date: August 21
A legal drama series that covers the journey of a young attorney named Lakhan, portrayed by Ravi Dubey. The story unfolds against the vibrant backdrop of Lucknow, delving into the trials and triumphs of a new lawyer as he navigates the intricacies of the courtroom and beyond.
Lakhan's tumultuous life is shaped by his status as the unacknowledged offspring of a prominent legal figure in the city, a fact that has subjected him to relentless jarrings. Yet, Lakhan emerges a compassionate legal advocate, resolute in his pursuit of justice for the unjustly accused. 
2. Aakhri Sach, Disney+ Hotstar
Release Date: August 21
A gripping thriller drama, that takes inspiration from the chilling mass suicide incident that took place in Burari in 2018. Directed by Robbie Grewal and penned by Saurav Dey, the series embarks on a journey to figure out the mystery behind the incident that sent shockwaves across the nation.
Starring Tamannaah Bhatia, the show dealing with mass suicide delves into the intricate layers of a family that spans three generations, each tragically concluding their lives in unison. Yet, the overarching question lingers: What prompted this haunting collective decision? Amidst a labyrinth of concealed family secrets and convoluted narratives, the investigative process becomes a daunting and spine-chilling endeavour.
3. Who Is Erin Carter?, Netflix
Release Date: August 24
The show revolves around an ostensibly ordinary British teacher in Spain, who unveils her combat abilities during a robbery, exposing a hidden double life. The series is scheduled to premiere for streaming on August 24th.
In the cast of the show, Evin Ahmad takes on the role of Erin Collantes, while Sean Teale portrays Jordi. Other notable actors include Douglas Henshall as Daniel Long, Susannah Fielding as Olivia, Charlotte Vega as Penelope, Indica Watson as Harper, Pep Ambros as Emilio, and Jake Fairbrother as Bruno.
4. Ashoka, Disney+ Hotstar
Release Date: August 23
Within the expansive Star Wars universe, the action-packed adventure spin-off of "The Mandalorian," unfolds in the aftermath of the Galactic Empire's downfall. The focal point of the narrative rests on Ahsoka Tano (reprised by Rosario Dawson), a former Jedi Knight who now grapples with an ominous new threat endangering the entire galaxy.
Ahsoka's quest entails the pursuit and neutralization of the exiled and formidable Grand Admiral Thrawn, a stalwart of the now-defunct Empire. To succeed in her mission, she embarks on a quest to locate a cryptic map, a pursuit that doesn't go unnoticed by a pair of sinister mercenaries.
5. Dungeons & Dragons: Honor Among Thieves, Amazon Prime
Release Date: August 25
"Dungeons & Dragons: Honor Among Thieves" is a fantasy comedy film centred on a heist, drawing its inspiration from the renowned role-playing board game Dungeons & Dragons. The narrative revolves around an unconventional quartet of adventurers: Edgin Darvis, a charismatic bard; Holga Kilgore, a fierce barbarian; Xenk Yendar, a righteous paladin; and Simon Aumar, a wild magic sorcerer of half-elven descent.
Their collective aim is to locate a relic of ancient significance. However, their ambitious heist takes a treacherous turn as they confront an array of perils, including dungeons, menacing dragons, eerie creatures, and malevolent wizards. The film stars Chris Pine, Michelle Rodriguez, Regé-Jean Page, and Justice Smith.
With an array of options at your fingertips, this weekend's OTT releases are ready to redefine your entertainment experience and offer a refreshing respite from the ordinary. The magic of OTT streaming will bring you an unforgettable weekend of cinematic delight.
---
Suggested Reading: Watch: Jaane Jaan Teaser, Starring Kareena Kapoor Khan, Vijay Varma