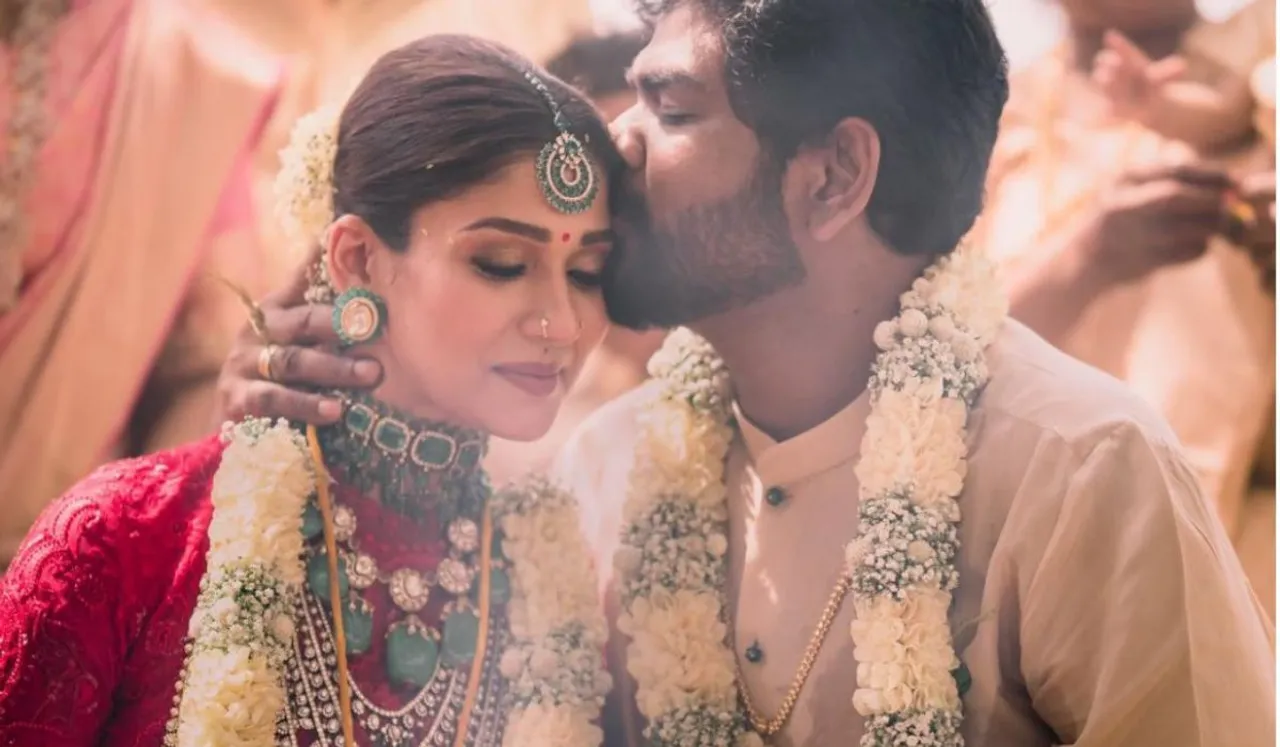 Nayanthara, prominent leading lady in the South Indian film industry, is poised to make her Bollywood debut alongside Shah Rukh Khan in Jawan. As the release of Jawan approaches, fans are also eagerly anticipating the release of Nayanthara's wedding documentary, which was announced last year.
Nayanthara and filmmaker Vignesh Shivan married in a grand ceremony in Chennai on June 9, 2022. They had an intimate wedding with only their closest friends and a few guests present, including Shah Rukh Khan, AR Rahman, Suriya, and Rajinikanth. A documentary on Vignesh Shivan and Nayanthara's journey leading up to the lavish wedding was also announced to make its OTT platform release.
As per reports, the documentary is made by Rowdy Pictures and directed by Gautham Vasudev Menon. It is named Nayanthara: Beyond The Fairytale and viewers will get a glimpse of Nayanthara and Vignesh's love story, which culminated in a wedding at a resort in Mahabalipuram, close to Chennai.
Vignesh Shivan's and Nayanthara's wedding documentary to stream soon on OTT:
Jawan actor Nayanthara's wedding documentary will premiere on Netflix. The first pictures of the pair from the pre-wedding session were revealed by the OTT platform on their Instagram feed. Netflix posted four pictures and wrote, "These images of Nayanthara and Vignesh have us seeing stars BRB, we're doing a little happy dance ourselves because THEY'RE coming to Netflix 🕺💃 it's beyond a fairy tale!!"
During Netflix's global event TUDUM in September last year, the company showcased exclusive behind-the-scenes footage of the wedding.
Watch it here.
It was initially anticipated that the wedding documentary would be released last year only in October or November at the latest, but there hasn't been any recent update. However, according to the latest reports, everything is proceeding as planned, and the wedding documentary will indeed be available on Netflix. The specific release date remains uncertain. Sources have indicated that director Vignesh Shivan has been actively engaged in the documentary's production and is reportedly still in the process of filming it.
Nayanthara-Vignesh Shivan's Journey From Love To Marriage:
On the Naanum Rowdy Dhaan filming set in 2015, Nayanthara and Vignesh Shivan first met. They got along well and eventually started dating. They kept their relationship secret from everyone and revealed it all during an awards ceremony in Dubai. They've been a couple for six years and in 2021, they announced their engagement before getting married in 2022. 
Meanwhile, Jawan is set to release in theaters on Sepetember 7. Watch it's trailer here.
---
Suggested Reading: Report Claim Nayanthara's Staggering Fee For 'Jawan'