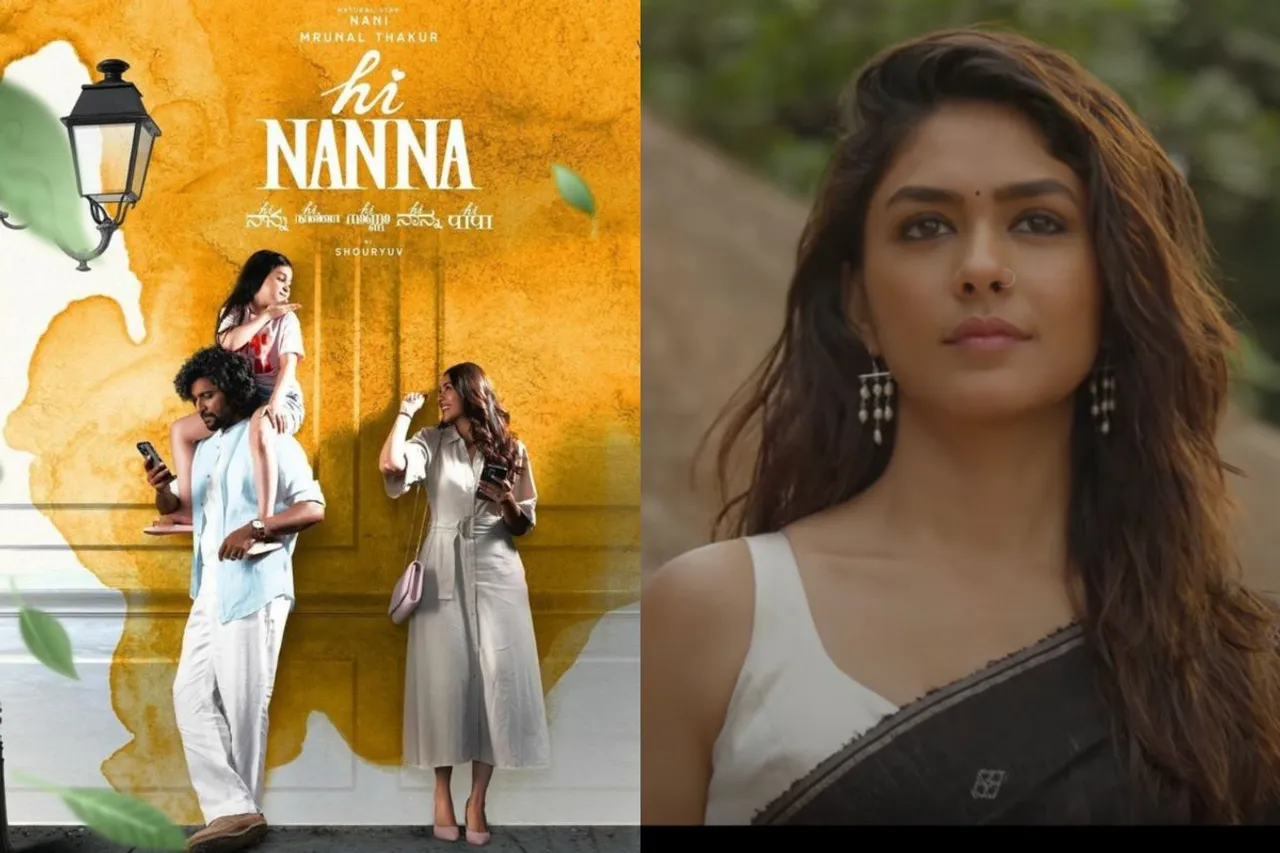 Cute is the word for the film 
Hi Nanna. T
he makers drop another clip from the film, which was hitherto referred to as 
Nani 30. 
The official title and release date has been announced on Thursday. 
The first look of the poster depicts- The little girl sitting on actor Nani's shoulders, giving a flying kiss to Mrunal Thakur standing next to them. The poster has a vibrant vibe with yellow-green shades. Actor Nani on Twitter unveiled the first look and captioned it, "Hi Nani30 is Hi Nanna, She calls me that… Not the little one." He also shared the link to the video clip showing the glimpses of film. However, it hints at a love story. 
#HiNanna First Look ❤️
Natural Star #Nani
Actress #MrunalThakur pic.twitter.com/gSvZAnG4uG

— MOVIE TAMIL (@movietamilmv) July 13, 2023
Hi Nanna Release Date
Earlier, a promo was released in which the Nani and little girl were conversing about the actor's look, while he was introducing the actors, director, and all crucial crew members of the film. The conversation between the two was adorable. It gave- the pappa's little girl vibe. 
Hi Nanna brings Nani and Mrunal Thakur togeher for the first time on-screen. The video clip also shows Thakur playing the character of Nanny and Nani the character of Nanna, the father of the little girl. Nani is predicted to be a Photographer, and Thakur a Nanny. The teaser hints at a love story, but nothing can be said of now. It also shows the three main leads meeting at a restaurant and Mrunal saying, 'Hi Nanna' to Nani, bam! That is how the film gets its name.
Hi Nanna will be Mrunal Thakur's second Telugu film after Sita Ramam. The video clip showed Thakur in two looks- one with a saree and another in a long trench coat. Nani, who appeared in the film Dasara, will now be doing his 30th movie. The directed Shouryuv will debut with this film, and it already looks promising. The poster also announced the release date. The film is slated to release on 21 December 2023. 
---
Suggested Reading: Kartik Aaryan Begins Shooting For Chandu Champion: 'Most Challenging'