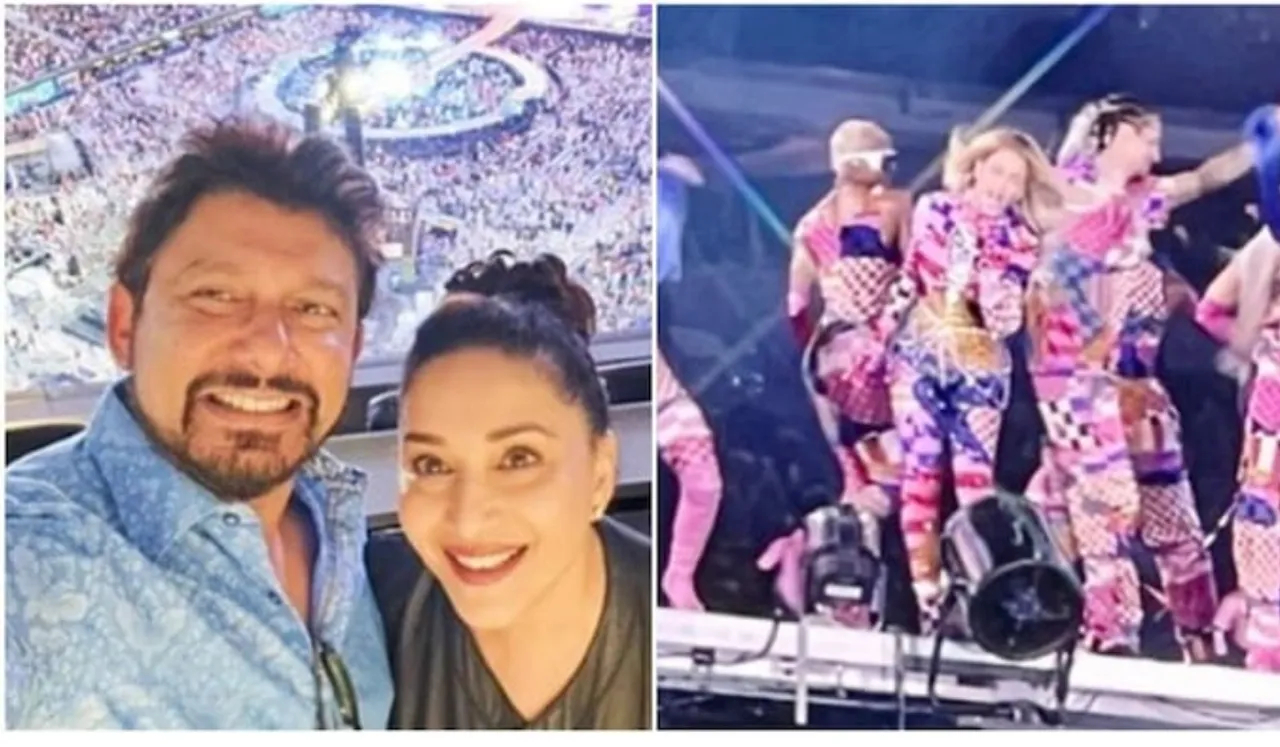 Madhuri Dixit recently graced singer Beyonce's concert as part of her Renaissance tour. Accompanied by her husband, Dr. Shriram Nene, and a friend, Dixit enthusiastically danced to Beyonce's electrifying live performance. Sharing snippets from this exhilarating experience, she affectionately referred to Beyonce as the 'queen.'
A video captured the moment as the actor and her friend joyfully swayed to the rhythm of Beyonce's melodies while the singer enthralled her massive audience. Evidently recorded by Dixit's husband, the clip showcased her in a casual and refreshing attire, donning a white top paired with a black jacket, her hair neatly tied in a bun.
Madhuri Dixit At
Beyonce's Concert
As Dixit and Nene jointly shared their post, fans couldn't help but express their amusement. One fan remarked humorously, "It's so funny that people in that stadium had no idea that you're a bigger star than Beyonce in India." Another fan chimed in, "OMG yes! Two icons in one stadium." And yet another admirer affectionately commented, "Mother seeing mother."
Other Celebs 
Earlier, celebrity couple Kylie Jenner and Timothee Chalamet were seen involved in PDA at Beyoncé's Renaissance World Tour, which left the fans utterly captivated. In June, Priyanka Chopra Jonas was among the illustrious guests at the concert, which included luminaries such as Salma Hayek and the renowned rapper Jay-Z, Beyoncé's husband. During the event, the actor relished a delightful girls' night out, accompanied by her friend and mother.
The tour, which commenced in Europe on May 10, has become one of the hottest tickets of the summer thanks to Beyoncé's extravagant performances. From her remarkable tour wardrobe to her visually stunning stage productions, both celebrities and fans have flocked to stadiums to witness Queen Bey's electrifying performances.
The Mute Challenge
However, one particular moment from the tour has taken the internet by storm. Known as the "mute challenge," this trend involves fans in the stadium falling completely silent during Beyoncé's rendition of Energy. Interestingly, even celebrities have embraced this viral moment, sharing their own videos on social media platforms.
The mute challenge takes place specifically during Beyoncé's performance of Energy, particularly when she sings the line, "Look around, everybody on mute." In a manner reminiscent of the game 'Simon Says', the entire crowd ceases all activity and remains in complete silence, with some even opting to freeze in place.
---
Suggested Reading: Kylie, Timothée's PDA Continues, Watch New Video From US Open