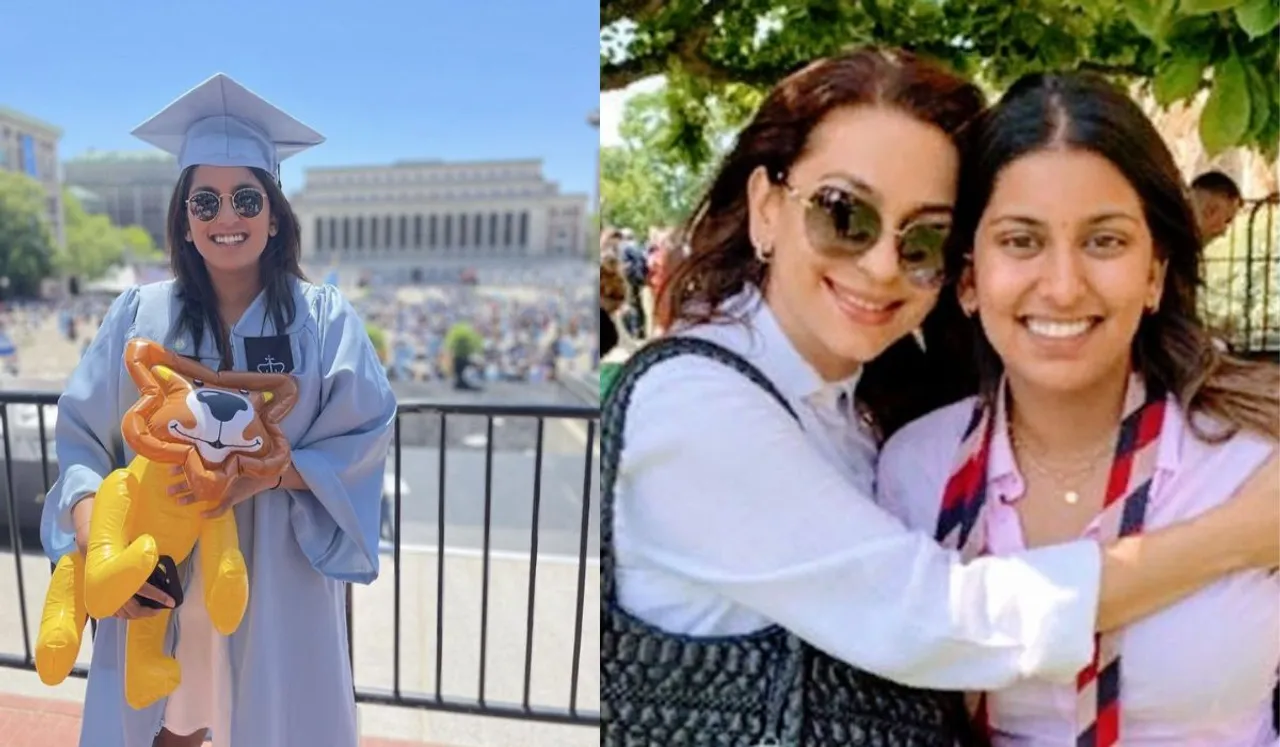 Shah Rukh Khan and Juhi Chawla have been friends, co-stars, and Kolkata Knight Riders co-owners for a long time. Moreover, they adore each other's children as well. Khan recently reacted to Chawla's daughter Jahnavi, who completed her graduation from Columbia University in New York.
On Friday, actor Juhi Chawla shared a picture of Jahnavi on Twitter. She can be seen in her convocation robe. She wrote, "#columbiaclass2023" in the caption. Reacting to her tweet, Khan wrote, "This is so awesome. Can't wait for her to get back and celebrate with her. And a feeling of extreme pride. Love you Jaanz."
As Pathaan's actor tweet went viral, many were curious to know more about the star kid. Here's all we know about her.
Who is Jahnavi Mehta?
In 1995, Chawla married businessman Jay Mehta. The couple has two kids, Arjun and Jahnavi. On February 21, 2001, Jahnavi was conceived. Jahnavi Mehta has always favoured avoiding the spotlight. In an interview, Chawla disclosed that her daughter Jahnavi aspires to be a writer rather than work in the film industry. Jhanvi finished her basic education at Dhirubhai Ambani International School, where she excelled academically and was a top student. She had previously achieved success while attending Charterhouse in Surrey, the United Kingdom. The same university was where her father earned his degree.
A few years ago, Jahnavi, who was bidding on behalf of the Kolkata Knight Riders, a team co-owned by Shah Rukh Khan and her parents, set the record for the youngest bidder in the IPL auction. She has only been seen in her mother's posts or in KKR meetings with Suhana and Aryan Khan. Moreover, the previous year, she was sighted at the IPL auction along with Shah Rukh's son Aryan Khan.
Chawla travelled to the UK to attend her graduation convocation despite being preoccupied with the IPL. Her Instagram Stories featured a glimpse of herself at the convocation. She also posted the news on Twitter, sharing a picture of her daughter.
Feature Image Credit: Juhi Chawla/ Twitter
---
Suggested Reading: Shah Rukh Khan Launches Gauri's Debut Book, Says She's 'Busiest Person' In House