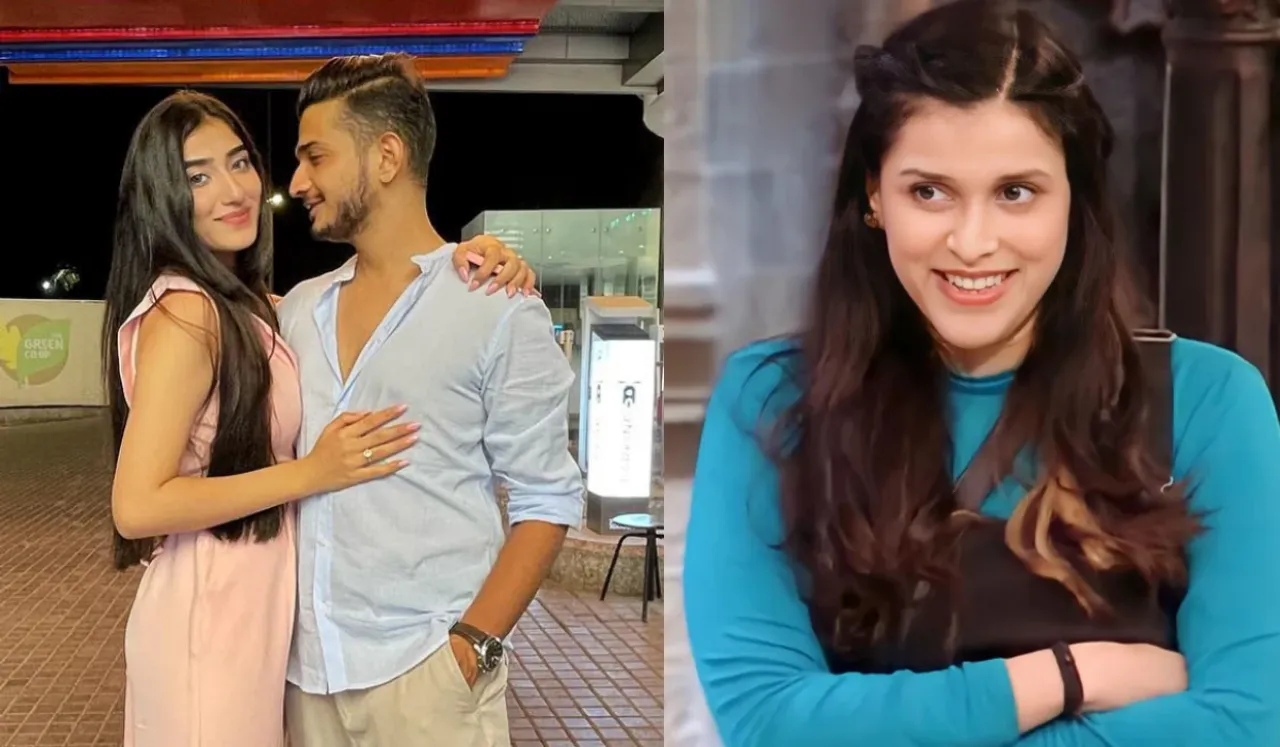 Bigg Boss 17 has kept audiences intrigued with its unfolding drama. While the house features two married couples, new bonds are emerging among the other contestants. Abhishek Kumar and KhanZaadi are frequently seen flirting, while Munawar Faruqui and Mannara Chopra have formed a close friendship.
In the midst of this growing bond, Munawar Faruqui's girlfriend, Nazila, recently shared a cryptic note on Instagram. However, it's unclear if Nazila's message is directed towards Faruqui's friendship with Mannara Chopra.
His girlfriend posted a message on her Instagram story. The note read, "One thing I wish more people knew is that everything isn't how it seems online. Nobody is as pure and morally correct as they pretend to be, in fact, the reality will take you by surprise. This is why they usually say 'Never meet your idols; because in most cases the way you perceive them is very different from how they actually are so don't be fooled by what you see online or on tv (sic)."
While the show is known for stirring up controversies, let's take a quick look at some of the most talked-about ones since its beginning.
Bigg Boss 17: Recapping the Ongoing Controversies in the Show So Far
Ankita Lokhande Takes Pregnancy Test Inside House
In the Bigg Boss 17 house, Ankita Lokhande and Vicky Jain have a complex relationship marked by frequent arguments. Lokhande has expressed feelings of isolation within the house. In a recent episode on November 15, she made a significant revelation, mentioning that she underwent a pregnancy test inside the house due to missed periods and is currently awaiting the test results.
In a recent episode, Ankita Lokhande engaged in a conversation with fellow contestants like Rinku Dhawan, Sunny Arya (Tehelka Bhai), and Arun Mashettey. Initially, Ankita expressed discomfort, mentioning feeling queasy and having a craving for sour foods in the evenings. Curious about her statement, Rinku gently inquired, "What are you talking about?" This prompted Ankita to blush and respond, "No, no... it's nothing like that. I just hope everything is okay."
In the episode, Lokhande expressed her exhaustion to Jain, stating, "I'm tired, truly mentally drained." She mentioned feeling unwell and having a sensation inside her. Lokhande shared her concern about not getting her period and her desire to return home. When Jain recalled her mentioning her period a day earlier, Lokhande clarified that her blood tests were conducted recently. She disclosed undergoing pregnancy tests to ensure she isn't pregnant, having had the test a day prior. Lokhande admitted to experiencing fluctuating emotions and confusion but clarified to Jain that she wasn't blaming him for it.
Isha Malviya Relationship Dynamics
Isha Malviya, a contestant on Bigg Boss 17, has been at the centre of attention due to her relationship dynamics within the reality show. Her interactions with her ex-boyfriend, Abhishek Kumar, and the entrance of her boyfriend, Samarth Jurel, have added more controversy to the show. Amidst all the unfolding events on the show, Isha's parents are expressing their dissatisfaction with their 19-year-old daughter's performance.
Malviya's interactions with both her boyfriend Samarth Jurel and ex-boyfriend Abhishek Kumar have raised concerns. As she attempts to navigate these relationships on the show, her co-actor from Udaariyaan, Lokesh Batta, has shared some surprising insights.
In an interview, Batta revealed that the actor's parents are not pleased with her participation in the reality show. He mentioned that last year, when Ankit Gupta and Priyanka Chahar Choudhary entered the show, Malviya expressed her excitement to join as well.
However, in a recent episode, her increasing closeness to Jurel has left her parents feeling uneasy. Batta shed light on the situation, explaining, "Her mother also revealed that they're not fine with Isha's physical proximity with Samarth. They can't see the show after Samarth's entry, like before., unlike before."
Nomination Sparks Feud Between Couples
During the latest nomination process on Bigg Boss 17, couples Ankita Lokhande-Vicky Jain and Neil Bhatt-Aishwarya Sharma found themselves at odds as they had to nominate two contestants from within their group. In the latest show promo, both pairs engaged in heated arguments. Bigg Boss instructed them to nominate two contestants among themselves, which led to tensions running high.
Ankita Lokhande expressed her anger and confusion after being nominated by Bhatt, while Vicky Jain felt upset about being nominated by Sharma and Bhatt. The promo for Bigg Boss 17 highlighted intense arguments between Vicky-Ankita and Neil-Aishwarya. Lokhande questioned Bhatt's actions, asking why he had changed his behaviour towards her. Bhatt responded with anger, even going as far as to call her 'paagal' (crazy). Sharma also joined the confrontation, shouting at Lokhande and using derogatory terms.
Tension Between Ankita Lokhande and Vicky Jain
There's tension brewing between Ankita Lokhande and her real-life husband, Vicky Jain, both of whom are contestants on Bigg Boss 17. Their arguments have been ongoing since they entered the house, and the latest spat occurred after a special weekend episode featuring Arbaaz Khan, Salman Khan's brother, as a guest.
In this recent confrontation, Lokhande accuses Jain of using her for his game and mentions that people have been telling her she's been manipulated in the show. Jain responds with frustration, telling her that if she believes it's a game between them, she should go sit with her brother Munawar Faruqui and that he doesn't want to talk to her.
Mannara Chopra On Being Called 'Parineeti's Duplicate'
On October 26, Mannara Chopra got engaged in a heated argument with Abhishek Kumar when he repeatedly compared her to her cousin sister, Parineeti Chopra. Lokhande explained to Kumar that she becomes upset whenever someone mentions her cousins, Parineeti and Priyanka Chopra. Salman Khan then intervened and rebuked him by saying, "No. Don't call her a duplicate." Kumar later admitted that he commented to provoke and annoy her.
---
Suggested Reading: Advocate Sana Raees Khan Lands In Trouble For Bigg Boss Participation