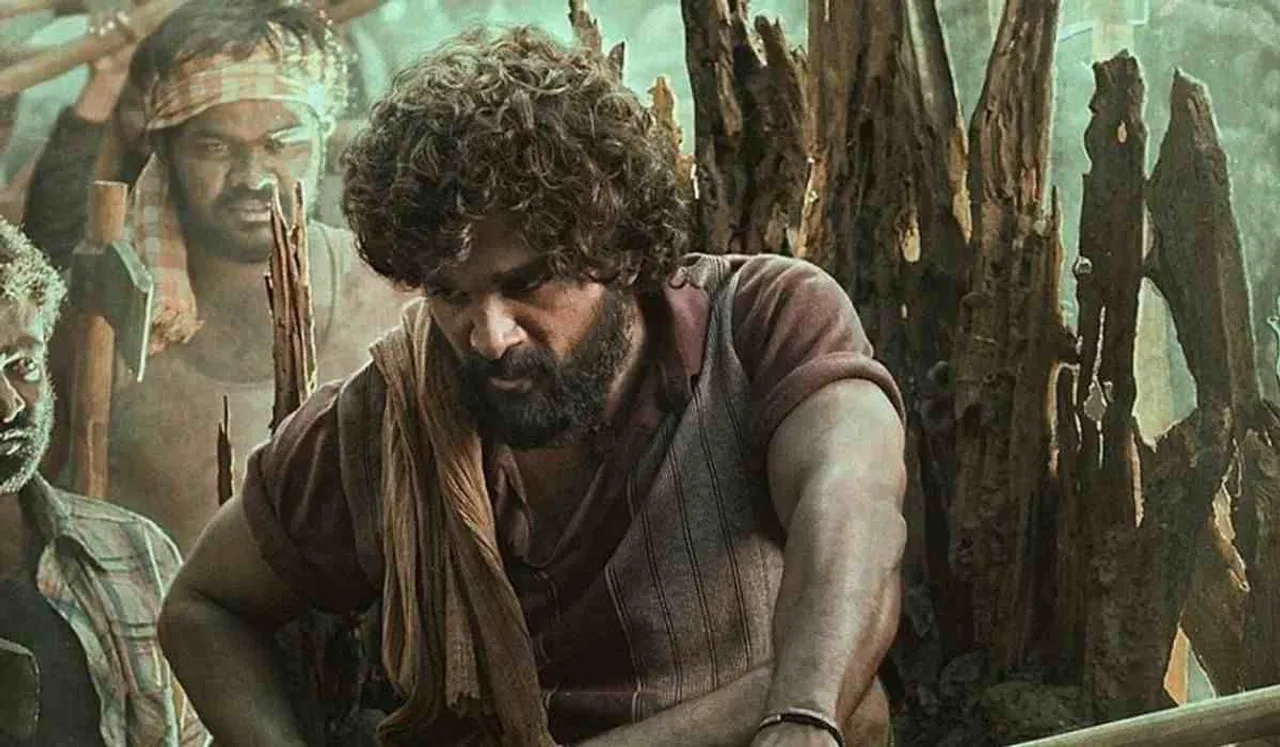 When Pushpa Raj swirled his hand to caress his beard with the iconic dialogue "Main jhukega nhi sala", the audience found another reason to idolise a macho man. Hooting at the actions of an 'angry young man' on-screen has been a part of our film-viewing culture since the 70s. But today when the definitions of masculinity are changing in diverse ways, the idea of the macho man has become shackles of male actors' feet. They are expected to conform to a single, and even toxic, idea of masculinity to get hits at the box office and adulation in real life.
Allu Arjun Fat-Shamed
A similar thing happened with Pushpa:The Rise star Allu Arjun recently after a photo of him began doing rounds on social media this weekend. The actor is reportedly preparing to reprise his role as Pushpa in the much-loved film's sequel. However, his on-screen popularity couldn't save him from being shamed for his recent weight gain. In the now-viral photo, Arjun can be seen wearing a T-shirt and trousers and looked bulkier than ever. Since the viewers are used to seeing the actor looking fit, an expectation from all-male stars, his weight gain did not go down well with them.
This raises many questions about the standards of ">masculinity in the film world. Why are male actors always expected to have a certain level of fitness? Why are they always expected to engage in a fight with villains and perform stunts that are often dangerous? Why can't the audience accept male characters that are mellow, shy or quiet?
Indian Audience's Obsession With Macho Men
The portrayal of toxic masculinity on-screen has mostly rewarded the makers with a good footfall in the theatres. Be it Pushpa: The Rise, KGF, Kabir Singh etc., Indian audience loves to see male actors donning the role of macho saviours of the world. And this obsession is not new as it started in 1970s itself when Amitabh Bachchan became famous as the 'mard' of Bollywood, with dialogues like 'Mard ko kabhi dard nhi hota'. Rarely there are films that do not have a fight sequence of the male actor with the villain, no matter what is the genre. Indian audiences can watch films without a leading lady but not without a hero who is tough and toxic.
How The Macho Man Trope Of Films Affects Society
Why doesn't anyone realise that the obsession with the trope of the macho man affects men and women adversely? Actors have deal with the immense pressure and lead a certain kind of lifestyle to have rippling muscles and washboard abs. Many times, actors get injured while performing dangerous stunts. And many others lose their lives in attaining the macho man attitude.
In fact, the toxicity that these standards of masculinity emanate is normalised and romanticised in our society. Men in our society either wish to look macho or are forced to behave like one. While men who are emotional and do not have any 'manly' habits are shamed for being feminine.
On the other hand, women normalise toxic masculinity by seeing such behaviour as desirable or attractive. Many of the readers will agree with me on the fact that some women even dream to be with a man who has biceps, aggression and addiction.
The fans who are shaming Arjun for gaining weight have no right to call themselves his admirers. Arjun is one the most talented actors in the country. While he may have gained weight for the sake of role, why must he be only scrunitised for his body, and not work? If viewers are willing to reject a male star who is not macho enough, then that tells all that we need to know about the problematic fandom in India, which prioritises looks and style, but not talent.
Views expressed are the author's own.