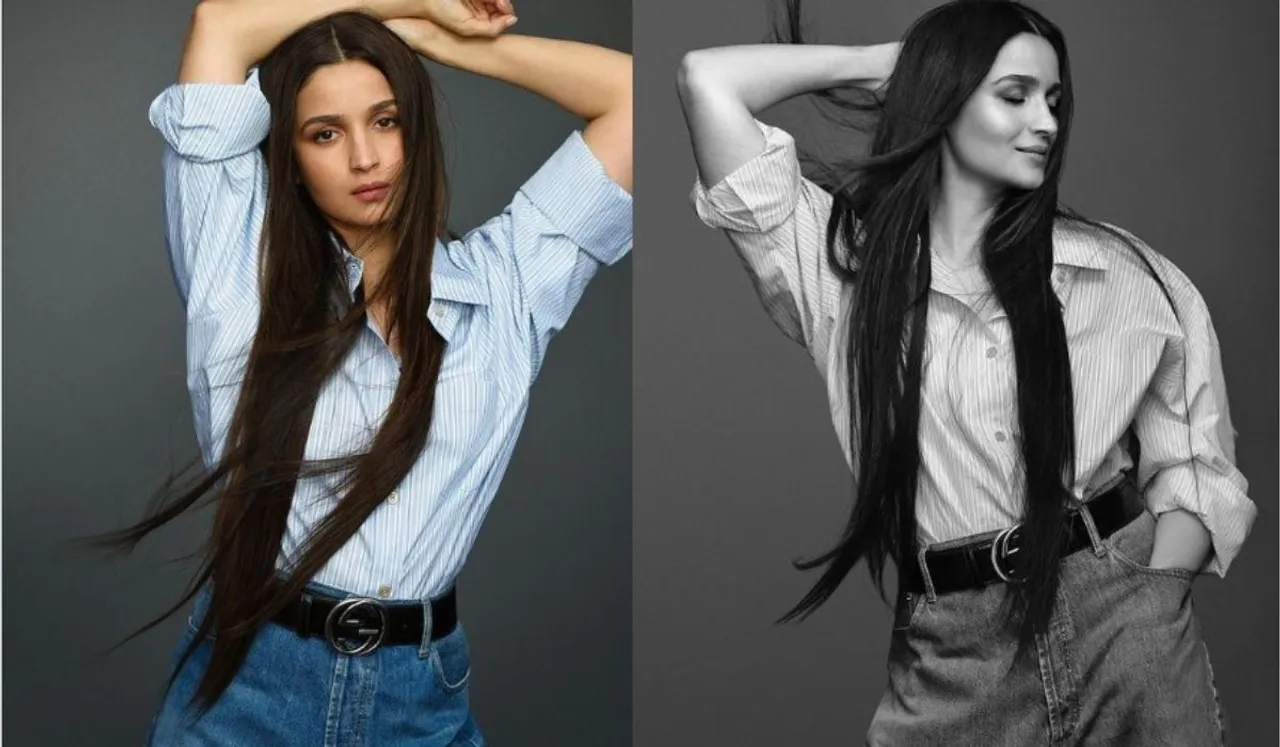 For those who've thought or said marriage and motherhood are the end of a woman's career, Alia Bhatt going places is one of the many examples that remind you to change your mindset.
Alia Bhatt was featured as the cover girl for the Vogue Thailand September issue. While fans swarmed in to congratulate the National Award-winning actor for achieving the milestone, a section of netizens alleged that her picture had been photoshopped heavily.
Alia Bhatt's Cover Photo On Vogue Thailand
Some netizens strongly believed that the photos had been heavily photoshopped. One user pointed out that her chin is photoshopped. Another asked why she looked different. A third user stated that editors should at least not Photoshop a person to the extent that they look unrecognizable. A fourth user said that Photoshop has transformed her, while a fifth wrote that it doesn't even look like Alia.
For the photoshoot, Bhatt wore an oversized light blue formal shirt with sleeves folded up and paired it with blue denim and a black belt. She completed her look with free hair blown straight and a no-make-up look.
In another post, the actor shared close-up shots of her wearing a half-white full-sleeved top. She accessorised her outfit with oversized earrings coupled with her no-make-up look. Bhatt also shared another photo in which she had the same free-hair and no-make-up look but wore a yellow top.
Netizens pointed out that the person in the photo barely resembled Alia Bhatt. One user stressed that her eyes looked different in the shoot and suggested that they should have let it shine as it is. Another said that it took a minute for them to recognise Bhatt. A third user questioned why they couldn't have let her be the way she naturally is. A lot of other users echoed the same opinion about the photoshoot.
However, one cannot deny that Bhatt looked gorgeous and flaunted a flawless expression and attitude in the photo shoot.
The actor recently made her Hollywood debut earlier this year in Gal Gadot's Heart of Stone. She's also enjoying the success of Karan Johar's family drama, Rocky Aur Rani Prem Ki Kahani, alongside Ranveer Singh. Notably, she also won the National Award for Best Female Actor for Gangubai Kathiawadi.
---
Suggested Reading: Alia Bhatt Walks Out Of Nitesh Tiwari's Film Ramayana: Details Below