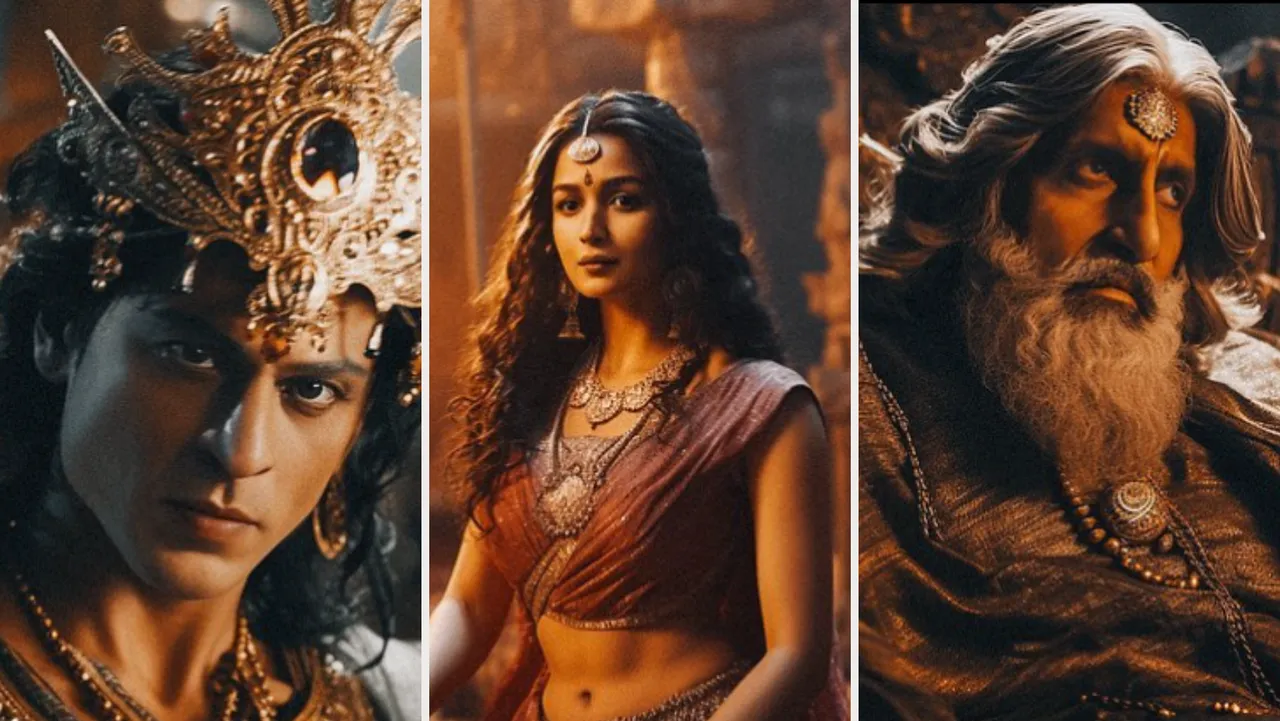 In this era of rapid technological advancement, we are encountering a variety of AI projects that are simultaneously amusing and uncanny. We find ourselves in a time where AI initiatives are thriving, encompassing AI-generated art, AI-generated voices, and Chat GPT, among others. Notably, AI-generated art has recently become a sensation on social media.
Many artists and designers are increasingly turning to the ever-expanding realm of AI technology to craft dynamic images, videos, and interactive content. The world of Artificial Intelligence (AI) art has captured the attention of online audiences, consistently leaving them in awe. With AI, it has become remarkably easier to bring forth and present artistic ideas with an almost surreal level of perfection.
AI transcending the boundaries of time and culture offers us a glimpse into a mesmerizing fusion of ancient Indian mythology and contemporary cinema by reimagining our favourite Bollywood stars as the characters from the great Indian epic, Mahabharata. AI breathes new life into iconic Bollywood actors, seamlessly transforming them into the legendary characters of the Mahabharata, ushering in a unique blend of artistry and innovation that captures the essence of storytelling in the digital age.
Bollywood Actors As Mahabharata Characters
Photographer and digital artist Gokul Pillai took to his Instagram account and shared the pictures. Starting with lead characters like Lord Krishna, Draupadi, Arjuna, Duryodhan, Karna, and older characters like Shakuni, Bhishma and Dronacharya, the artist meticulously crafted each of them. These artworks serve as yet another astonishing illustration of how AI is empowering artists to expand their creative boundaries and yield increasingly mesmerizing creations.
Starting with the ever-ethereal, ever-gorgeous, forever beautiful Lord Krishna portrayed by the 'Jawan.' Shahrukh Khan looks the Lord Krishna and justifies the character. 
While Amitabh Bachchan's portrayal of Dronacharya appears fitting for the role of the legendary teacher, Suriya, a National award winner, steps into the shoes of Yudhishthira, the eldest of the Pandavas. Kamal Haasan dons a long mane and beard and becomes unrecognizable in his transformation into Bhishma.
Furthermore, Nawazuddin Siddiqui, renowned for his versatility, looks a perfect fit for the role of Shakuni and Hrithik Roshan embodies Duryodhana, the eldest of the Kauravas and the primary antagonist.
While Alia Bhatt takes on the role of Draupadi, Chayaan Vikram steps into the character of Karnan and Dulquer Salmaan portrays the warrior prince, Arjun, bringing the love triangle to life.
---
Suggested Reading: AI Reimagines Indian Celebrities In Barbie World: Photogallery Here