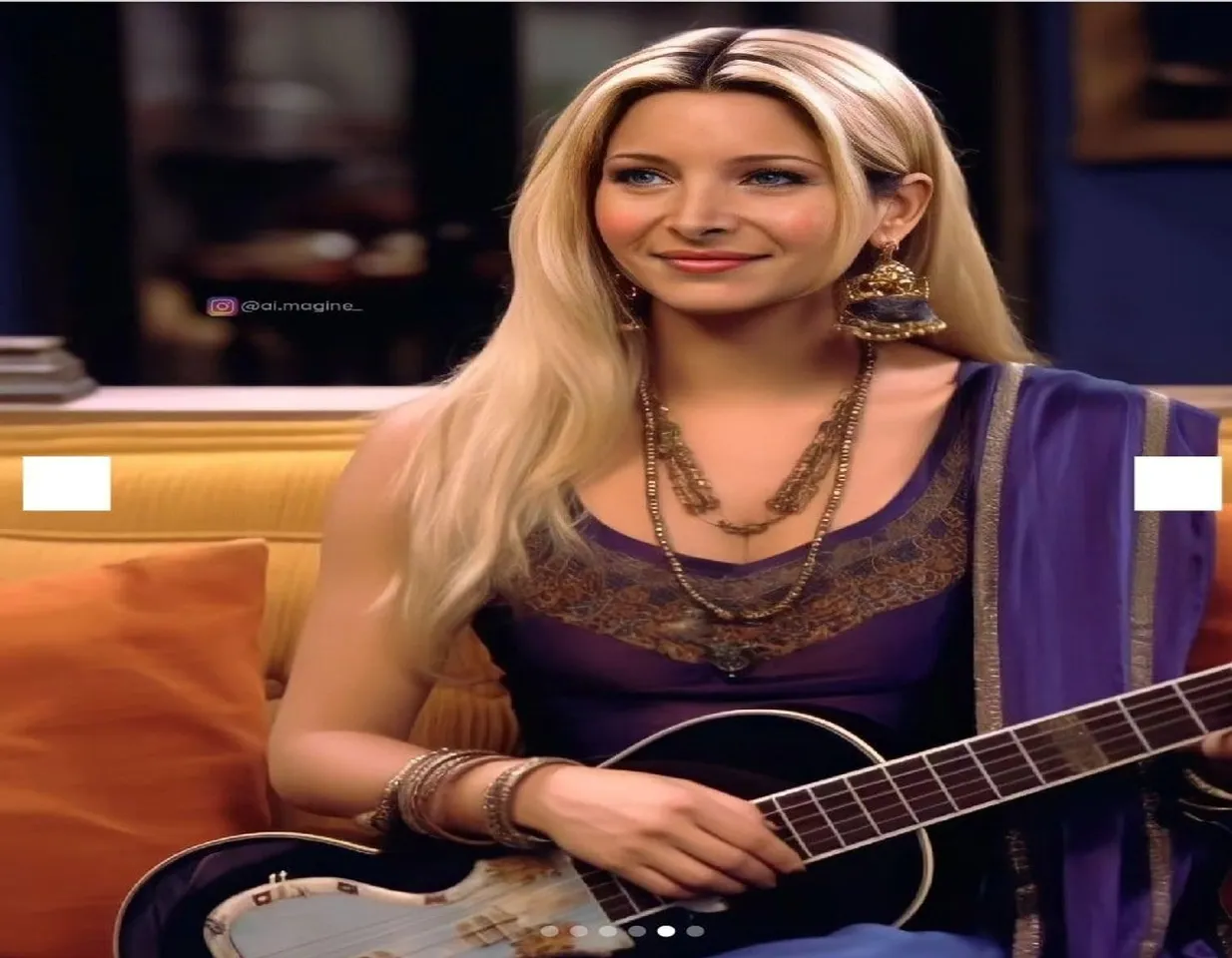 Across the globe, various artists harness the power of artificial intelligence (AI), making waves on social media by sharing awe-inspiring images. The latest collection has reimagined the beloved characters from the iconic American sitcom 'Friends' in vibrant Indian ethnic attire. These AI-generated images have taken the internet by storm, captivating audiences worldwide. 
The stunning collection of artwork has left netizens mesmerised and amazed. Viewed nearly 500,000 times, the post showcases the popular characters of 'Friends' - Monica and Chandler, Ross and Rachel, and Phoebe and Mike - dressed in ethnic Indian clothing. Since Joey doesn't get married in the series, you only get to see him in a sherwani without a plus one.
AI-Generated Desi Avatars of Friends' Characters
The Indian-style makeover of these cherished characters has triggered an outpouring of positive reactions from social media users. Admirers have expressed awe at the seamless blend of the Western sitcom with the rich cultural tapestry of India.
Notably, the AI-generated images have sparked conversations about which character looks most enchanting in their Indian outfit. Netizens have shared their opinions, with comments such as "Rach looks so pretty" and "Monica in any attire would look beautiful," resonating throughout the thread. Some users even admitted to a change of heart regarding their favourite on-screen couple, saying, "I never imagined that I would prefer Phoebe and Ryan over Chandler and Monica."
'Friends' aired from September 1994 to May 2004, captivating audiences across the globe for a decade. Starring Jennifer Aniston, Courteney Cox, Lisa Kudrow, Matt LeBlanc, Matthew Perry, and David Schwimmer, the show revolved around six friends in their 20s and 30s navigating life in Manhattan, New York City.
This recent display of AI-generated artistry follows another internet sensation from a month ago when a Reddit user imagined the Indian city of Jodhpur covered in layers of snow. The mesmerizing images sparked fascination among viewers, who likened the picturesque location to scenes from the renowned American fantasy drama series, 'Game of Thrones.'
As AI continues to push the boundaries of creativity and visual representation, its impact on popular culture and the arts remains a subject of intrigue. The realm of visual content experiences a revolution as AI images captivate audiences with astonishing realism. This fusion of machine learning and artistic vision shapes the future of creative expression and immersive encounters, dominating the trending landscape.
---
Suggested Reading: Supriya Sule Stands Firm for Cousin Ajit Pawar Amid Political Upheaval
---