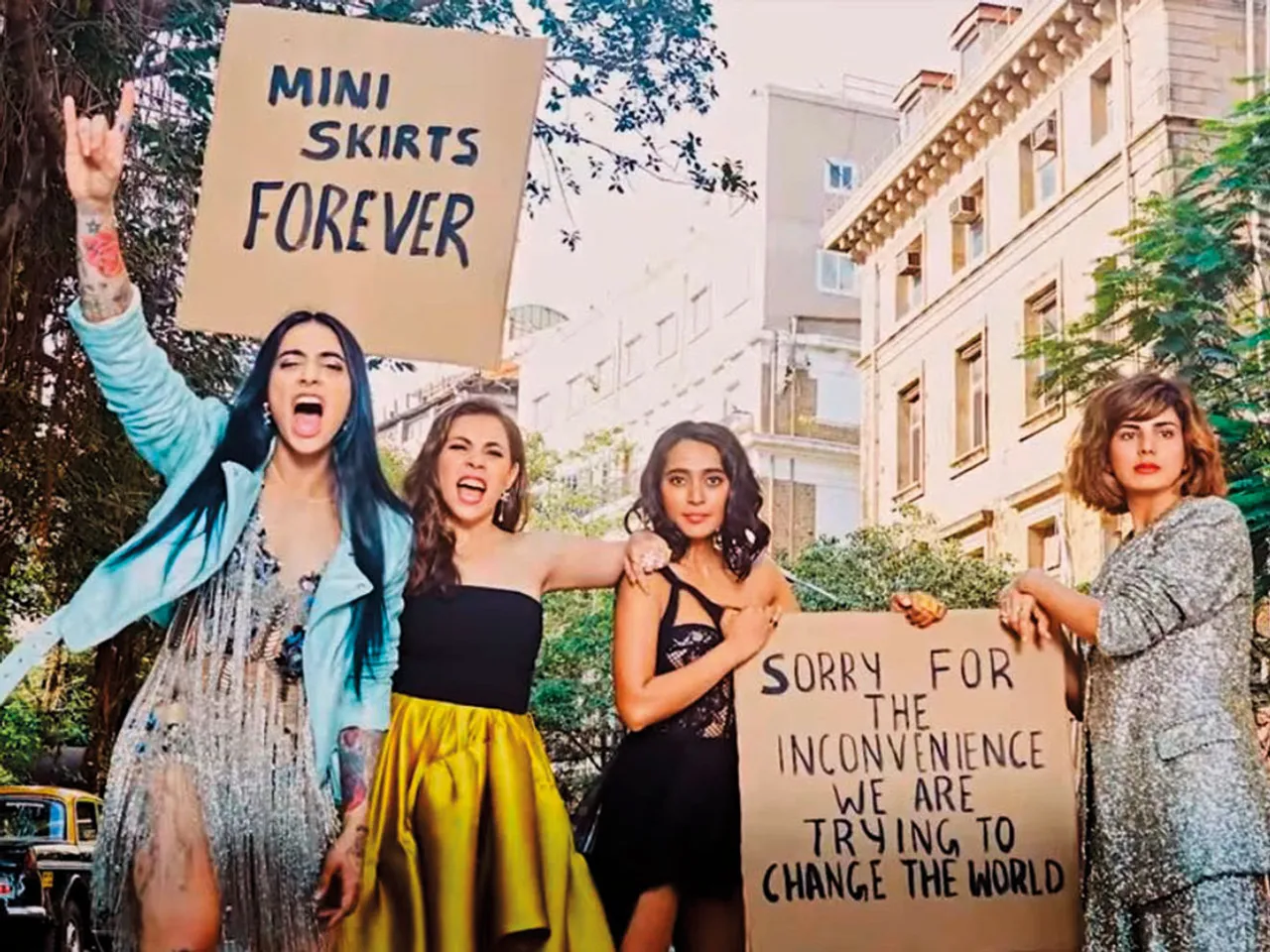 I remember somewhat frustratedly shrugging when I first saw the trailer of Four More Shots Please! and also dearly hoping for it to be a show where women have more to do than yell 'VAGINA' at Marine Drive and have really loud sex. Was this Amazon Prime's hackneyed attempt at producing something centered around the lives of women in India, after they spectacularly failed to do so in their stand-up specials?
Having planned to steer clear of it, I finally bit the bullet for the purpose of writing this review. Honest confession, I binge-watched seven episodes in one sitting (the last three were devoured first thing the next day) and was somewhat of an incoherent mess of laughing, tearing up, and visibly flushing during the sex scenes. Needless to say, it was quite a watchable show with many-a-witty dialogues delivered by characters whom you do want to root for. In fact, I would go so much to say if each of the four main protagonists had their own spin-off shows, I would watch them as well.
Whether it is the headstrong journalist Damini (played by Sayani Gupta), the feisty lawyer and single mother Anjana (Kriti Kulhari), the sweet, diminutive Siddhi (Maanvi Gagroo) whose mother insists that her one true purpose in life is to get married or the strong but vulnerable Umang, a bisexual personal trainer played by VJ Bani, in spite their mostly privileged lifestyles, these characters face conflicts in their personal and professional lives, which have been a bit exaggerated in places but are not disingenuous. What is ironic though, for a show about four friends, is that most of the scenes featuring all of them (mostly at a bar where they had first met) do little to highlight the triumphs and tribulations of their relationship, barring one which comes towards the end of the show.
I also feel that the pitch and the branding of the show is a tad bit loud. We get it, these are urban, emancipated women, struggling with the thought that they are still accountable to the society in some way. But that's no reason to make a script unnecessarily dialogue heavy when meaningful silences can do the job. And speaking of dialogues, for a venture that claims to be brazenly feminist, a bartender simply refuses to serve a cocktail because it is a 'sissy' drink. We are told that Damini has OCD, but sensitivity evades the plot as one of her friends make fun of her. We see bits from her childhood, but nothing to join the dots in a concrete manner. This show also has a stereotypical gay character, who is (surprise surprise) a wingman for all the ladies and also the man behind ensuring no alcohol goes to waste. He tells Siddhi that an Empire-line dress doesn't suit her. Because why would any straight man know anything about fashion?
Although the 'show don't tell' formula hasn't been generously applied in the writing of this series, watching it was almost like a guilty pleasure. It doesn't label women as flawed or perfect, but simply as human beings who are trying to make sense and navigate the choppy waters of their complicated lives. Even where the script falters, the tremendously talented actors carry the show on their shoulders
Like Veere di Wedding, Four More Shots Please! is unapologetically glamorous, and reminds one that women needn't be one thing or another. That being put together doesn't translate into being shoddy at work, that fashion and makeup is an extension of one's sensibilities and not really about impressing someone else. As a streamed show, I was grateful it didn't dive into unnecessary brand integrations like Veere or even The Trip because it just makes the whole premise seem shallow.
ALSO READ: Sex Education: The Show I Wished To Have Watched As A Teenager
Even though this show is reasonably far from being the best thing to view on the internet, I hope viewers don't go about nit-picking too much because shows featuring male actors don't get such a treatment based on the gender of the leads. Not just for the sake of diversity, but for women to feel included and represented in the general pop culture narrative, I do hope that Four More Shots Please! is well received so that we get to see more women's stories come to the fore.